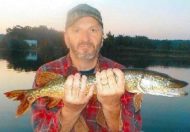 Mark D. "Mo" Adams, 56
May 15, 2017
Mark D. "Mo" Adams, 56, of Lititz, went home to be with his Lord and Savior Monday, May 15, 2017.
Born in Johnstown, he was the husband of Patty (Ingham) Adams of Lititz, and the son of Edwin Adams of Acosta and the late Nancy (Fox) Adams.
Mo was a member of Evangel Assembly of God Church in Ephrata and The Overflow in Akron. He deeply loved his Lord and the church.
He was employed as a Corrections Officer for the Lancaster County Prison System for 28 years.
Mo was a fan of the Steelers, Pirates, and the Penguins. A talker, he was an avid fisherman and golfer, and enjoyed concerts in Hershey. He adored his family.
In addition to his wife of 15 years and his father, Mo is survived by his children: Crystal Adams of Leesport; Josh Adams of Akron; Pam Scanlan and her fiancée Mike Linard of Cedartown, GA; and Kevin Scanlan and his wife Amanda of Manheim; he was Grandpa Mo to his 3 grandchildren: Airick, Angie, and Alli Scanlan; 2 brothers: Eddie and Allen Adams; one sister, Susan Blackner; and his beloved dog Skippy.
Funeral services will be held at 10 AM Saturday, May 20, 2017 at Evangel Assembly of God, 939 Linden Rd., Ephrata with Pastor Kevin Sylvester officiating. Friends will be received at the church Friday, May 19, 2017 from 5 to 8 PM, and again one hour prior to the service on Saturday. Burial will be private at the convenience of the family.
Kindly omit flowers. Memorial contributions in Mo's memory may be made to "Support for Prison Ministries", PO Box 727, Brownstown, PA 17508 . Please note "Fishers of Men Memorial Fund" on the memo line of your check.
Leave a condolence on this Memorial Page
Condolences to the Family
May 21, 2017
I had the opportunity to work with Officer "Mo" Adams years ago at the Prison and am in much disbelief over his passing. Throughout our many encounters, we always had great conversations! Many prayers sent to his family at this time of grief!
-Gantt, Michael(Officer '05-'07)
May 20, 2017
To my Brother In Christ Mark…I was shocked and deeply saddened to hear of your passing. I had known and worked with you for 20 years. During that time we had shared in many joys and even sufferings…we would always share passages of scripture together and attended Promise Keepers together…you were always a good accountability partner and never quick to judge but always an encourager to persevere…you are with our SAVIOR JESUS now. I will miss you greatly, but i know where you are; you are with the " author and perfecter of our faith". I KNOW that someday i will see you again and embrace you in the NEW JERUSALEM and that if one is called we all are called. Until i see you again my friend. I Love you. Your Friend, Seth Galatians 2:20
May 20, 2017
Worked with Moe for 8 yrs at LCP. GOOD MAN. He will be missed. Prayers for his family. Go STEELERS!
May 20, 2017
My condolences to the family and we will miss you, Mo.
Gravey.
May 20, 2017
Mark Adams was a great man and I was fortunate to be able to work with him for the last 4 years. Slappy ,as we so lovingly called him, could always bring a smile to your face on the worst days and was always there when you just needed an ear to talk to. He was one of the senior officers that took me under his wing and helped me become a better officer. The impact that Mark left on all of us,including the inmates throughout the prison, is beyond compare and I am so thankful for the time that I was able to spend with him. Rest easy brother and enjoy that fishing, we will take over from here.
Corey Smeltzer
May 19, 2017
I worked with Mark at the prison for many years. Mo was always the same. Quiet, calm and did his own thing. He had such a great sense of humor and personality. He was really good with the inmates. He always took the time to listen to them. Will miss you Mark. God Bless to Patty and family. Axe.WH.
May 17, 2017
I'm still in shock, you will be missed! So glad I got to give you one last hug! My prayers are with Patty and the rest of the family!
Damaris
May 17, 2017
I worked with Mo at the jail for over 20 years and we were fellow Pittsburgh fans in all three sports. Mo and his family are in my thoughts and prayers. Deepest condolances…Bob BODNAR.
May 17, 2017
Hi my name is Teresa (Dadura) Warner. I grew up with Mark. Mark was a great friend. My Brother Joe Dadura passed away in January at 52. He and Mark were friends. Alan and Eddie and Sue and Mark were our 2nd family. My Condolences to all of the Adams family.
May 17, 2017
Mo was the best. Always joking around and making people laugh. I will miss him very much. He was one of my favorite people to work with on dayshift. My thoughts and prayers go out to your family.
May 17, 2017
I grew up with Mark back home in Benscreek. Even though we hadnt seen each other for decades, I am wishing him Peace in Heaven. May God Bless Mark's family. Trac Wacker
May 17, 2017
Moe, I loved you man! You were my big brother in the Lord! Your grace and love and caring heart were out of this world! You will be deeply missed. I got so many memories though when we were together. Thanks for impacting my life and the lives of others! Now your chilling with our big brother Jesus! You the man!
May 17, 2017
Prayers for you and your family. The Lord rejoices with Mark today…one of His beloved children has finished the race on earth and will live with HIM forever. May God bless you all. Debbie Erwin (Laura Erwin's Mom)
May 17, 2017
Dear Patty:
I am so incredibly sorry to hear of Mark's passing. Having been there myself, I know your shock and grieve. If you ever need someone to talk to I am here for you, please do not hesitate to call. Our prayers continue for you and your family. Sincerely with a heavy heart, Miriam (& Art) Remington
May 17, 2017
So sorry for your loss. May the God of all comfort be with your family. Isaiah 25:8
Visitation

Friday, May 19, 2017
5:00 PM - 8:00 PM
Evangel Assembly of God
939 Linden Rd.
Ephrata, PA

Map and Directions

Visitation

Saturday, May 20, 2017
9:00 AM - 10:00 AM
Evangel Assembly of God
939 Linden Rd.
Ephrata, PA

Map and Directions

Services

Saturday, May 20, 2017
10:00 AM
Evangel Assembly of God
939 Linden Rd.
Ephrata, PA

Map and Directions