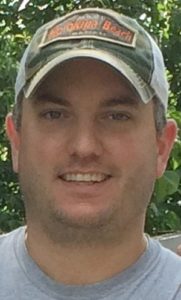 Mark C. Gehron, 43
June 23, 2018
On Saturday June 23, 2018 we lost the greatest father, son and friend that we were all blessed to have in our lives. It is with great sadness that Mark Christopher Gehron, age 43, passed away.
Born and raised in Lancaster, Mark was a graduate of J.P. McCaskey High School and went on to attend the Police Academy at Harrisburg Area Community College. Before he was a police officer, Mark was geared toward helping others. As he pursued his education, he was a volunteer firefighter for Lancaster Township Squad 66. After graduating Mark served the community as a Lancaster City Police Officer for 19 years. During his service he received many awards and commendations; including two commendations for life saving, six unit citation commendations, and six commendations for outstanding enforcement.
When Mark was not working, he was an avid outdoorsman with a great appreciation of nature that he received from his mother. He enjoyed hiking, backpacking, and camping along the many rail trails of Lancaster County and beyond. Mark also enjoyed hunting, shooting, and collecting guns from all eras. He was a member of the NRA and was able to share his expertise with others as a firearms instructor for the Lancaster City Police. His passion for firearms extended into his interest in history and he was an active member of the North South Skirmish Association.
More than anything, Mark loved being a father. His sons, Chris and Carter, were his life. He enjoyed every moment that he spent with his boys and was proud to watch them grow. Mark taught them how to bike and skateboard and took them to see his favorite bands in concert. Mark was a truly honest and good hearted man with a quick wit that could not be beat and his sons are the best parts of him.
His passing leaves a huge emptiness in the hearts and lives of all who knew and loved him. It is certain he and his jokes and kidding ways will never be forgotten.
Mark Gehron was the son of Carol (Paul) Gehron, of Lancaster, and Vernon Gehron, of Middletown. He is survived by his two sons, Christopher and Carter Gehron, of Lancaster. Also surviving are his sister, Heather Gehron-Rice, wife of Doug, of Lancaster, his Grandmother Ruth Paul and numerous aunts, uncles, cousins and nephews.
A Mass of Christian burial with The Rev. Michael Messner as Celebrant will be held Saturday, June 30, 2018 at 11:30AM at Sacred Heart Church located at 558 W Walnut St, Lancaster, PA 17603. Prior to the Service, guests will be received at the church from 9:00AM to 11:30AM. A luncheon will follow the service.
In lieu of flowers, his loved ones ask you to make a donation to the Crazy Horse Memorial Foundation at 12151 Avenue of the Chiefs, Crazy Horse, SD 57730 or at donate.crazyhorsememorial.org. Mark loved Crazy Horse and will be honored by having a portion of his cremated remains scattered at the top of the monument. Memorial donations can also be given to the Lancaster County Conservancy at 117 S West End Ave, Lancaster, PA 17603.
Leave a condolence on this Memorial Page
Condolences to the Family
May 01, 2023
I love and miss you Mark. Too many memories to mention but I'm finishing the Black Forest Trail for you, for me and for us.
Jayson
June 30, 2018
Vernon, Carol, Heather, Christopher and Carter, My thought, prayers and Love are with you all. Vernon's cousin. Linda Todd
June 29, 2018
To the family of Officer Gehron,
May God bless you and keep you in this trying time. Please know that we hold you in our prayers
June 29, 2018
Dear Gehron family,
Words fail to express how deeply your loss saddens us. Please remember that we care for you and are just a phone call away. You are in our thoughts and prayers and hope that blessings and comfort come your way.
Warmly,
The Dalton Family (Michael, Miguelina, Liam, Elena, and Lucas)
June 28, 2018
Dear, Carol and family,
Please remember that you are not alone… We are always here for you
I am thinking about you and sending love.

Love, Okcha, Christina, Brian


June 28, 2018
Sending all concerned love on this very sad occasion.

June 28, 2018
Heather and Family
i am sending all my love and healing energy to you at this time. I was very heartbroken when I heard the news. Many fond memories of not just Officer Gehron of whom I had the pleasure to work with but also Mark when we were all younger. May love surround you during this difficult time and remember you are loved by so many. I am here for you all whenever needed.
Kelly Eckman
June 28, 2018
You don't know me, but my husband, Dan Cucchi, died by suicide on September 15, 2015. He was a Law Enforcement Officer for 29 years. He was 50, and left behind me, our 2 sons ages 13 and 19 at the time of his death and a huge family. His police department, community, family and friends are devastated by his death. My husband was a detective in Crimes Against Persons and saw many disturbing things which ultimately led to his horrible death. I know what you are going through and would like to talk when you are ready. I have some resources and ideas to help you and your kids and family. Sending you comfort, peace, love and healing hugs.
Lisa Ann Cucchi
youravongirl@bellsouth.net
June 28, 2018
With deep.sadness, my heart goes out to all of Officer Gehron's family and friends and to his fellow police officers & colleages at the LCPD.
In Sympathy,
A. McLane Young
June 28, 2018
My prayers go out to the Lancaster city police department and the family of Officer Gehron.

Ken Stahl
Retired Penna State Constable & security officer at LRMC.
June 28, 2018
My deepest sympathies to Mark's family and our wonderful officers of LCPD. Mark was a wonderful man and a top notch cop. May God and the memories of Mark give you peace and comfort at this difficult time. Bonnie Musser
June 27, 2018
Come West son, you have the wind, sky, sun and land; Mother Earth in your heart & soul, there you shall find the great Crazy Horse and Peace shall ring through Eternity! Love shall conquer all; power is only an illusion! 🎆🎆🎆
June 27, 2018
I was Mark's neighbor on W Clay St. I didn't really get to know him but I always appreciated that he didn't mind me coming into his yard to track down my escaped cat. He sounds like a wonderful dad and person. I am so very sorry for your loss.
-Joanna Underhill
June 27, 2018
Very sorry for your loss. Our condolences to your family. Zeke and Cathy Ressler
June 27, 2018
We send our thoughts and prayers to Mark Gehron's Family, Friends and fellow Public servants that knew him.
Serving The Badge

June 27, 2018
My most sincere condolences to your family. May the Love of GOD be poured over all of your family and may you all find peace in the loving memories with him. I feel your pain. I am so sorry. Zaritzia/Elliot Burgos Lancaster, PA
June 27, 2018
My heart is with you, Heather and Carol, Doug and boys, and all who loved him. May your memories bring you comfort.
June 27, 2018
My sincere sympathy to Mark's entire family. Mark graduated high school with my son Officer Erik Pannone and spent lots of time at our home. He was a wonderful young man and my heart aches for your loss. Erik considered Mark to be a brother, not only on the Force, but in their daily lives. My thoughts and prayers are with you.
Loretta McMullen, Lancaster, PA
June 27, 2018
I'm a friend of Heather's and want to send my love, compassion and sympathy, though to all of you as well. Mark sounded like such a wonderful soul and loving father. Blessings of peace, Jean Stokan (Wash., DC)
June 27, 2018
To the Gehron Family, sorry for your loss. Prayers for you all. Maribel
June 27, 2018
My thoughts and prayers are with Mark's family. He was a good friend through the years from the police academy on. It's sad to have you leave us but you're at peace, brother.
June 27, 2018
Carol, Heather, Donna,
So very sorry. May peace be with you all ,more for Mark.
Love you all, sincerely.Mary Ann Kovack and Bobby Reed.
June 27, 2018
Carol, Heather, Donna,
I'm feeling such a loss for you all.Peace go with the whole family, mainly with Mark. Love you all…
June 27, 2018
Carol, I am so saddened to hear of your loss. My heart goes out to you and your family. Please know that you are in my thoughts and prayers.
Sending you love.
Teri Goshorn
June 27, 2018
Dearest Carol, Heather and family,
There are no words to convey the depth of sadness in my heart for your family. Know that my love surrounds you all during this difficult time.
In loving memory,
Pat Caulfield

June 27, 2018
I love you Uncle Mark and I an sad to see you go.
Love Andrew Douglas Gehron-Rice
June 27, 2018
I miss you dear Brother. I hope you're laughing at my wierd and hippy ways. I love you – Heather
June 27, 2018
To Marks Family
So very sorry for your loss
Please know my thoughts and prayers go out to his family
Love
Donna Speece
Visitation

Saturday, June 30, 2018
9:00 AM - 11:30 AM
Sacred Heart Church
558 W Walnut St
Lancaster, PA

Map and Directions

Services

Saturday, June 30, 2018
11:30 AM
Sacred Heart Church
558 W Walnut St
Lancaster, PA

Map and Directions