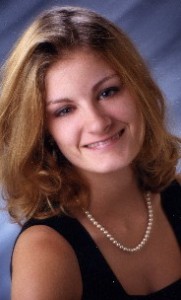 Marisa Rose Albright, 26
Marisa Rose Albright, 26, of 2636 Breezewood Rd., Lancaster, passed away unexpectedly at her residence on Sunday.
Born in Lancaster, she was the daughter of William J. and Annarose Cooch Albright.
Marisa was a 2000 graduate of Manheim Twp. High School, where she played clarinet in the marching band and was member of the rifle team. She had attended Harrisburg Area Community College where she studied to be a Licensed Practical Nurse. She had been employed as a CNA at Moravian Manor and Lancashire Hall. She had also previously worked for Fulton Bank in East Petersburg for several years.
Marisa was a member of St John Neumann Catholic Church, where she had been active in the youth group in years past and served as a group leader.
She was a kind, gentle and loving person, who had a special place in her heart for helping others and was fond of animals. A devoted mother, she loved her children dearly.
Marisa enjoyed the outdoors, especially fishing, canoeing and hiking. She enjoyed writing poetry and had studied piano under the late Dr. Mary Vyner for 11 years. She had won many national and state awards for music composition and her piano playing. Family vacations to Canada were something she enjoyed very much. She was also a practical joker, always trying to put a smile on someone else's face.
In addition to her parents, Marisa is survived by her two children, Jordyn Rose Davis of Hatboro PA and Milo Jamison Albright of Lancaster; her sister Angela Rose married to Carl Gundrum III of Lancaster; her maternal grandfather, Joseph P. Cooch of Lancaster; her aunts: Nanci Jo married to Carl D. Schaefer, of Lancaster and Doris married to Ron Fisher of Florida, and her uncle, Tom married to Carol Albright of Camp Hill. She is also survived by her great aunt, Marie E. Smith of North Carolina; her cousin Amber Jo married to Sean Fasig of Lancaster, and her niece, Ava May Gundrum, both of Lancaster,
Friends will be received on Friday from 6-8PM at the Charles F. Snyder Funeral Home and Chapel, 3110 Lititz Pike, Lititz, PA. The Mass of Christian Burial will be celebrated on Saturday at 11AM at St John Neumann Catholic Church, 601 E. Delp Rd., Lancaster, PA with Msgr Richard Youtz as Celebrant. Interment will be private and at the convenience of the family in St Joseph New Catholic Cemetery. In lieu of flowers, please make contributions in Marisa's memory to the Humane League of Lancaster County, 2195 Lincoln Hwy East, Lancaster, PA 17602.
Leave a condolence on this Memorial Page
Condolences to the Family
October 31, 2021
Hey mom it's me Milo albright her son I'm 14 now but I miss you o some time wonder how Life would be if you were here but I live wit my aunt now and life is chill but I miss you and I don't know my sister but I do love you. Milo albright
December 21, 2015
Came across a photo of you today. Still missing you.
Dear Annarose and Bill,
We are in Florida and have just learned that your beloved daughter, Marissa has passed on. We send to you our prayers and love.
We used to see you at church with her. She was a beautiful little girl.
We know that you have enough wonderful memories to see you through your lifetime and to make her a wonderful memory for her children.
She will live in your hearts through them.
Love,
Rita and Fred Lane
So very sad. Although I didn't know Marisa well, I went to elementary school with her, and the first thing that came to mind when remembering her is what a sweet person she was.
My deepest sympathy.
I felt so saddened to read about Marisa's untimely death. She was seven years old and a first grader at Nitrauer Elementary when I tested her for learning disabilities. I just wanted express my heartfelt sympathy and let you know that I am tinking of you.
Margaret Kay, Ed.D. Psychologist
Dear Bill and Annarose,
Our deepest sympathy to you and your family upon reading of the death of your daughter. It has been many years since we last chatted, however I remember you introducing Marissa to me and sharing with me of her love for music. Our thoughts will be with you at this very difficult time.
Dave and Rochelle Rentschler
Dear Bill and Annarose,
Diane and I were much saddened by the news of Marisa's passing. Please accept our heartfelt sympathy. You are all in our prayers. — Joel Mumma
To Annarose Albright, Nanci Schaefer and all others who loved Marisa
May you find peace and serenity within knowing that Marisa now stands with all the angels and saints above consumed by the glory of God's love. You taught each other many things about life and love and those memories will carry on for generations to come. Find comfort in knowing that whenever you need her all you have to do is look inside your heart.
With love and support,
Samantha Albright
(Friend of Amber & Sean Fasig)