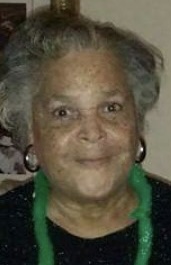 Marion M. Puryear, 77
February 16, 2023
Marion M. (Wright) Puryear, 77 of Lancaster, passed away peacefully and surrounded by family on Thursday, February 16, 2023. Born in Lancaster, she was the daughter of the late Edward, Sr. and Clair (Jones) Wright. She is survived by her beloved companion of over 30 years, Harold Burton.
Marion graduated from J. P. McCaskey High School and worked as the Director of Socialization for the Community Action Program. She enjoyed doing jigsaw puzzles, dancing, and listening to music. Marion also loved visiting the casino. She enjoyed her family get-togethers and spending time with her children, grandchildren, and great-grandchildren.
In addition to Harold, Marion is survived by her 6 children: James Puryear, Jr., Jay A. Puryear (Sheila), Jerry Puryear, Janine Puryear (Steve Simms), Jeffrey Puryear, and Jason Wright (Michelle); 3 siblings: Leon Wright, Janie Good, and Edna Wright; 17 grandchildren, 21 great-grandchildren, and a host of nieces and nephews. She was preceded in death by her parents, and brothers Edward Wright, Jr. and Clifford Wright.
Friends and family are invited to gather on Tuesday, February 21, 2023 from 12-2 PM at Charles F. Snyder Funeral Home & Crematory, 414 E. King St, Lancaster. Services will begin at 2 PM and interment will immediately follow at Mellinger Mennonite Cemetery. In lieu of flowers, memorial donations can be made in Marion's name to American Breast Cancer Foundation, www.abcf.org/get-involved/donate/.
Leave a condolence on this Memorial Page
Condolences to the Family
February 25, 2023
Ms. Marion was a beautiful person inside and out, She truly was a giving person who did help many no matter how tight space was, She was cheerful always and lovely to be around. I'm glad I had the opportunity to know her, I send my condolences to her children and extended family, SIP. Angel, Anita Gant
February 22, 2023
My prayers in this time of sorrow. Your mother is heavens gain.
Jon Segro
February 20, 2023
Marion was a beloved friend of our family. She was one of my mother's best friends and I will always have fond memories of her. She was a great woman and had a very good sense of humor. She will be greatly missed. My heart goes out to her family. I love you all.
Love, Debbie Blantz
February 20, 2023
I am so sorry for your loss sending my sincere prayers and condolences to you all love Barbara Dupree
February 20, 2023
We are deeply saddened to learn our great and loving friend has passed and will always be in our hearts and we pray for love and so much support in this family's time of need
-McFadden Family
February 19, 2023
My Heart is extremely heavy.This woman had to be a pure hearted living Angel.She not only opened her heart to Everyone she came in Contact with but her door as well. I love you NANNY. To her children and siblings, God definitely loaned her to us cause she was so giving. I don't k ow anyone else like her. I pray strength for all that may feel heavy. Know that she is watching us all so be on your best behavior..and dance like the night never ends. I love you Marion "Nan"Puryear . Forever love April and Antwhan
February 19, 2023
My deepest condolences to all family and friends. She was energetic and spirited here on earth. She is now with the Angels. She shines brighter than any star in sky. May she RIP!
Leonardis family
February 19, 2023
May Allah God bless the family and loved ones and may Marion RIP. My condolences from Bronzel.
February 19, 2023
Janine and Steve,
Very sorry to hear about your Mom. It was a testament to her that she was good caregiver to your grandmother all those years. Too live in ones heart is never to die. In my thoughts.
Joe Segro
February 19, 2023
To Marions family, So sorry for your loss . Your Mother left an impression on many lives . She helped many people in her life. To you she was Mom ,Grandmother Aunt and Sister to others Marion was a life saver. To many she will be always the angel who helped them though life. I was glad to know her. My prayers and thoughts are with you all
February 19, 2023
So sorry for your lost. Grandma was a wonderful MOTHER to all you grandchildren that we learned to know.
Visitation

Tuesday, February 21, 2023
12:00 PM - 2:00 PM
Charles F. Snyder Funeral Home & Crematory
414 East King Street
Lancaster, PA 17602

Map and Directions

Services

Tuesday, February 21, 2023
2:00 PM
Charles F. Snyder Funeral Home & Crematory
414 East King Street
Lancaster, PA 17602

Map and Directions