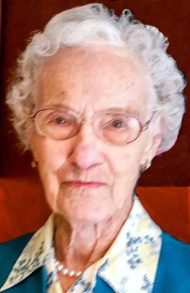 Marion Charlotte Rannels Mason, 99
November 06, 2017
Marion Rannels Mason was born December 16, 1917 in Fetterville, Pa. She graduated from Lititz High School in 1935. After working at the Lititz Chocolate factory to earn money for school, she attended The Grissinger Beauty Culture School and graduated from the program in 1936. She opened a beauty shop in her home on Maple Street in Lititz, Pa.
Marion married George W. Mason on February 18, 1940 in Easton, Pa. and after turning her beauty shop business over to her brother, she moved to Oxford, Pa. Marion and George had three children: Barry L. Mason(Ruth), Cynthia K. Herr(Dwight) and Nina Mason Dintaman (Tom). She was blessed with five grandchildren (Andrea, Laura, Amy, Andrew and Evan) as well as seven great grandchildren (Logan, Hannah, Kara, Emma, Liam, Savannah and Chase).
Throughout her life and while living in Oxford, Marion was active in her community. She joined the United Methodist Church of Oxford in 1940 and still maintains her membership to the present day. She was a member of The Oxford Research Club, The Rural Homemakers, The Oxford Garden Club, The United Methodist Women, The Octorara Art Club, and was a 50-year member and officer of The Eastern Star.
Mrs. Mason moved from Oxford, Pa. back to her hometown of Lititz, Pa. in 1996 and in 2006 moved to the Luther Care Community, Lititz Pa. (Luther Acres) where she was a volunteer in the community store and for the holiday bazaar. She loved creative arts and making crafts. For six years she has been knitting hats for newborn infants to be donated to area hospitals. She lived in the cottage community at Luther Acres for 7 years and in March of 2014 she moved to an apartment at Luther Acres Townhomes. At the time of her death she was living in a personal care apartment at the Mulhlenburg building in the Luther Acres community.
When asked her philosophy of life she replied, "Just hang in there….as long as you can"
Life Celebration services will be 11:00 AM, Sunday, November 12, 2017 at Luther Acres Chapel, 600 E. Main Street, Lititz, PA 17543. The family will receive friends from 10:30 AM to 11:00 AM at Luther Acres Chapel.
In lieu of flowers, please make memorial donations to Lititz Springs Park Inc., PO Box 110, Lititz, PA, 17543 or Oxford United Methodist Women, Oxford United Methodist Church, 18 Addison Street, Oxford, PA 19363.
Leave a condolence on this Memorial Page
Services

Sunday, November 12, 2017
11:00 AM
Luther Acres Chapel
600 E. Main Street
Lititz, Pennsylvania 17543

Map and Directions