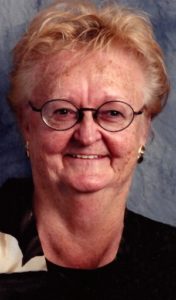 Marilyn "Molly" Campbell Kelly, 87
April 21, 2018
Our much loved Marilyn "Molly" Campbell Kelly, 87, of Lancaster, Pa., passed away on April 21, 2018. She was the sole surviving child of the late Eleanor née Rineer and Calvin Campbell, and the sister of late Harold, Evelyn, Warren, Lorraine, and Eugene. She is the mother of the late John Kelly of Lancaster, PA, Steve (Deb) Kelly of Neive, Italy, Tim (Linda) Kelly of Lincoln, NE, Anthony Kelly of Lancaster, PA, Theresa Kelly of New York, NY, Leo (Grace) Kelly of San Pedro, CA, Elly (Mitch) Kelly of Irvine, CA, and Eileen Kelly of Norwalk, CT. She is also the grandmother of five and great grandmother of 8.
In January 1948, she married Leo Kelly (dec), of Boston, Massachusetts. An adorable story was how she met and fell in love with her husband. "I saw him outside the dance hall in his Navy uniform and thought wow – and when he didn't come in because he didn't have the money to enter – I snuck him in thru the side door". And, that dance began the romance of a 53 year marriage. Molly was born to dance and with her high energy, athleticism and a sassy improvisational style, became the 1946 Pennsylvania State jitterbug champion.
In her young adult years, Molly worked a variety of manual labor jobs. In 1962 while being the loving mother to 8 children she pursued her long held aspiration to become a nurse. She was wonderfully ambitious and held a strong belief that all things were possible. She felt no one should ever say the word "can't". With her "it can be done attitude" she went from being a nurses' aide, progressed to become a LVN and then in 1991 at age 61 became the oldest student to graduate in the 110 year history of the LGH School of Nursing. She was formally awarded her RN license with her large family proudly cheering her on. She retired from her "hospital" career in 1995. Yet her desire and compassion for helping others never ended. Determined to do more humanitarian work, Molly volunteered at the St. Xavier Indian Reservation in Arizona, before she began another life dream of going on a mission to Africa to care for those in need. At age 77, she took 4 long flights, and 2 long bumpy bus rides to get to her visiting nurse assignment at a health clinic in the remote hillside village of Pommern, Tanzania, Africa. When she returned to the United States, she volunteered with Lancaster Meals on Wheels to deliver sustenance to the less fortunate for many years.
Molly's hobbies included dancing, singing, needle crafting, reading, and traveling. And, she was also a proud Barnstormer plankholder.
Her life legacy was one of active love and making a difference in many, many lives. In 1992, she was profiled in the Lancaster New Era as one of three Pennsylvania women noted to be an inspiration. She will be remembered as compassionate, courageous, feisty, irreverent, outspoken, gregarious, unstoppable, indefatigable, genuine, trustworthy, generous, a strong momma bear, honest to her core, caring, and a fearless defender of the defenseless. Molly was quick to laugh at the absurdities of life and stayed positive through the most difficult of times.
The family would like to thank Corinne Hill for her loving and special care of our mother.
Friends will be received by Molly's family on Friday, April 27, 2018 from 10-11AM at St. Anthony of Padua Catholic Church, 501 E. Orange St., Lancaster, PA, with her Memorial Service to follow at 11AM. Interment will be in St. Catherine's Catholic Cemetery in Quarryville. In lieu of flowers please give your loved ones a hug and consider donating to one of her favorite charities, the Lancaster VisionCorps, 244 N. Queen St., Lancaster, PA 17603.
Leave a condolence on this Memorial Page
Condolences to the Family
October 01, 2022
Kelly slaymaker. I must say I was truly blessed to be part of this family with aunt molly " the boss" as the strongest ,most stern, loving manor about her. My mother was her niece and they were so much alike. I remember like it was yesterday Christmas Eve of 1993 at aunt Molly's itching like crazy couldn't figure it out. And she's says Hell mel kel has chicken pox. I was 16. And emediatly burst into tears so aunt molly and mom and elly grabbed my hands and started to dance. That was the year I perfected the Charleston! She was the only grandmother figure I ever knew and I miss her yelling at me in a nice way everyday… And just wanna say hey got the Kelly name…..love all of you. And hopefully when it's my time aunt molly, mom, and nanny Lorraine have my homemade pot pie waiting for me.
December 01, 2021
So here we are without you for years – missing you beyond words can share. Molly Kelly I thank you for all you did for all of us, especially me. I am doing my best to honor your legacy. Love you Mom – we all miss you.
June 30, 2018
Kelly
What a beautiful life story. So hard to say good by to such a beautiful soul. Your Mom was a special gift and she is not only resting with the angels, she was and is still an angel. I am sure she is laughing with our beloved Mark. I know she was loved by many and will remain forever in the hearts of those whose lives she touched. Remember there is a sacredness in tears. They are not the mark of weakness , but of power. They speak more eloquently than 10,000 tongues. They are messengers of overwhelming grief… of deep contrition and of unspeakable love. Washington Irving
So cry when you need to because the love you shared was so special.
Much love always,
Dana
April 29, 2018
Dear Kelly Family, my condolences on the loss of your mother. I can't add much to what you've already said about her in the obituary, except to say that on a personal level she was always friendly, gracious, hospitable and encouraging to me. My positive impressions of Mrs. Kelly have remained with and encouraged me throughout my life. I'm grateful for having had the privilege of knowing her and her family.
Mike Evanko
April 29, 2018
Steve and Deb,
Kyong and I are very sorry for your loss. The world was blessed by Molly Kelly. What a wonderful person, what a wonderful life, and what a wonderful legacy. I know you can look back on many many fond memories to bring joy to your hearts. You all are in our thoughts and prayers for God's comfort and His gracious peace during this difficult time. We will be in touch . . . just returned home yesterday from our long journey.
Much love,
Scott and Kyong
April 28, 2018
Dear Kelly Family,
I am deeply sorry for the loss of your mother. I am sorry that I couldn't attend your mother's service, I was out of town. I will always remember the kindness and warmth your mom made me feel when at your home, as a kid growing up. I always felt welcome and she never gave it a second thought to provide me with a meal. My thoughts and prayers are with all of you.
Sincerely,
Ron Meikrantz
April 28, 2018
Rip my beautiful aunt.words can't even tell you how much we loved you and how much you ment to all of us. You are such a wonderful.sprite and I'm so grateful you were my Aunt.RIP beautiful lady.


April 26, 2018
Tim, your brothers and sisters. Your mother was a very special mother. A very hard working,loving lady she was. A couple years back i talked to your mom at a restaurant in Bridgeport, as I was leaving,the waitress told me my bill was paid for by the lady at that table. It was your Mother,I was really moved by that.I have more great memories of her , but thats another time. Love Mark Hottenstein
April 26, 2018
Beautiful People– written by Perry Tanksley
Beautiful People –
They always give their best!
As long as they live
They walk through this world
To love, to serve, to give.
Through their kind words and deeds
God's love comes shining through,
And when I think of those Beautiful People,
I always think of you.
Rest in peace Dear Molly Kelly
Submitted by Julia Silsdorf
April 26, 2018
Molly you are in my heart, and an inspiration to my soul. God speed, until we meet again!
Love,
Stephanie Matolyak
April 26, 2018
Molly added the fun and joy to our class at Lancaster School of Practical Nursing. Such a dedicated student and loving Mom, all while working at least one full time job to sustain her family. I know she will be missed and is deeply loved and respected. Bev Heinzman Neff Class of Feb. '67.
April 25, 2018
Sending our most heartfelt sympathies to Tim and entire Kelly Clan. God Bless Molly.
Mike and Nancy Sage
April 25, 2018
Tim, my sincere condolences to you and your family.
Claudia Hall
April 25, 2018
To the family of Molly, please accept my deepest condolences. I knew Molly from LGH. The adjectives used to describe her sure match Molly. As a fellow nurse, I knew her as feisty but caring, determined to do what was needed for her patients and staff. She often talked of her family to us at work, so I'm sure between the tears you have a lot of laughter sharing your memories. What a life! Hugs to you all. Monika Noll
April 25, 2018
I am so sorry for your loss.
AnneMarie Lombardo
April 25, 2018
My Dearest Mozzy, I will miss so many things about you. Your advice and medical knowledge will follow me for years to come. Dance, sing and eat all the sweets and French fries your loving heart desires. #2-8 thank you for sharing such a beautiful soul with me ❤#9 (Corinne)
April 25, 2018
Oh my dear cousins, what a beautiful obituary I was so saddened to hear the news of your mom's passing. As I sat on my couch crying it dawned on me that if aunt Molly saw me crying over her she would kick my ass, so I pulled it together and pushed on because that's what aunt Molly would want. You're all in my thoughts and prayers, sending all my love your way.
Anne
April 25, 2018
Tim and family, So sorry to read about the loss of your Mom. I remember as a kid growing up that she was a Mom to every one of us who passed through the door to your home and into her life… God speed as she makes her way to Heaven to join your family members who have passed before her… John Carroll
April 25, 2018
To Molly's Family, I knew her and admired her very much. I was a high school classmate of Leo's, Joan Anderson (Schwebel, now). I remember when Leo and siblings came into Oak Leaf Manor looking for a safe, friendly place for Molly when she couldn't be safe in her home. Now she is in her Heavenly home and that is all we can ask. She had a wonderful life, I'm sure ….. it was full. God Bless you all! I cannot be there to wish you my sincere condolences, but I am with you in Spirit. Much Love to you!

April 25, 2018
I knew Molly as the #1 Barnstormer Fan. My wife and I sat across the isle from her. The stadium has not been the same without her. On behalf of the fans that knew her – Rest in Peace Molly.
Paul J. Kralicek, Jr. (Section 19)
April 25, 2018
Our sincere condolences to Tim and Linda and all of the family, Molly will be fondly remembered.
Craig and Bonnie Kern
April 25, 2018
you taught me how to become a compassionate bedside nurse, the value of laughing, the importance of truth, and to never give up on your dreams…love you forever…#3
April 25, 2018
With deepest sympathy as you remember, Molly. She was a truly remarkable women & friend to family.
Linda Hyle/Nancy Yoder
April 25, 2018
Despite the loss of the physical presence of your Mom I know that God has assigned her to watch over all of you for the rest of your life. I feel for your loss, my most sincere condolences to you #8 and the rest of your family. Your mother represented sweetness to me. God bless the entire Kelly family…… B Scalzi
April 25, 2018
Molly…wonderful, funny woman, beautiful spirit,
Robin S.
April 25, 2018
Despite the loss of the physical presence of Mother I know that God has assigned her to watch over you for the rest of your life. I feel for your loss, my most sincere condolences to you Eileen and the rest of your family. Your Mom represented sweetness to me. God bless the entire Kelly family….. B Scalzi
April 25, 2018
Ma, You were and are our hero! You were and are our angel of love and protection.
Number 7
April 25, 2018
Dearest Molly…like all truly great beings who had major impact on all who crossed their path…now you finally get to witness and know just how many lives you touched while here and how many lives you will continue to touch by all in the future when they read of the amazing things you accomplished. Here's to my remaining years passing quickly so we will once again be able to talk about it all…sooner rather than later. Love you lots and really missing no longer having your physical presence in this world. #5
April 25, 2018
Mrs. Kelly and her entire family were a large part of my life. I always admired her zest for life. Marveled at her many accomplishments, particularly later in life. She was a courageous and resilient woman ahead of her time! Rest easy Mrs. Kelly, you deserve it!!

April 25, 2018
Sweet Molly – please remember to get me a seat under that French Fry tree. Love, #8
April 25, 2018
Molly, Molly, Molly, I loved you from the day I met you. You always have a warm spirit and such a positive attitude. I can recall so many memories of us working together at LGH. I remember your long journey to obtain your RN License. I remember the good days and the not so good days. You are an inspiration to all the paths you have come across. You will be missed but never gorgotten. Rest on my love.

April 25, 2018
SO SORRY TO HEAR ABOUT MRS. KELLY. I GROW UP ON EAST END AVE. AND MY SISTER BETTY-JO WAS A FRIEND OF THE FAMILY. SHE WAS A TRUE HERO WHEN IT CAME DOWN TO HELPING SOMEONE. GOD BLESS YOU ALL… JOE DEMORA JR.
Visitation

Friday, April 27, 2018
10:00 AM - 11:00 AM
St. Anthony of Padua Catholic Church
501 E. Orange St.
Lancaster, PA

Map and Directions

Services

Friday, April 27, 2018
11:00 AM
St. Anthony of Padua Catholic Church
501 E. Orange St.
Lancaster, PA

Map and Directions