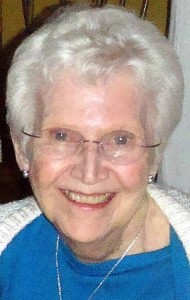 Marilyn Joan Ralston, 79
April 15, 2016
Marilyn Joan Ralston, 79, of Lititz, PA, went home to be with the Lord, surrounded by her family, on Friday, April 15, 2016.
She was the loving wife of Raymond D. Ralston, with whom she had shared 58 years of marriage. Born in Paterson, NJ, she was the daughter of the late Clarence E. and Maudie Sless Tallman.
Joan was a 1957 graduate of Millersville University, earning Bachelor's Degrees in English and Librarian Science. She taught English at the Wissahickon School District in Ambler, after which she took time off to raise her children. She then taught swimming at the Suburban Swim Club in Newtown Square, PA.
She began working at Villanova University in 1979, as a Cataloging/Reference Librarian, retiring in 1999. As a proud Member of the "Nova Nation" she celebrated, for the second time, the Villanova Wildcats winning the NCAA Men's National Basketball Championship.
Joan was a former member of Trinity Lutheran Church in Havertown, where she was a church council member and a third grade Sunday school teacher. She is a member of St. Peter's Evangelical Lutheran Church in Lancaster and served on the prayer chain committee. She had an abiding faith in God and a wonderful sense of humor, both of which she maintained throughout her long illness.
Joan was a devoted wife and mother, and a gracious, courageous woman. She loved spending time with her family and adored her grandchildren. In her early years Joan enjoyed swimming, water skiing, and scuba diving, as well as travelling with friends and family. She was a passionate reader and wrote creatively. Always an excellent cook, she delighted in cake decorating and making candy. Crafts were another favorite activity, including crocheting, and Pysanky egg painting.
In addition to her beloved husband, Raymond, she is survived by her two children Jan (Ralston) Frailey companion of Michael Kowalick of Lancaster and Jeffrey D. married to Rebecca (Pawling) Ralston of Telford, PA, her grandchildren Kristi L. Frailey-Merritt married to Michael A. Merritt of Conestoga, Timothy G. Frailey of Lancaster and Sarah E. Ralston of Telford. She is also survived by her brother, John E., married to Flora (Simmons) Tallman of Pocono Lake, PA, her niece Linda (Tallman) Werner married to Daniel Werner of Rutledge, PA, her nephew David married to Kim (Peoples) Tallman of Rutledge, her grandniece Renee Tallman of Rutledge, and grandnephews Andrew Tallman of Rutledge, Daniel married to Meghan (O'Neil) Werner of Somerville, MA, and David Werner of Medford, MA. Joan was preceded in death by her son, Jon E. Ralston.
Family and friends will be received on Friday, April 22, 2016 from 1030-11AM at St. Peter's Evangelical Lutheran Church, 10 Delp Rd., Lancaster, PA 17601 with the Memorial Service to follow at 11AM. In lieu of flowers, please make contributions in Joan's memory to St. Peter's Lutheran Church at the above address.
Leave a condolence on this Memorial Page
Condolences to the Family
April 22, 2016
Joan was the very defintion of FRIENDSHIP in every way possible. Her marvelous gift of friendship blessed me with of a long and rich chapter in my life. Joan was the oak tree in my small garden of friends. She supported, protected and like the leafy branches of a mighty oak, spreading her faith and love to all who knew her. Her great faith sustained her and gave her the strength to handle the lost of her beloved son, Jon E, and her last days on this earth with amazing grace. Although her journey in this world has come to an end, she is with her Father in heaven now. The indelible memories of her beautiful soul — the great love and kindnesses she gave so freely to family and friends — will remain forever tenderly engraved in my heart and mind. My dearest friend, rest in peace. Your memory will always be with me. I will never forget you and will always hold you close to my heart.
Joan Bateman – joanbtmn@gmail.com
April 22, 2016
Joan was a very special person in my life. Sandy Hall is my Aunt and I was a monthly attendee of the Bi-Polar Group that Joan was so very helpful with. One of the reasons I valued Joan was there wasn't a month that went by that she didn't take a moment to ask me directly ask me, "How are YOU doing since I last saw you?". She was a bright spot in my month!
Her devotion to the Mental Health field was a mainstay and we missed her when she finally retired. When I heard of her illness less than 2 weeks ago at the regular monthly meeting, I was stunned, shocked, and very saddened. That the woman so full of life, love, and adventure was being called home was surprising to me.
I want your family to know that your wife, mother, sister, friend, was a tower of strength for those of us that needed it most. Her compassion was unrivaled, and we (I) will miss her forever. Peace to your family. Know that she is an angel and has her wings now.
Katherine Swisher "Kathy"keswish@msn.com

April 20, 2016
Ray and family, sorry to hear of your loss….May all those wonderful family memories fill your hearts….
Joan & I had many good times together as goofy teenage friends, neighbors, and cheerleaders in Sharon Hill. So glad I got to talk to her and share a few laughs.
May your faith get you through these difficult times.

Janice (Townsend) & Jack Donahue


Visitation

Friday, April 22, 2016
10:30 AM - 11:00 AM
St. Peter's Evangelical Lutheran Church
10 Delp Rd.
Lancaster, PA

Map and Directions

Services

Friday, April 22, 2016
11:00 AM
St. Peter's Evangelical Lutheran Church
10 Delp Rd.
Lancaster, PA

Map and Directions