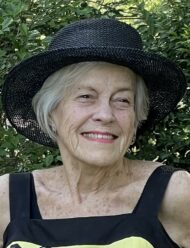 Marilyn Jean Robbins, 90
July 12, 2022
Marilyn Jean Robbins of Lancaster passed away at home on July 12, 2022, surrounded by her children. She was born in Grand Rapids, MI to the late Leland R. Ferguson and Edna W. Carter.
Marilyn was a talented costume designer and skillful seamstress for the Millersville Costume Shop who enjoyed fashion and sewing her own clothing. When not creating designs, Marilyn enjoyed spending her time outside gardening growing beautiful flowers. She was also an avid golfer and skier as well as a hand model and participated in many beauty pageants. She enjoyed dancing and reading. Due to her love of antiquing, she was avid supporter of historical preservation and was also a member of the Lancaster Elks Lodge #134.
She donated her time to many organizations a few of which include, Water Street Mission, The Iris Club, Questers and The Elks club. Being a woman of faith, she willingly offered her time within her church/ community. Marilyn was a loving mother who cherished her friends and family.
Marilyn is survived by her children: Lynn M. McDonough (wife of Larry) of Mars, PA, Jeffrey W. Robbins of Lancaster, PA and Jill S. Young (wife of William) of San Antonio, TX.; three grandchildren Kelsey L. McDonough, Reed G. McDonough and Colton M. Trego; and one great-granddaughter Rhiannon M. Trego.
In addition to her parents, Marilyn is preceded in death by her brother Robert Ferguson.
In honor of Marilyn, please leave your sadness at the door and come wearing beautiful bright colors to celebrate her life on Saturday July 30, 2022 at Charles F. Snyder Funeral Home, 3110 Lititz Pike, Lititz, PA at 3pm. A visitation will occur one hour prior to the celebration.
In lieu of flowers, donations may be made to Lancaster Elks Lodge #134, 219 N Duke St, Lancaster, PA 17602; the Questers, 210 Quince St, Philadelphia, PA 19107, or A Living Tribute at https://www.alivingtribute.org/
Watch the tribute video
Leave a condolence on this Memorial Page
Condolences to the Family
July 31, 2022
To the Family of Marilyn,
Your mother, grandmother and aunt was one special lady. Like the many and varied flowers in her ever-evolving garden, Marilyn made friends wherever she went. She had such an outgoing, approachable manner and most often made people feel at home.
Paul and I had the good fortune to be in Dance Club with her for many years and could always count on her for her creative table decorations and her table hopping to make newcomers feel welcomed. Paul elven enjoyed dancing with her on several occasions over the years.
Fifteen years ago, Marilyn was one of the founding members of the local Red Rose Quester's chapter of Quester's International. She attended many meeting over those years; took a great interest in historic preservation and restoration; and freely shared her own antique collections in her home with others. She entertained easily and was such a gracious hostesss.
Marilyn was truly a class act and was involved with her many friends from all the varied activities she in up until the end of her 90-year life. For that, she is to be to be greatly admired and remembered. We were honored to be among that number whom she called her friends; we will truly miss her.
May she Rest In Peace,
Gloria & Paul

July 27, 2022
I had the good fortune of meeting Marilyn on only one occasion. She left me with a most favorable, inspiring impression. May She Rest in Peace as her Love Lives On in the Hearts and Minds of her Dear Family and Friends. With Heartfelt Condolences, Kirsten Asherman
July 24, 2022
Whenever we think of Marilyn we see her smiling. When we got married and couldn't afford a videographer, Marilyn jumped into action with a camcorder. She wanted to not only film our vows, but to also capture all of the impromptu moments that make each wedding a unique experience. She seemed to have so much fun buzzing around while filming well wishes and narrating our special day. Watching our wedding day from her perspective and listening to her narrations is with out a doubt, the best part of the video. Marilyn made everything more fun. Her memory and her recording of that day, will keep us and our kids smiling and laughing for years to come even though, she is no longer with us.
Our sympathies and condolensences go out to her family and to all her friends. She will be dearly missed.
With love,
Monte and Gage Hukill
July 23, 2022
Marilyn and my mom were like sisters most of there lives starting in high school. By coincidence they both landed in the Lancaster PA area around 1980 and have been best friends since. Marilyn accompanied the Hukill family on many weekends to the river house on the Susquehanna as well as trips to Las Vegas and Aruba. She was fun loving with a ton of energy and a great gardener. The Entire Hukill family will miss her dearly.
July 23, 2022
I have many fond memories of Marilyn….She was so fun and always brought life to a party. Her friendship to the Hukill family was so special. We considered her our family and will be ever so thankful for the bright sunshine she always had around her and her special laugh! Sending thoughts and prayers to all of her family! Mom (Virginia) considered Marilyn her very dear friend! She will be so terribly missed!
July 22, 2022
Dear Jill, Jeff & Lynn,
my heart has been so heavy having lost such a great friend! She was one terrific lady who went way too soon. I always loved her wit and style. She was one very classy lady! Having just spoken with her by phone and having her meeting my new hubby by phone and them both sharing their love of vodka, made it a soon to be dinner meeting that we were going to set the date and toast. How very sad she never got to meet my new hubby and we were so looking forward to that and more. So now their meeting will have to be in heaven. But we are so thankful that night for the extended conversation. It truly was a blessing. you are all in our thoughts and prayers as I know it's tuff as she was always there for all of you and for us all her friends. You all held a special place in her 💖 and she always kept us up to date in what was happening! may you all find the comfort in the wonderful memories you all have. Hugs & God Bless! We will see you all next Saturday! Love & Hugs!🙏🙏🙏
July 22, 2022
Marilyn was my mom's loving and loyal friend since they were in high school together! The Hukill family has many fond memories of weekends at the river with Marilyn whom we affectionately called "bag lady" because of the bags of plants and goodies she brought with her to share!😂 She was a very special person and will be missed by us and all who knew her. Our condolences to her family.
Meredith (Hukill) Ingersoll
July 20, 2022
We are so sorry to hear of Marilyn's passing. She was a great friend and kind person. Our deepest sympathy to you all.
The VanMetre Family
Services

Saturday, July 30, 2022
3:00 PM
Charles F. Snyder Funeral Home & Crematory
3110 Lititz Pike
Lititz, PA 17543

Map and Directions