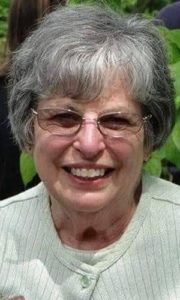 Maria Wendt, 78
April 26, 2020
Maria Wendt (nee Palumbo), 78, of Willow Valley Retirement Community, formerly of Middletown, DE and Pasadena, MD died on April 26, 2020 after a long bout with dementia.
She was married to Fred D. Wendt for 57 years (Oct 1962) and had three children DuWayne Wendt married to Allison Wendt (nee Pence); David Wendt married to Laurie Wendt (nee Martinek) and Diane Stewart (nee Wendt) married to Matthew Stewart. Her mother Veronica (Polcha), father Joseph Palumbo, brother Joseph and sister Gloria preceded her in death. She is survived by her brother Jim, her husband, three children and six grandchildren: Rainah Wendt, Hayley Wendt, Joey Wendt, Benjamin Wendt, Beatrice Stewart and Charlie Stewart.
Maria was an extremely gifted person. She made many of her own and children's clothing, her own and daughter's wedding dresses; quilts, dolls, and doll clothing. She also made English bobbin lace for many years and taught this skill to others. In the later years she grew fond of painting and attended classes for several years; painting many portraits that currently hang in all her families' living rooms. She also was a faithful member of several different churches; made vestments and altar cloths, baptism garments, sang in a contemporary choir and participated with others in cleaning the church weekly. She travelled extensively throughout her married life all over the world and all 50 states. She enjoyed living in London with her husband for three years and travelled all over Europe while there. In addition to being a mother, grandmother, crafter and housewife she worked as a beautician and a medical receptionist.
Maria was deeply devoted to her husband and her children and would often put her own needs aside to make others comfortable. She took her sister and her husband's youngest sister into her home when they were going through tough times in their lives and was a faithful friend to many of her neighbors. All who knew her before she contracted dementia were attracted to her graciousness, good humor, smile and general disposition, and even those who cared for her during her devastating illness in the last several years of her life were very fond of her. She will be sorely missed by all who knew her.
Maria's Mass of Christian Burial will be scheduled for later this summer at St. Philip The Apostle Catholic Church. Memorial contributions in her memory may be made to Hospice & Community Care 685 Good Drive Lancaster, PA 17604-4125 or Willow Valley Communities Foundation Memorial Fund for Maria Wendt 100 Willow Valley Lakes Dr. Willow Street, PA 17584.
Watch the tribute video
Leave a condolence on this Memorial Page
Condolences to the Family
May 13, 2020
Dearest Fred, we were so sorry to see your wifes death posted in our local paper, Maryland Gazette. While we did not know Maria the condolences listed tell of a truly loved and blessed wife, mother, grammy and friend. Our prayers will be with you and your family as God heals your sorrow.
Steve and Nancy Koawl
May 10, 2020
Mr. Fred and family,
Please accept our most sincere condolences regarding the passing of Ms. Marie. I have nothing but the most fond memories of our time together on Packard Ave in Ferndale. Ms. Marie was always so thoughtful, loving and gracious toward our family, especially my Mom, who she had so many common interests with. Like Ms. Kay said, Ms. Marie was a very special person and we were all so lucky for her to have been a part of our life. The video tribute was beautiful. Thank you for sharing it with us. ❤️Love,
Bruce Sponsler and family
May 07, 2020
Dear Fred and Family,
Deepest sympathy. We have many happy memories from when we were very, very young in Ferndale a long time ago. Marie was a special person and I know she will be greatly missed by all of you. How blessed you are to have had her in your life.
Kay and Karl Reiser
May 07, 2020
Dear Fred and family,
Maria is still missed here in Springmill. A lovely lady always so willing to share her many talents with others. Fred, the saddness you feel will lift with the help of your faith and family and support of friends.
Jessie Crisfield
May 06, 2020
Fred: terribly sorry about your loss of God's great gift to you. Be blessed my friend and peace to Marie.
Dick Morsey
May 06, 2020
Deacon Fred, Nick and I were so sorry to hear of the loss of your beloved wife. You're in our thoughts and prayers. Nick and Patti Choruzy
May 03, 2020
Fred, I am so sorry for your loss. I know how empty those words seem, and yet as time goes on they will fill with true meaning. Having experienced this loss, I can feel your pain and while it doesn't go away, you will realize, spiritually, she will never leave you. Your memories of togetherness will always be with you.
God Bless You,
Regards, Dick Mc Aloon
May 01, 2020
To the entire Wendr family,
Marie was a true lady and a gentle soul. I'll always remember her hospitality and warm smile. My thoughts and prayers are with you all.
Donna Miller
May 01, 2020
To Fred and the entire Wendt Family–
My deepest sympathy and condolences; so very sorry to hear of Marie's passing. Prayers to all of you. Eternal rest grant to her, O Lord; and let perpetual light shine upon her!
Don Latrick
April 30, 2020
Marie has left behind a legacy of love. My prayers and God's strength to
her Family.
Carol and Michael Anderson
April 30, 2020
What a lovely person. Marie was,always a joy to be with, loved her teas she had at her house. She used her teapots from England. She was so creative, too. Made an angel for my tree,and a doll for Sarah. So sorry for your loss, Cousins Fred,Diane, Dwayne and David.
.
April 30, 2020
Diane and family…my sincere condolences for your loss. I thoroughly enjoyed Maria and was fortunate to see her beautiful creations as a sewist and lace maker! I loved her laugh…she will be missed. My thoughts and prayers are with all at this time. Fondly, Mary
April 30, 2020
Diane
My heart is heavy with sadness over the death of your mom. Remember meeting her once in college. Keeping you and your family in prayer and asking God to comfort you.
Kim R Anderson

April 30, 2020
To Fred and family
our prayers to all of you🙏
Maria was the kind, loving , and talented with anything she did..💕
Kevin and I have great memories of visiting in London, and both of you treating us like Royalty..Working in the salon with Maria,always laughing and giving advice to me..She handmade beautiful smocked clothing for my girls,and each Xmas I think of her when I put my Xmas tree skirt around my tree. She made it ,of course…May your memories comfort you..They will for me❤️
Louise Mulvey



April 30, 2020
We were VERY blessed to know Maria – and Fred! I became a tenant in their basement apt. at a very important time in my life. I was blessed then with their patience, guidance and love, and to this day – altho' I live far away – a special friendship it will remain. I will always remember Maria as one of the most special people I've ever known. There's not doubt she will be sorely missed especially by those who were blessed enough to see her often, but she will forever remain in my heart. May God bless you family, with the fondest of memories and the comfort that God has your special/beautiful person in His house.
With sincerest sympathy and Love to you all, Cindy & Ed Spicer
April 30, 2020
I certainly do remember her beautiful smile and gracious manner.Prayers for the family and friends who will miss her dearly.
Ann keyser
April 30, 2020
Such an amazing woman that I was blessed to call my Aunt. So many wonderful memories that I will cherish forever. Prayers to Uncle Fred and cousins during this very difficult time.
Theresa Hoover
April 30, 2020
Marie was one of the kindest people I have ever had the privilege to know. Her love of life and laughter was contageous She generously shared her knowledge and talents with everyone. I am blessed to have known her. My thoughts and prayers continue for your family.
Betty Sterner
April 30, 2020
There is a huge void in the world.
Paul and Clare
April 30, 2020
Remembering her beautiful smile.
Rest in peace Marie Condolences to the Wendt family from the Garner family.
Mary Jane Garner
April 29, 2020
Our deepest sympathy to Fred and the Wendt family . Rick & I have been blessed to have shared many wonderful memories with you & Maria while you spent many years on the beautiful Pasadena peninsula the "Dena" and Our Lady of the Chesapeake. Our thoughts and prayers are yours daily . God bless your family . With love Rick & Helen Fahlteich