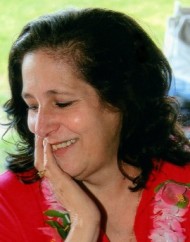 Maria Elisa "Lisa" Genoese-Fulmer
January 26, 2016
Lisa passed away on Tuesday, January 26, 2016, following her courageous battle with cancer. She was a Lancaster County native, graduating from Lancaster Catholic High School in 1982. After graduation she attended college and obtained her certificate to be a Certified Nursing Home Administrator. Later in life, she attended York Technical Institute and received her degree in Culinary Arts. Following her education, she opened her lifelong dream of Sapori Café. Lisa had many interests including her love of cooking, traveling to Italy, and her desire to share her home cooking with everyone. She always had the mentality that there is room for everyone at her table.
Lisa was a loving and faithful wife to her childhood "crush," Christopher Fulmer, with whom she shared 20 years of marriage. Five children survive her: Joseph, Anthony, Paige, Filomena, and Marcus. In addition to being a mother, she was also blessed by being a "Nonna" to her granddaughter, Ava, daughter to Joseph and Megan, and to the child of Anthony and Ashley Thornton expected in April 2016. Her greatest joy in life was her family. She is also survived by her two siblings, Antonia Hinnenkamp, wife of Larry, and Franc Genoese, husband of MaryEllen, and four nieces and nephews: Rachel, Caroline, Samuel and Francesca. Additionally, she is survived by many cousins here and abroad, especially Giuseppe Genoese and his wife, Donna. Her parents, Antonino and Mickina, and her brother, Philip, will meet her with open arms entering heaven.
She was a vibrant woman full of love for everyone that crossed through her path. Lisa was the person who was grateful for everything, and nothing was ever too small. Her spirit will always be present at the traditional "Sunday Dinner" and every meal that will be eaten at the table will always be greeted with her presence.
Relatives and friends are respectfully invited to a Mass of Christian Burial at St. Philip the Apostle Catholic Church, 2111 Millersville Pike, on Tues., Feb. 2, at 11:30 a.m. with the Rev. Michael Messner officiating. There will be a visitation on Mon., Feb. 1, at Charles F. Snyder, Jr Funeral Home, 3110 Lititz Pike, Lititz from 6:00 to 8:00 p.m. and on Tues., Feb. 2, at the Church from 10:30 to 11:30 a.m. In lieu of flowers, contributions may be made in Lisa's memory to the Ulman Cancer Fund for Young Adults, 1215 E. Fort Ave. #104, Balto., MD 21230, or ulmanfund.org.
Leave a condolence on this Memorial Page
Condolences to the Family
February 02, 2016
In questo triste momento profondamente addolorati e commossi Vi siamo vicini. Lisa rimarrá sempre nei nostri pensieri. Ci uniamo al vostro dolore con un forte abbraccio, la cugina Maria Grazia e famiglia.
February 01, 2016
Le più sentite condoglianze alla famiglia Fulmer e Genoese. Profondamente commossi ci uniamo al vostro dolore con un grande abbraccio, nel ricordo e nel rimpianto di Lisa che è venuta a mancare. Il cugino Nino e famiglia.
February 01, 2016
Dear Fulmer, Hinnenkamp, and Genoese Families,
Our hearts are with you as you struggle with the loss of dear Lisa. Having recently lost my sister, Claire, I understand somewhat the pain and sadness you are experiencing now. We pray that the peace of knowing Lisa's suffering is over will help guide you throught the days, weeks, and years ahead. Much love, Mary Kay & Dave Rod
January 31, 2016
I am so sad to hear about Lisa's passing. Lisa and I were very good friends through middle school and high school and bonded over all the angst and struggles that that period of life presents. I remember spending lots of time at her house on Marietta and truly enjoyed spending time there with her and her family. We lost touch over the years and a few years ago re-connected through facebook. It was so good to be in communication with her again. I will always remember her as a true friend and pray for her peace and her family's peace. My heart goes out to all of her family and friends. Liz Pratt-Edgerton
January 31, 2016
To the Fulmer Family I'm so saddened with Lisa' passing. It was a great pleasure to have worked with her and a honor to be in her presence. She was so courageous, she did convey any personal pain, was more attentive to making sure that everyone was taken care of. What a kind sole.a brave heart, and a great person. May Peace be with you, and leave the light burning bright for us to follow.
Chef Jeffrey B Weyant
January 31, 2016
i want to send my deepest condolences to you and your family. Although I do not know your family personally, I would like to share some encouraging thoughts from the Bible that helped me during this difficult time. Our Heavenly Father promises to one day soon eleminate death forever, along with all sickness, pain and sorrow (Revelation). He also longs to reunite us with our dear loved ones in the near future on a restored cleansed earth (John 5:28, 29; Psalm 37:10,29). I hope these scriptues will be of comfort to each of your and give you a peace during this difficult time. Again I am so sorry for your loss. Sincerely, R. Mathews
January 30, 2016
To the Fulmer-Genoese-Hinnenkamp families: my deepest sympathies to you all. Your sadness echoes in my heart for having lost such a gentle, kind, and loving woman. My heart goes out to her children. I'm sad mostly for them, having lost their mamma too soon. Much love to you all.
January 30, 2016
Dear Genoese and Fulmer Family:
I was very saddened to hear the news of Lisa's passing. I have many fond memories of spending time with her when the Cordell and Genoese family's got together. We were the same age and it was always good to see her, usually at Donna and Peppe's.
My prayers and condolences to you all.
Regards,
Holly Cordell Martin
January 30, 2016
Le piu sentite condoglianze alla famiglia tutta intera per la morte della cara Lisa, noi tutti, il cugino Eduardo e famiglia.
January 30, 2016
Dear family,
We were shocked and saddened by the news that Lisa had passed away. At least we had the pleasure of talking to her and meeting her kids at Tony's visitation.
Our thoughts and prayers are with you all.

Lin and Nancy Harley
January 30, 2016
Tonia and family,
I am so sorry to hear of Lisa's passing. i am sure your Mom, Dad and Nona are hugging her tightly! You all are in my prayers and thoughts.
Barb Miller
Visitation

Monday, February 01, 2016
6:00 PM - 8:00 PM
Charles F. Snyder Funeral Home & Crematory
3110 Lititz Pike
Lititz, PA 17543

Map and Directions

Visitation

Tuesday, February 02, 2016
10:30 AM - 11:30 AM
St. Philip the Apostle Catholic Church
2111 Millersville Pike
Lancaster, PA

Map and Directions

Services

Tuesday, February 02, 2016
11:30 AM
St. Philip the Apostle Catholic Church
2111 Millersville Pike
Lancaster, PA

Map and Directions