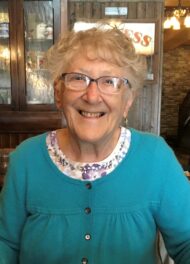 Margaret Border, 86
January 31, 1935 - December 24, 2021
On December 24, 2021 we lost our beloved family angel, and a new set of wings were issued in heaven. She passed away at home surrounded by family members.
Originally from Norwich England, she is the daughter of the late Thomas and Doris (Ames) Edwards. She is survived by her loving husband Charles of 63 years; twin brother Michael Edwards of Norwich, England; children: Charles of San Diego CA, Sheila of Honey Brook, PA, and Michael of Rochester, NY; granddaughters: Emily of West Chester, PA, and Sarah of Honey Brook, PA.
Margaret loved to travel making numerous trips back to England, which she still considered "home", to visit friends and family, showing her children and granddaughters the pageantry and history of London, along with the parks where she played and house where she grew up. Watching her connect with school and work friends was a delight, as if they had only been apart a day or two.
She enjoyed trips to new destinations as well such as Mexico, Alaska, Hawaii, Key West and trips out west to the national parks. She loved her trips to San Diego to visit son Charles as he guided her around the San Diego Zoo and all the key sights. She also enjoyed cruises, sailing away into the warmth of the Caribbean Islands. Always stopping at the local souvenir shop to pick up a magnet for her refrigerator. A special highlight of her travels was her trip to China, with daughter Sheila, to bring her second granddaughter home.
Margaret was an avid gardener and a member of the Lititz Garden Club. She absolutely loved her time in her gardens, weeding, mulching, finding that precise location for her new plants, and discussing and sharing with her gardening friends. Along with gardening, reading was a favorite pastime, as was completing the puzzles in the morning newspaper and following the Phillies games in the evening. She looked forward to her son Michael's trips home from Rochester, enjoying shopping, exploring new spots, and day trips together.
She loved watching her 2 granddaughters grow up, attending their chorus, soccer, t-ball, lacrosse, gymnastic and horsing events, cheering them on from the sidelines and stands. They brought her such joy.
She will be remembered by all for her laughter and smiles and her wonderful sense of humor.
She was a member of St. James Episcopal church and long-time employee of Farmers First Bank retiring in 2001, where she had accumulated lifelong friends.
Margaret was a devoted and caring wife, a loving mother and grandmother and dear, kind person to her friends. She will be greatly missed and loved by all.
Services will be private. Instead of flowers, family is requesting donations to Hospice & Community Care, P.O. Box 4125, Lancaster, PA 17604-4125.
Leave a condolence on this Memorial Page
Condolences to the Family
January 09, 2022
Margaret was a dear, sweet woman I got to know growing up. She was a next door neighbor on New St and in later years, a co worker at the Mill Building. May your treasured memories carry you all through the loss you are feeling now.
Gail (Baldwin) & Tom Martin
January 06, 2022
I so enjoyed knowing Margaret through the Lititz Garden Club and when I saw her at the Lititz Public Library where I worked. She had such a delightful smile and positive attitude. She will be missed! Sallie Rihn
January 02, 2022
Our thoughts and prayers are with you Junie and your family in the loss of Margaret. She was a kind and gentle soul. Sincerely Bobby and Darlene Devonshire
January 02, 2022
CHARLES, PLEASE ACCEPT MY DEEPEST CONDOLENCES. MAY MARGARETS MEMORIES COMFORT YOU.
January 02, 2022
I had the privilege of meeting Margaret through my mother, who also passed away in June. Margaret was very supportive to me during this time with kind words of hope through all the grief. Prior to that, I had numerous teas with her and the ladies, and found her to be an upbeat, sweet, and kind person whom I will always remember. She will be greatly missed.
Donna Hahn
January 01, 2022
I HAVE KNOWN MARGARET FOR OVER 10 YEARS WITH OUR GARDEN CLUB ACTIVITIES. I WILL MISS HER QUIET AND PLEASANT PERSONALITY. EVIE BERGEY

December 29, 2021
Margaret was a true English Lady , her beautiful Norfolk accent never left her. A quiet, shy lady who was a dear friend for over 20 years. I will miss her kindness, sense of humour but most of all her loyalty and friendship.
Pamela Daecher
December 29, 2021
Margaret was a lovely lady, we had gardening in common and seeing all the beauty in nature.
Condolences to her family, she will be missed.
Carole Miller
December 29, 2021
We feel so fortunate to have known such a cheerful, positive woman. We will miss her smile.
Nancy and Chuck Hummel