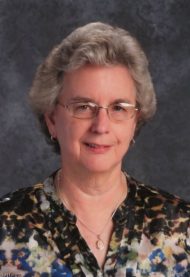 Margaret Ann Gardner, 69
October 7, 1951 - May 27, 2021
Margaret Ann Gardner, 69, of Lancaster, passed away at St. Anne's Retirement Community on Thursday, May 27, 2021, after a 4-year battle with cancer. She was born in Lancaster to the late Joseph L. and Gertrude (Klos) Gardner.
A graduate of Lancaster Catholic High School, Margaret completed her studies at Misericordia University and Drexel University. A dedicated educator, Margaret spent 44 years at Our Mother of Perpetual Help School in Ephrata, first as a Teacher and then as Principal. She was kind and generous and shared her time and talents with many people.
Margaret was a parishioner of St. Joseph Catholic Church and served as an Extraordinary Minister of Communion. She enjoyed gardening, reading, needlework, traveling and spending time with family and friends.
Her family includes her sister Mary Ellen Gardner, and her brother Joseph L. Gardner, Jr., husband of Margaret (McKeogh) of Warminster; her niece, Kristen Gardner-Falcone, wife of Andrew, her nephew, Joseph L. Gardner, III, husband of Monica, and her nephew James Gardner and her great-nieces and great-nephews, Hannah, Nathan, Benjamin, and Amelia.
Mass of Christian Burial will be celebrated at 11 AM Thursday, June 3rd, 2021, at St. Joseph Catholic Church with Rev. Allan F. Wolfe as Celebrant, Viewings will be held from 6 to 8 PM, with the Rosary recited at 7 PM, on Wednesday, June 2nd at the Charles F. Snyder Funeral Home & Crematory, 414 E. King St., Lancaster, PA 17602, and from 10 to 11 AM at the church before Mass. Final Commendation and Farewell in St. Joseph New Catholic Cemetery. The Mass will be Live Streamed on the church website at https://stjosephslanc.com/
In lieu of flowers, memorial contributions may be made to St. Joseph Catholic Church, 440 St. Joseph St., Lancaster, PA 17603, or to Our Mother of Perpetual Help School, 330 Church Ave., Ephrata, PA 17522.
Watch the tribute video
Leave a condolence on this Memorial Page
Condolences to the Family
June 01, 2021
My sincere and heartfelt condolences to Mary Ellen and Joseph as you grieve the loss of your dear sister. Margaret was one of the finest human beings I had the privedge to work with and to know as a friend. She was kind, smart, creative, faith filled, selfless, and totally devoted to her students at OMPH. Both our son and daughter are better people because of her influence as a person and teacher. We are all better people having known Margaret Gardner. Welcome home, good and faithful servant.
Susan Kovaleski
June 01, 2021
Margaret was a wonderful woman and a top-notch educator. We are better for knowing her.
Sarajane Givler

May 31, 2021
Our condolences to Mary Ellen and the rest of Margaret's family. Margaret devoted her life to Catholic education and especially OMPH school! Thank you Margaret for all that effort and how much you cared! What a wonderful person!

Patricia Ressler
May 31, 2021
Our sincere condolences in the loss of such a loving & kind OMPH School teacher. Our 3 children attended OMPH School in the 90s and beyond and her dedication to both the school and parish will never be forgotten.Our thoughts & prayers are with her family at this time.
Dave and Bev Wanchalk
May 31, 2021
I will miss you so much. Love Ben
May 29, 2021
My condolences on the loss of your loved one. Ms. Gardner was my teacher for four years while I attended OMPH in the late 70s-early 80s. She was my favorite teacher of all time and someone who I've tried to emulate as an educator. She will never be forgotten by the many whose lives she touched. May her soul Rest In Peace, and may you all find comfort in the many shared memories of such a beautiful person.
Julie Barber Batson
May 29, 2021
By far one of the best teachers of my childhood. So many find memories of my time in Miss Gardner's class at OMPH. She will be sorely missed. Thoughts and prayers for her family.
Kristina (Wahl) Wentling
May 28, 2021
Mary Ellen, Joseph and Family: Be assured of my prayers for you during this time of pain, mourning and loss of your beloved sister Margaret. Margaret was a living saint who blessed the lives of so many people including hundreds of school children over the years. I was blessed with her presence for 11 years and she helped me to become a better priest, pastor and person. I have so many wonderful memories of our time together at O.M.P.H. School. May Margaret rest in the loving hands of our God and may Our Mother of Perpetual Hep and St. John Neumann pry for you in this time of sorrow. My blessings, prayers and love, Fr. John McLoughlin, C.Ss.R. Lima, Ohio
Visitation

Wednesday, June 02, 2021
6:00 PM - 8:00 PM
Charles F. Snyder Funeral Home & Crematory
414 East King Street
Lancaster, PA 17602

Map and Directions

Visitation

Thursday, June 03, 2021
10:00 AM - 11:00 AM
St. Joseph Catholic Church
440 St. Joseph Street
Lancaster, PA 17603

Map and Directions

Services

Thursday, June 03, 2021
11:00 AM
St. Joseph Catholic Church
440 St. Joseph Street
Lancaster, PA 17603

Map and Directions