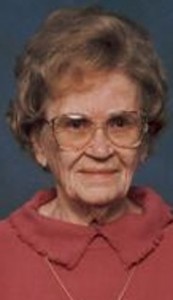 Marcella Dunn Rampy
Marcella Dunn Rampy, age 95, Lancaster, PA entered into glory surrounded by family and loved ones on March 2, 2008.
Born in Lisburn, Ireland on April 22, 1912, she moved to the USA in 1930. For 20 years she and her husband served as missionaries in Venezuela, South America spreading the word of God under Faith Bible Fellowship Church of Lancaster, where she remained a member until her passing.
Marcella graduated from Lancaster General Hospital School of Nursing as an L.P.N. in 1965 while serving at the Water Street Rescue Mission where her husband served as Director from 1962-1974 until his death.
She was preceded in death by her devoted husband of 31 years, the Reverend Robert Earl Rampy II, as well as her two sisters of Ireland, Bona McWilliams and Joy Briggs and a grandson Jon Justin Rampy.
She is survived by a daughter, Garalyn R. Velasco of Lancaster and three sons, Robert E. Rampy, Milton V. Rampy and Timothy P. Rampy all of Florida, eleven grandchildren and nine great-grandchildren.
In lieu of flowers please send contributions to Faith Bible Fellowship Church Missionary Fund in remembrance of Marcella Rampy.
Victory service will be held on Thursday March 6, 2008 at Faith Bible Fellowship Church 151 Donnerville Rd Lancaster, PA 17601. Family will greet friends from 6-7PM. Victory service starting at 7pm.
Leave a condolence on this Memorial Page
To "Timmy", "Miltie", "Bob", Garalyn and all the family, I extend my condolences in the passing of your mother, grandmother and probably great grandmother. I have been so blessd by Marci. Her generosity and caring nature coupled with humor and spunk made her delightful to be around! She was a natural in speaking for her Lord!
After she left Fairview St. to live with Garalyn, I tried to get her address but not remembering Garalyn's last name and having tried a few pastor's – one who heard of her but couldn't tell me where she was, I gave up then as I wasn't sure she'd remember me anymore.
She was a classmate in LPN school and I will always remember her as a very special lady! Bob and Marci had very special, talented, intelligent children.
My sister saw the obituary and called me from Blue Ball today! My husband and I live in Palmyra and if we do not make the Victory service, please know my thoughts and prayers are with you!
Tim, I wonder if you are still Scuba diving and/or are in that business! That VW bug you had painted a metallic blue, remember? I ran it 14 yrs. and it may still be on the road! Hope you are all doing well!
God bless you!
Thelma (Hoover) Erb
Tho I did not know Marcella personally, I heard Pastor G.F.Yost speak of her often, He held her up as an example of faithfulness and her missionary service was an inspiration to me as an aspiring young missionary candidate. May the GRACE of GOD be with all of you at this time, Rejoicing that another of God's servants has been called into His presence!
IN THE SAVIOURS LOVE,
Ed and Ruth Moyer
We are praying for you. We know she is in a much better place. The Marcella we all loved has not been with us for a long time and now she is healed and able to remember everything. We loved her dearly and know we will see her agian in glory.
Doug and Mona Strayer
Dear Garolyn and Family:
I am so sorry for you loss but yet happy for Marcella to be with the Lord, she was such a special person I used ot go visit with her when I was visiting mother she always was so kind and I will always remember her bus trips to Park City.
She was loved by my mother Elizabeth B.Trimble so much they had such a deep sister friendship, we talked of her often. With mother being ill herself I could not get her out too much and now she is ill again with pneumonia possibly. She misses getting to church so much but best of all sitting with your mother in Sunday School and Church I remember their stories well.
You can be very proud of her.
In His Name
Cydny Trimble-Burke
Dear Garalyn, Bob, Milty,and Tim,
It has been many years since I have seen you boys, but I remember all of you very well. We got to know your Mom about 1941 when I was a teenager and your Dad a couple of years later. I remember all of you best for time spent together in Venezuela. I think two of you lived with me and my wife Dorothy at the Orinoco Academy. (Garalyn and Bob for sure) We have many happy memories of the 40 years we were residents of Venezuela.
We were sorry to learn of your Mother's death as we know that is always painful for we who stay behind. However, you have much for which to be thankful with the assurance that your Mom is in the presence of the God she served. Trust you plan to be with her in the future.
Barclay Harley
Greeting to Garalyn, Bob, Milton and Tim and families,
We haven't seen Mom too often recently, but remember her [and Dad too] as fellow missionaries with ORM ! That was a long time ago, but we haven't forgotten their ministry and the effect for God they had on the nationals ! We remember too "you kids" at the OA ! We know where Mother is, .. and we're going there too ! May our great God "of all comfort" give each of you His peace and encouragement in these difficult days.
Pastor Austin & Ruth Shelly
Roxy and I had the distinct privilege of meeting and being with Marcella on many occasions in Venezuela during her later, post-1975 years there. It was always such a joy and a privilege to spend time with this absolutely delightful woman who loved everyone she met. Our kids were little at that time and she brought each of them one of her special little stuffed bears that she made. The kids loved her. We also had the opportunity to do some traveling in Venezuela with Marcella, to places where she and Bob had ministered. What joy she spread when she went back to visit! We loved being with her and found her to be a tremendous inspiration in our own experience in Venezuela. She was one of God's unique, faithful ambassadors!
In Christ,
Dave and Roxy Schlonecker
Bible Fellowship Church missionaries who served with ORM and TEAM from 1975 till 2002.
May the Lord be a great comfort and peace at this time of mourning and grief, knowing that Marcella is with her Lord and Savior that she faithfully served all her years upon this earth. She was truly a Saint to all that knew her. The Victory is now truly hers as she begins her Eternal Rest with Her Eternal God in the place prepared for her.
With Loving Memory,
Paul Spedden
What a hopeful – and indeed, victorious, obituary. Reading it spurred so many memories of happier days in Venezuela with Aunt Marcela and Uncle Bob. I have a specific memory of each of her children, and vividly remember days at the Puerto La Cruz Libreria. Her legacy reached far beyond what she ever expected; what a comfort to know that in her passing she has left suffering and illness. I trust each of you find comfort in remembering how special she was and in the innumerable memories you surely embrace.
Dear family,
Marcella was my Sunday School teacher and neighbor on Fairview Avenue as my parents prepared for the mission field, back in the late 1970's. I will be ever grateful for her enthusiasm for the Lord, and those precious moments as she told us of life in Venezuela, preparing us as children to face the unknown in Brazil. Now headed for the Canary Islands of Spain, my little family plans to whisper, "Do you love Jesus?" in their ears, and tell them the old, old story of Jesus and his love. Just like Marcella did. May God's Grace give you strength during these days.
Craig for the Millers
Karena, Claudia, Olivia, and Weston
CrossWorld