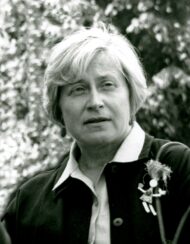 Mara Rekis Anderson, 76
September 06, 2022
Mara Rekis Anderson passed away September 6, 2022, at Landis Home in Lititz where she has been a resident for the past few years. Mara started her world citizen life in 1946 in a Displaced Persons camp in Dieburg, Germany. This was one of several DP camps where her parents, Alberts and Zenta (Rutkis) Rekis were given refuge after they fled their native Latvia and the advancing Soviet Army at the end of the Second World War. After several years in DP camps, under the sponsorship of Pastor and Mrs. Lebo and the help of St. Paul's Lutheran Church in Millersville she and her family were allowed to come to America and start a new life in Millersville.
Growing up in a family where German was the language of the DP camps, Latvian was the language at home and English was the language of school and community, led her to a life-long passion for language teaching and cross-cultural communication. As a second grader she remembered being surprised that her classmates only spoke one language. The refugee years in Germany seemed to be the predictor of her future as a teacher of German. Mara earned her Bachelors degree in German from Millersville University, a Master's from Middlebury College and the Johannes Gutenberg Universitat in Mainz and a Doctorate in Foreign Language education from Temple University.
Mara's language teaching career spanned more than three decades and three continents. Mara started teaching at Ephrata High School in 1968 and over the years besides, the traditional German classses she taught, she organized and taught a Survey of Foreign Languages and Cultures course to at-risk students. She also organized and chaperoned German-American Partnership summer exchanges to Germany for about thirteen summers. She served as head of the Foreign Language department where her students' high scores on national tests won them free trips to Germany. As not to favor only German, she facilitated a distance learning Japanese language program. For many years she organized and supervised student exchange visits with Ephrata's sister city, Eberbach in Germany, a relationship she was intrumental in establishing in 1976. Besides her 32 years of teaching German at Epharta High School, she was adjunct professor for Foreign Language Methodology at Millersville and after retirement supervised student teachers.
Mara's passion for World Languages, a term she preferred to Foreign Languages, led her to the other side of the world. Her impressive credential list also includes two Fulbright Fellowships, one to Japan and the other to Latvia, teaching language pedagogy. Her intense fear of flying did not stop her traveling to places to lead teacher training courses. Family members were familiar with the city of Wuhan, China before the pandemic because Mara had spent the summers there in 1983 and 1984 at HUST (Huazhong University of Science and Technology) teaching English to faculty who were preparing to study/work in North America and Great Britain. When the Berlin Wall fell in 1989 she hopped on a plane and joined the celebration which included her being interviewed on CNN.
Over the years Mara also had time to be involved in community activities. She was active in her neighborhood watch. She was a poll worker in keeping with her strong belief that everyone should exercise their right to vote because not everyone in the world has that right.
Mara also helped the Lancaster Latvian Community with their humanitarian work with elderly in Latvia by collecting and buying needed items and on trips to Latvia she would visit with them.
She is survived by two sisters, Dace Eaby and Ilze Berzins and her long time companion Gerald Groff, her niece Sarah Eaby and nephews Karlis Berzins, Adams Berzins and Davis Berzins who will miss the pearls of wisdom she would bestow on them.
A Memorial Service will be held on Saturday, September 10, 2022, at the Charles F. Snyder Jr. Funeral Home, 3110 Lititz Pike, Lititz, PA 17543 at 11 AM. A visitation will be held from 10 AM until the time of the service. Interment to follow at Millersville Mennonite Cemetery.
In lieu of flowers please support the Lancaster Education Foundation, 445 N. Reservoir St., Lancaster, PA 17602. On the memo line please reference, Lefever Memorial Scholarship.
Leave a condolence on this Memorial Page
Condolences to the Family
September 13, 2022
I read with sadness of Mara's passing. My heartfelt condolences to Dace, Ilze and thier respective families and our Latvian community. Laima Carlisle
September 10, 2022
Frau Anderson was one of my favorite teachers of all time. So personable and caring. She held my interest at in learning both German language and culture. I went to Germany because of her and Frau Strohl. My favorite memory of her was when and actually visited my own classroom where I taught when she would observe student teachers. She was a definite influence on myself and countless others. She made an impact in this world.
September 10, 2022
What an incredible life Mara lived! She accomplished so much and was a positive influence on so many. Our condolences to Dace, Ilze, and Sarah and all of the family and many friends. May your fond memories of Mara and the belief that she is now in eternal peace comfort you.
September 10, 2022
Izsakām visdziļāko līdzjūtību visiem tuviniekiem. Esam domās ar jums. Māru atceros kā jautru, humora un enerģijas pilnu, dzives gudru un inteliģentu sievieti. Ar mīlestību Ilze no Latvijas.
September 09, 2022
It was great saddness I read of Mara's passing. First let me express my sincerest condolences to her family. Mara was a friend for many years. We met in the early 1960's when she asked me about my experiences in our Junior Year in Marburg Program. Over the years I gained respect for her consummate skill as an educator and her unwavering support for students of all ages. I enjoyed talking to her about things German and pedagogy. She will be missed. Peace to her ashes
September 09, 2022
So many fond memories over the years with Mara. She was such an important part of our little Latvian community in Lancaster. Mara was such a wonderful person with so many stories to share with others. Sending our condolences to the whole family. She will be missed by many.
September 09, 2022
Frau Anderson,Du warst einer der wenigen Lehrer, bei dem ich gerne zum Unterricht ging und von dem ich lernen konnte. Meine drei Jahre des Erlernens der deutschen Sprache, zwei in Ihrer Klasse und einer in Frau Strohls Klasse, waren einige der schönsten Erinnerungen, die ich an meine Highschool -Karriere habe. Ich werde dich sehr vermissen und ich weiß, dass ich nicht der einzige bin, der es tut. All das Leben, das Sie Ihren Schülern unterrichteten, werden sich immer gern an Sie erinnern. Der Himmel hat einen anderen Engel mit deinem Tod gewonnen und ich hoffe, dass du endlich in Frieden bist.Mit meinem ganzen Herzen,Anton Bingeman
September 09, 2022
Mara was the best mentor, colleague and friend for 27+ years. It was always so obvious from being with her how much her sisters, nephews and niece meant to her. My heart shares in your grief, but we are all much better people from having known and loved her.
Bonnie Strohl
September 09, 2022
My condolences to the family. As soon as I saw the news on the McCaskey Facebook page I contacted several classmates who remembered Mara well. She certainly made an impression on us in elementary school as she came from another country! We all recalled her smile and her long blonde braid. And I remember when she had it cut off and how conflicted it made Mara feel. She knew it would make her mother sad as it was a last vestige of Latvia. Mara was remarkable then and I wasn't at all surprised to hear the many things she achieved in her long productive life. A real loss.
September 09, 2022
Ilze, I remember singing with your sister in the Sing for the Moment Choir at Landis Homes. A very sweet woman who enjoyed singing. I wish I had known her background and experience, so I could have talked with her about it. What an accomplished woman!
Blessings to you and your family as you mourn.
Donna Becker (I made a t-shirt quilt for your son.)
September 08, 2022
Dear Dace and Sarah,My heartfelt condolences for the loss of your sister and aunt. Dr. Anderson was an exemplary teacher who left a lasting impression on her students. I was lucky to have learned from her.
Angelika Koerner
September 08, 2022
I have fond memories of Frau Anderson teaching me the German culture and language. I am honored to have traveled there with her in 1989. Her enthusiasm for the sights and historical details of the country came to life for me that summer. Tammy (Mundorff) Saunders
September 08, 2022
Without question, my favorite teacher from high school! She had such a gift/passion for teaching and was truly an ambassador for world cultures and languages.Her life was such an incredible journey! I was truly saddened to learn of her passing!My thoughts and prayers to her family and freinds!
September 08, 2022
I would like to extend my sincere condolences to Dr. Anderson's family and friends. I first met Mara in my last semester at Millersville University and instantly knew that she had a gift for teaching language like few others. I was overjoyed when she was assigned to me as my advisor during my student teaching semester. She was the best at her craft and I would not be the teacher I am today if it had not been for her passion, expertise, empathy, and honest feedback. May she rest in peace. She will be dearly missed.
September 08, 2022
Dear Dace and Sarah, so sorry for your great loss of an amazing woman, sister and Aunt. May God's grace and presence give you peace at this time of sorrow. Love Dawn and Kristin Connor
September 08, 2022
Dear Dace and Sarah
We are so very sorry for your loss. She was an amazing person and what a life she led. May God give you peace getting through this difficult time. Linda and Willard Hacker
September 08, 2022
Frau Anderson was the best German and world cultures teacher around. I had the pleasure of traveling to Germany with her and hosting several German students in my family home. I enjoyed when she brought back pieces of the Berlin Wall and 1000 year old eggs from China, that she allowed us to eat in the classroom. I will always have fond memories of what we learned in her classroom and her unique way of teaching. She is a great woman who will be missed.
Wendy (Burke) Elser
September 08, 2022
Dear Dace and Sarah, I am sorry for the loss of your beloved sister and aunt. What an amazing life she led. So many people benefited from her love of language. God Bless, Marie Rice
September 08, 2022
Frau Dr. Anderson was hands-down the most influential teacher I had in all of my studies. She is the reason I pursued two degrees in German, and why I have such a pronounced love of Germany.
I am so sorry to hear of your loss and wish you peace in your time of grief. She will not be forgotten, and I will think of her fondly when I travel back to Germany again later this year.
Sheri ("Hanni") Howe
September 07, 2022
I loved Mara very much and enjoyed taking care of her and I told her that often so she would know how much I cared for her and she will live in my heart forever love Wanda and Eddie ❤️🌹
Visitation

Saturday, September 10, 2022
10:00 AM
Charles F. Snyder Funeral Home & Crematory
3110 Lititz Pike
Lititz, PA 17543

Map and Directions

Services

Saturday, September 10, 2022
11:00 AM
Charles F. Snyder Funeral Home & Crematory
3110 Lititz Pike
Lititz, PA 17543

Map and Directions