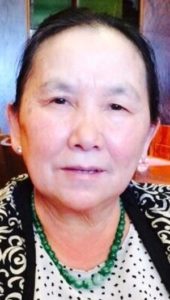 Mao Yang, 64
May 21, 2017
Mao Yang, 64, of Ephrata, passed away unexpectedly Sunday, May 21, 2017 at St. John's Hospital in Maplewood, Minnesota while visiting her daughters. She was born in Pusagnaib, Laos to the late Paj Houa Yang and Zoua Moua.
She retired from Tyson Foods in New Holland and was a lifelong member of Hmong Alliance Church in Leola, Pennsylvania. Mao was the loving mother of 8 who lived by her Christian faith. She has worked hard to give her children a good life. She enjoyed church activities, gardening and spending time with her children and grandchildren.
Surviving are her 8 children, Bee Xiong, Molly Xiong, Pao Xiong, Zepao Xiong, Chad Chandee Xiong, Chua Xiong, Ter Xiong and Tou Xiong; 18 grandchildren, 6 great-grandchildren, 1 sister, 5 brothers and her mother Mai Vang.
Funeral services will be held at 11 AM Saturday, June 10, 2017 at the Charles F. Snyder, Jr Funeral Home & Crematory, 3110 Lititz Pike, Lititz, PA 17543. Friends will be received at the funeral home from 9 AM to 12 noon and again from 5 to 8 PM on Friday, June 9; and from 9 AM to 11 AM prior to the service on Saturday. Burial will take place in Mohler Brethren Cemetery, Ephrata, PA on Saturday.
Leave a condolence on this Memorial Page
Condolences to the Family
June 10, 2017
To Bee Xiong, I am sorry to hear of the passing of your mother. I am sure you will miss her. How wonderful that you will share eternity together one day and rest on the glorious light of our Lord. Hold your memories of her close to your heart.
Your friend and teacher, Mrs Brenner
June 09, 2017
We were saddened by the sudden loss of our beloved team member here at Tyson Foods. As Chaplain, I greeted her every day and always enjoyed her smile and pleasant demeaner. We will miss her but we rejoice at her homecoming with her Lord and Savior. Our most sincere Condolences to her family and friends. Chaplain Steve – Tyson Foods
May 27, 2017
Pa-Chia and I are praying for the family. Unfortunately, we cannot be there to celebrate Phauj's life and her homecoming to be with her Creator. Our Lord Almighty gives you comfort, peace, and strength during this hard time. There is life in Jesus Christ; we will see her again.– Jerry and Pa-Chia Lor
May 27, 2017
Chua and Brandon- My thoughts are with you and your entire family. Love you guys and will keep you all in my thoughts and prayers.
Jeannie Halvorson
Minnesota
May 26, 2017
May God be with you and your family during this difficult time. We will always remember her kind and loving spirit. Jack and Lisa Vue sending thoughts and prayers from Ohio.
Visitation

Friday, June 09, 2017
9:00 AM - 12:00 PM
Charles F. Snyder Funeral Home & Crematory
3110 Lititz Pike
Lititz, PA 17543

Map and Directions

Visitation

Friday, June 09, 2017
5:00 PM - 8:00 PM
Charles F. Snyder Funeral Home & Crematory
3110 Lititz Pike
Lititz, PA 17543

Map and Directions

Visitation

Saturday, June 10, 2017
9:00 AM - 11:00 AM
Charles F. Snyder Funeral Home & Crematory
3110 Lititz Pike
Lititz, PA 17543

Map and Directions

Services

Saturday, June 10, 2017
11:00 AM
Charles F. Snyder Funeral Home & Crematory
3110 Lititz Pike
Lititz, PA 17543

Map and Directions