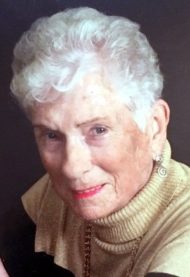 Madalynne L. Allen, 88
July 29, 2017
Madalynne L. Allen, 88, of Davenport, FL died peacefully after a brief illness on Saturday, July 29, 2017 at Hospice and Community Care in Mt. Joy, PA. She was the widow of Richard C. Allen who died March 20, 2017. Born in Harlingen, TX she was the daughter of the late Cecil and Beulah Manwell.
She graduated from William Woods College in Fulton, MO. Upon moving to Lancaster, PA she obtained her real estate license and was active in property management. Lynne, as friends knew her was an avid golfer and member of both Conestoga CC in Lancaster, PA and upon retirement, Ridgewood Lakes Golf Club in Davenport, FL. She also loved to read, play bridge and most of all cherished time spent with her family and grandchildren.
She is survived by her two daughters, Christine McBee, Houston, TX wife to William "Bo" McBee. Claudia Summerson, York, PA wife to Kevin Summerson and son Daniel R. Allen, Lancaster, PA husband to Marla Loucks-Allen and eight grandchildren.
Burial will be private and at the convenience of the family with inurnment at St. Joseph Cemetery Lancaster, PA. In lieu of flowers, memorial contributions may be made to Penn-Mar Human Services 310 Old Freeland Road, Freeland, MD 21053.
Leave a condolence on this Memorial Page
Condolences to the Family
August 08, 2017
We send our sincere condolence to the family of Mrs Lynne Allen. My husband and I have held them in high regard and grateful for their friendship. We truly miss this beautiful and loving couple. Together, they are enjoying the peace only God can give.
Laura and Manuel Jain, Haines City FL

August 04, 2017
We just heard of your Mom's passing. She was a great lady but now is with her Man. She'll be missed
but is now where she wants to be.
Ron and Mary Anderson, High Vista
August 03, 2017
Dear Chris, Bo, and Family, I was sad to hear of your mother's passing so soon after your father. I know she was lost without him, so it's comforting to think that they are together again. You are ALL in my heart today. Wishing you peace as you spend time remembering all the ways she shaped you and your siblings and her grandchildren into the people you are today. Realizing that you are an adult "orphan" is very sad. Keep them in your memory always.
Love to you, Donna Popo
August 03, 2017
Our deepest condolences at the loss of your mother. She, and Dick, were both wonderful next door neighbors, who became friends. She loved to visit, and always had a smile for us. She is already missed, but there is comfort in knowing she is with your father.
Terry and Doree Konze
August 02, 2017
It is with great sadness that we write this message to Lynne's family. We so enjoyed her as our neighbor, always talking and laughing with people on our street in High Vista. As a golfer she loved playing the game and the Tuesday Ladies League will miss her smiling face. Please accept our condolences and know that High Vista will miss her very much.
George Deragon and Jean Strand