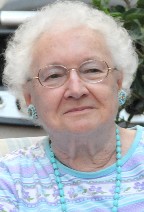 M. Margaret Gegg, 87
March 11, 2013
M. Margaret Gegg, 87, of Lancaster, passed away on Monday evening, March 11, 2013 at Lancaster General Hospital. Over the past few years, she had resided at both Evergreen Estates and Conestoga View.
Born in Lancaster, she was the daughter of the late August H Gegg, Sr. and Amelia Hilbert Gegg. She was preceded in death by her brother August H. Gegg, Jr., and many aunts and uncles with whom she was very close. She is survived by her sister-in-law Shirley Gegg, Ronks; three nephews; Stephen R Gegg, husband of Diane, Lititz; Michael P. Gegg, husband of Michele, Lancaster; Scott H. Gegg, husband of Rayma, Altamont, KS; and one niece, Amy L. Randall, wife of Kenneth, Lancaster. She is also survived by 14 great nieces and nephews and 2 great-great nephews.
She was a life-long resident of Lancaster and a 1943 graduate of Lancaster Catholic High School. She was a life-long member of St. Joseph's Catholic Church. She retired in 1987 after working in the Circulation Department of Lancaster Newspapers for 43 years. At St. Joe's she was a member of the Holy Rosary Society, the Woman's Club, and an active member of the Legion of Mary. Born and raised on Cabbage Hill, she was a member of the Golden Hill Club and a RSVP volunteer for the Lancaster Public Library. She enjoyed traveling and over her lifetime visited every state in the union and several foreign countries but never learned to drive a car. She enjoyed working on crafts, volunteering at St. Joe's Church, and entertaining friends and family. Marge will also be fondly remembered for her angel collection, being a great cook and baker, and friend to many.
Friends will be received on Thursday, March 14, 2013 from 6-8PM at the Charles F Snyder Jr. Funeral Home & Crematory, 3110 Lititz Pike, Lititz, PA and again on Friday, March 15, 2013 from 10:30-11AM at St. Joseph Catholic Church, 440 St. Joseph St., Lancaster, PA 17603. The Mass of Christian Burial will be celebrated at 11AM with interment to follow at St. Joseph New Catholic Cemetery. In lieu of flowers, please make contributions in Margaret's memory to St. Joseph New Catholic Church at the above address. To send an online condolence, please visit SnyderFuneralHome.com. Charles F. Snyder Jr. Funeral Home 560-5100
Leave a condolence on this Memorial Page
We were deeply sorry to hear or Aunt Marge's passing. There was never a birthday, holiday, or picnic that Aunt Marge wasn't there bringing food, and an endless stream of conversation. I remember how loud it used to get when she and the "Aunties", as we called them, used to get talking and laughing in the living room. She lead a very busy and full life. Let's hope that there are bus trips in heaven. We will miss her.
Missy, Brent and Cody Randall
I am sorry to hear of Margaret passing! I worked with Margaret at Lancaster Newspapers in the Circulation Dept. She was a busy and kind Lady! And always spoke fondly of her Family!
My deepest sympathy
Margaret was a very kind and wonderful lady always enjoyed chatting with her. Always loved to tell us about her travels. She loved her family so much. She was a very good lady