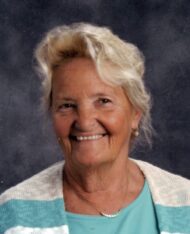 Lynda J. York, 75
October 18, 1945 - July 03, 2021
Lynda J. York, 75, of Manor Twp., passed away at her home on Saturday, July 3, 2021, surrounded by her family. Born in Lancaster, she was the daughter of the late Wellington York and Sarah (Rensel) York.
Lynda graduated from State College High School with the Class of 1963, and later attended Empire Beauty School. For more than 20 years, she was the owner of Lynda's Beauty Lounge. She formerly taught cosmetology at both Empire Beauty School and Lancaster County Vo-Tech, now Lancaster CTC. She more recently worked as a nurse's assistant at LGH Dialysis, and at Penn Manor High School as a personal care aide.
Lynda enjoyed swimming, served as a lifeguard and taught water aerobics. A collector of angels, she enjoyed antiquing, crafting and spending time with her grandchildren. She was a former auxiliary member at both the American Legion in Middletown and the former West Lancaster Fire Company.
Surviving are three children: Kenneth A. Whitman and his wife Marcie of Elizabethtown, Robert O. Hunsinger and his wife Mariana of Mount Joy, and Amy L. Whitman and her fiancée Keith Newport of Wells Tannery. Also surviving are four granddaughters, Meghan, Julia, Abby and Adriana; two great-grandchildren, Cheyenne and Theodore; and a sister, Joan Kulka and her husband John of St. College.
The family would like to thank the doctors, staff and the Green Team of the Ann B. Barshinger Cancer Institute for their excellent care. Also special thanks to the Grace Cancer Care ministries.
A viewing will take place from 6 – 8 PM on Thursday, July 8, 2021, at the Charles F. Snyder Funeral Home & Crematory, 441 North George Street, Millersville, PA, 17551. Funeral services will be held at 11 AM on Friday, July 9, 2021 at the funeral home, where the family will receive guests beginning at 10 AM. Interment at Millersville Mennonite Cemetery will be private. In lieu of flowers, contributions in Lynda's memory may be offered to the Activities Fund (Account 8180) at the Lebanon VA Medical Center, 1700 South Lincoln Avenue, Lebanon, PA 17042.
Watch the tribute video
Leave a condolence on this Memorial Page
Condolences to the Family
July 10, 2021
Beloved family of Lynda. I am so sorry for your loss. Lynda was a big part of my family's life. She was my sons aide for several years. She had such a positive outlook and was always on the go. She will be very missed. Rest In Peace
Lorraine Jopchak
July 09, 2021
My thoughts & prayers to the family for your loss.Lynda was one of the first people I met when I moved here.When she was a lifeguard here she kept everyone under control.Again my deepest sympathies.

Patti Jackson
July 09, 2021
We were so sorry to read of Lynda's passing. We would run into her when we were swimming at Homestead Village's pool. We always enjoyed our conversations, which helped pass the time as we were exercising. She was always doing things for others and I'm sure made a difference in many people's lives. She probably never realized how many lives she touched with her kind deeds.
We are praying that your family finds peace with the memories you hold dear and the thought that she is no longer suffering.
With Deepest Sympathy
Kathy & Andrea Amour
July 08, 2021
Dean and I are sorry we couldn't make it to either service. We want to say we're sorry for your loss. Lynda always kept people on their toes.
Tammy Peelor
July 07, 2021
Lynda, It was fun working with you at Penn Manor. I also enjoyed the water aerobics class I took with you one Summer. You always had such fun talking about your grandchildren. Your spunk always made time spent with you fun. Thank you also, for introducing me tto Dragon Habachi. I hope your family knows how special a person you were to many!
Sylvia Frey
July 07, 2021
My condolences to your family. Lynda was a very special lady! I knew Lynda through "Ladies for Vets". I would embroider her aprons and other things for her. She was always busy and doing for others. She was a wonderful person and will be missed by many. Rest in Peace my Friend. I will miss you.
Julie A Fry
July 06, 2021
Our condolences to your family. Lynda was a special friend and will be surely missed.
Sandy Stone
Visitation

Thursday, July 08, 2021
6:00 PM - 8:00 PM
Charles F. Snyder Funeral Home & Crematory
441 North George Street
Millersville, PA 17551

Map and Directions

Visitation

Friday, July 09, 2021
10:00 AM - 11:00 AM
Charles F. Snyder Funeral Home & Crematory
441 North George Street
Millersville, PA 17551

Map and Directions

Services

Friday, July 09, 2021
11:00 AM
Charles F. Snyder Funeral Home & Crematory
441 North George Street
Millersville, PA 17551

Map and Directions