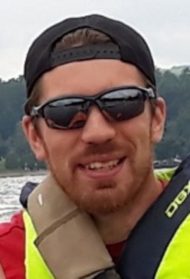 Lyle N. Garvey, 31
January 25, 2020
Lyle N. Garvey, 31, of Myerstown, formerly of Lancaster, died unexpectedly on Saturday, January 25, 2020. He was born in Lancaster and was the son of John K. and Lisa M. (Pautz) Garvey, of Lancaster.
Lyle is survived by his loving wife, Kimberly L. (Hansell) Garvey and two daughters, Adalynn Marie and Brielle Elizabeth who meant the world to him. He was a wonderful father who always put his family first.
He graduated from Lancaster Mennonite High School, earned his EMT certificate where he spent many hours volunteering on the ambulance. He then pursued his Bachelors of Science in Nursing degree from PA College of Health Sciences. He was a Registered Nurse at UPMC Pinnacle Community Osteopathic Hospital Emergency department in Harrisburg. Lyle always strived to be a good nurse and to continue his education.
Lyle loved being outdoors, the gym, playing ice hockey, and bow hunting. He grew up playing for the Lancaster Firebirds travel ice hockey team, was a Detroit Red Wings fan, and Green Bay Packers fan. Some of his fondest memories included annual trips with his family camping in Ocean City Maryland and Lambeau Field. Lyle enjoyed spending time with his father as well.
Surviving in addition to his wife and two daughters, and parents are; in-laws, Lynne H. Huenink, of Gap, David A. Hansell, husband of Jean, of North Wales, grandparents, Marian (Lombardo) Pautz, of Lancaster, Barbara Garvey Albright, Dorothy (Crisp) Pautz and many cousins. He was preceded in death by grandfathers, Paul E. Pautz and Jack B. Garvey.
Funeral Services will be held on Friday, January 31st, 2020 at 6PM at Victory Church (Greenfield Campus) 1827 Freedom Rd, Lancaster, PA 17601. The family will receive friends at a closed casket visitation from 3PM-6PM at the church on Friday. Interment will be private. In lieu of flowers, memorial contributions may be made in Lyle's memory to benefit his two daughters' future education, Belco Community Credit Union 1758 Oregon Pike, Lancaster, PA 17601 c/o Kimberly Garvey.
Watch the tribute video
Leave a condolence on this Memorial Page
Condolences to the Family
April 25, 2020
Garvey Family, My thoughts are with all of you. I can certainly see Lyle being the light of your life. I know my words don't even Express what you are going through. Just wanted to let you know I and thinking of you John, & Lisa. You raised a wonderful boy into a wonderful man, husband and father. God Bless of of you. Lori (Hoenninger) Murray.
April 25, 2020
I am so incredibly sorry for your loss. Unimaginable. I will pray for you all!!
Kelly Allison
February 05, 2020
To such a beautiful family… I'm so sorry for your loss… My heart is with you and your family.. Mr & Mrs Garvey I love you guys so much and thank you for all the fun times our family had together when we were younger.. I'm blessed to have been a part of Lyle's life- even if it was only for our childhood.. Love Vanessa "Collazo" Pastorino and family…
February 03, 2020
To The Garvey family,
Watching the video of Lyle enjoying his wife and children, your family and friends really says it all. What an amazing life he had that ended so sudden. Only Our Lord knows why. My thoughts and prayers are with all of you from the youngest to the oldest.
Little "Lieb"
February 03, 2020
We are so sorry for your loss. I can't imagine what you are going through. My thoughts and prayers are with you and your family.
Rebecca Barlieb, Danielle Barlieb and Arthur
February 02, 2020
So sorry to hear about your loss. Praying for you and your children.
Joan Miller
January 31, 2020
Dear Kim, please receive our heartfelt condolences. We were shocked to hear of Lyle's passing. May the Lord comfort you all and give you peace through this difficult time.
Neighbor@127
January 31, 2020
Garvey Family, thoughts and prayers for everyone.
karen Schlegelmilch
January 31, 2020
Kim, You and your little ones are in my heart, my every thought and my prayers. May you cherish the wonderful memories and moments and find peace. Know that you and the girls are so loved. I am so sorry for your loss. Lauren Medina
January 31, 2020
Dear Garvey Family,
Tom and I attend Victory, Lititz Campus, and we were so sorry to hear about Lyle's passing. We have been praying for you and trusting in the Lord to comfort you at this very sad time.
Tom and Dee Dee Frauman
January 30, 2020
Dear Kim, Addie and Brielle,
We were so saddened to hear of Lyle's passing. We were blessed to see what a great father he was and how much his girls loved him. We will continue to pray that all of your precious memories will carry you through this difficult time.
With love,
Kids Korner Staff Lebanon YMCA
January 30, 2020
To Kim and all of Lyle's family and friends. I don't know any of you. But, I attend Victory church Litiz campus and I am heart-broken for your loss. Hearing of Lyle's passing brings back many memories of the loss of my husband back in 2002. Depend on each other and most importantly, depend on our dear Savior, Jesus. I am praying for all of you that the God of all comfort will be nearer to you than ever before.
Beverly Boyer
January 30, 2020
We are deeply saddened by the news and can not imagine how hard this must be. My family and I are sending all our love and prayers.
~Lountzis Family
January 30, 2020
To The Garvey Family
So sorry to read about the death of your son, grandson and father. My heart is with you at this time. Judith Groff
January 30, 2020
So sad for your loss, living across the street would always see him outside shooting into his hockey net! Was so apparent to everyone how much he loved you and the girls, thoughts and prayers for you all. Ron and Stacy Stump
January 30, 2020
Dearest Kim, Adalynn, Brielle, John, Lisa and family,
Our hearts are broken for you. Lyle was a huge part of our family when our kids were little. We have so many wonderful memories of him. He was the kindest, silliest, and most polite of all the kids' friends. We cray with you and pray for you all! love and peace, Diane Raymond
January 29, 2020
Kim,
I remember meeting you and Lyle on Christmas Eve service at Victory Church Lititz campus. I started seeing him at the Lebanon YMCA when I was lifting weights. I am deeply sorry for your loss.
Rick Johnson
January 29, 2020
Our prayers & sympathy go out to the family, we so sorry that you have to go through this time of loss. We know that Lyle is at peace now with our Lord.
Lloyd & Brenda Dochterman
January 29, 2020
Dear Lisa and John.
I was so saddened to read you had lost your son.
I remember when he was born and how happy you were. He sounds like he was an incredible son, husband and father. I just wanted to let you know I was thinking of you during this difficult time. I know how much you loved him. He will always be in your heart. Please convey my condolences to his wife and children
Sincerely,
Cookie Sandoe

January 29, 2020
Kim,
Nurses at HOL just told me about Lyle. I am at a loss for words. My heart is with you and the girls.
SANDI VERBIN
January 29, 2020
John and Lisa so sorry about your loss, it's never easy to bury a child. Friends of Dorothy and Pep Pautz
Leon and Sherry McCloskey
January 29, 2020
Kim, we are so, so sorry to hear of
your loss. Please know we're keeping your family in our prayers.
Courtney, Jeff, and Scarlett
January 28, 2020
I'm devastated by this. Lyle was such an inspiration. He had such a vision and drive and I was so impressed by the responsibility he embraced and the life he created. I'm so sorry that you have to go through this time of loss. I wish I could see Lyle again right now. I'm so thankful for all that he poured into my life. I know he impacetd many more as well. God bless.
Nick Nendel
January 28, 2020
Lisa, I am saddened to hear about the loss of your wonderful son. Words are never enough but please know that I am praying for you and your family! Lisa Rebman Paulson
January 28, 2020
Kim and Mr. & Mrs. Garvey: words simply are not adequate to convey my sorrow and sincere condolences in the loss of Lyle. This world lost an incredible husband, father, and son but heaven sure gained one amazing man! May you feel the love and comfort of family and friends during this difficult time. You are in all of our thoughts and prayers.
Jenessa Frey
January 28, 2020
So very sorry lisa and john for the loss of your son sending prayers
Gretchen Pate
January 28, 2020
John & Lisa, so very sad to hear about Lyle. We always remember him at church with a smile on his face. May the Lord hold you and carry you during this very difficult time. Our deepest condolences to you & your family.
Rosa & Steve Fetterman
January 28, 2020
John, I'm so so sorry to read of the loss of your son. My heart aches for you. You and your family are in my thoughts and prayers. Sending hugs, Nancy Lawrence Risser
January 28, 2020
Dear Kim, I am so sorry for your loss. May God surround you with love and peace. Many prayers.
Shari Shalter
January 28, 2020
John and Lisa, Ron and I are shocked and so sorry in hearing of Lyle's death. Praying for you all! Ron and Cindy Maurer
January 28, 2020
Dear Kim , I'm so sorry for your great loss, I pray Jesus holds you in his arms and comforts you.
Becky Glick

January 28, 2020
John & Lisa,
So, so sorry for the loss of your son,Lyle. I know he will be sadly missed. So hard to find the words that would comfort you and his entire family. Prayers for his wife and sweet daughters. God Bless you all at this very difficult time.
Joan & Don Schwebel
January 28, 2020
Lisa and John, I am so sorry for the loss of your son. I will be praying for your family at this difficult time.
Suzanne Bomgardner
January 28, 2020
Dear John, Lisa and family,
We are so sorry to hear of the loss of your son, Lyle. Know that Jesus wants to enter into your sorrow like no one else. He wants to touch your feelings of weakness like no one else can. He goes beyond human empathy. If you want genuine care and concern, you will find it in Jesus! Praying for you!
Ed and Shirley Deller
January 28, 2020
To John and Lisa,
Please except our sincere condolences for the loss of your son. We remember him as just a kid swimming in the pool playing Marco/ Polo !!! We still have his little turtle sand box !! It's been used so much. You raised a very nice young man, one we were proud to know. If you need us for anything, we are right behind you. Always,
Joni and Bob Martines
January 28, 2020
John and Lisa, I just saw Lyle's obituary in the paper. I have no words!!! Praying for all of you over this heartbreaking loss.
Patti Tingen
January 28, 2020
Lisa and John and family,
I love you all. My heart is with you.
Julie Beck
January 28, 2020
I am so sorry to hear of the loss of your son Lyle. My thoughts and prayers are with you Lisa,John, Lyle's wife and 2 daughters at this very difficult time.
Tammy,Skip,Corbin and Cameron Weiler
January 28, 2020
My son and I spent many wonderful times, with John and Lyle shooting their "Hummingbird Bows" at Denton Hill in Potter County. Lyle will be sorely missed! Our love and prayers go out to this precious family. Stu Osborne
January 28, 2020
So sorry to hear such horrible news my prayers are with the family
Victoria Wimer
January 28, 2020
John and family,
I was so sorry to see this in the newspaper this morning. I cannot begin to imagine what you are feeling. I am so sorry for you, Lisa and Lyle's wife and daughters. You are all in my thoughts.
Chris Smithson Miller
January 28, 2020
We are so so sorry to hear this. Praying for you and the entire family.
Kim Zimmerman
January 28, 2020
I cannot adequately express how saddened I was to learn of Lyle's passing. He was such a great young man. My deepest condolences to his family and friends.
Pete Wise
January 28, 2020
Dear John, Lisa and the entire family,
I cannot begin to imagine what you are all feeling at this sad time. While words are futile, please know that I am keeping you all in my thoughts and prayers. Wishing you peace and happy memories as you remember Lyle.
Becky Wise
January 28, 2020
Dear John & Lisa,
Please know our hearts and prayers are with you and your family at this time of such deep sorrow. My you feel Gods mighty presence ever so close.
Sean & Patty Kinne
January 28, 2020
Dear John and Lisa,
I was looking at my FB page and saw this from Hosanna about your son. Oh my goodness. I am devastated for you both and the whole family. I'm so terribly sorry for your loss. I'll be praying for you all.

Jocelyn Knight
January 27, 2020
I am so very sorry to hear of your loss. Please know I and many others will be praying that you find comfort during this very difficult time.
Kelly Wilson
Visitation

Friday, January 31, 2020
3:00 PM - 6:00 PM
Victory Church (Greenfield Campus)
1827 Freedom Rd
Lancaster, PA

Map and Directions

Services

Friday, January 31, 2020
6:00 PM
Victory Church (Greenfield Campus)
1827 Freedom Rd
Lancaster, PA

Map and Directions