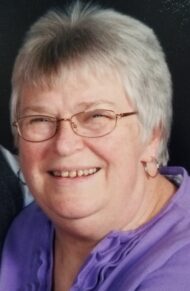 Lydia C. Zimmerman, 79
December 11, 1942 - December 20, 2021
Lydia C. Zimmerman, 79, of Millersville, passed away surrounded by family on Monday, December 20, 2021, at Hospice and Community Care in Mount Joy. Born in Hanover, York County, she was the daughter of the late Walter G. and Ruth A. (Belz) McKinney. Lydia was the beloved wife of Robert W. Zimmerman, and they celebrated 59 years of marriage this past October.
Lydia graduated from Delone Catholic High School in McSherrystown with the Class of 1960. She and Robert married in October 1962 and Lydia devoted her time to their home and children. She later worked for Shank's Extracts and retired after 20 years of service. She enjoyed reading, playing card games, having dinner with friends and watching game shows with her husband. A devout catholic, she was a member of St. Joseph Catholic Church in Lancaster where she was a member of the Liturgy Committee, the Legion of Mary and the Golden Hills Club.
Lydia was a loving wife, mother, grandmother and great-grandmother. Along with her husband, Robert, she is survived by her children Christi A. Beazley of Millersville, Robert B. Zimmerman and his wife Brenda of Lamont, Daniel J. Zimmerman and his wife Karen of Mountville, Barbara A. Spencer and her husband Eric of New Holland, Andrew J. Zimmerman of Lancaster, and Michael T. Zimmerman and his wife Nicole of East Petersburg. Also surviving are 14 grandchildren including Luke and wife Monica, Rachael, Rene, Robbie, David, Aleah, Catie, Courtney and husband Zack, Cassie and husband Blake, Gregory and wife Nicole, Emily, Ben, Gabby, Landon and Sophia and 8 great-grandchildren including Henry, Molly, Nora, Jaxson, Dylan, Sawyer, Teagan and Jasper; and her brother, John B. McKinney of Lancaster. Lydia is also survived by three sisters-in-law and many nieces and nephews. She was preceded in death by granddaughter Ava Rose, her brother William McKinney (Clara), and her sister, Madge Wierman (Sam).
A Mass of Christian Burial will be held at 10:00 AM on Tuesday, December 28, 2021, at St. Joseph Catholic Church, 440 St. Joseph Street, Lancaster, PA, with Father Pang Tcheou as Celebrant. There will be no calling prior to Mass. Legion of Mary will lead the recitation of the rosary prior to Mass. Interment will follow at St. Joseph New Catholic Cemetery, Bausman. A visitation will be held after interment in the Good Shepherd Room beside St. Joseph's Catholic Church. In lieu of flowers, contributions in Lydia's memory may be offered to the church at the above address, or to Hospice & Community Care, P O Box 4125, Lancaster, PA 17604-4125.
Leave a condolence on this Memorial Page
Condolences to the Family
December 28, 2021
Barb, Thinking of you and your entire family. Sending prayers for peace and comfort for you all!
Lucretia Motter
December 28, 2021
Dear Christy and family I am so sorry for your loss. My heart goes out to you. I only met your mom a few times but she seemed just as sweet as you. Praying for you. Deepest sympathy Darla
December 27, 2021
So sorry to hear about my dear God mother! We were praying for dear Lydia. We will pray for peace and strength for your sweet family during this sad time. May God bless you and RIP sweet Lydia!
December 26, 2021
Zimmy, you and your family have our deepest condolences. Lydia was a wonderful person, loved spending time with her.
December 24, 2021
My condolences to the family.RIP Lydia.
December 23, 2021
Bob
John and I are so very sorry for your loss. She was a wonderful woman. We enjoyed sitting and talking to her at the bowling alley. She was always so full of life and we laughed a lot. We will keep her and you and your family in our prayers.
John and Donna Schreiner
December 23, 2021
To the Zimmerman family: I am sorry to hear about your loss of Lydia! Her smile was infectous and I always remember how happy she was when she came to St. Philips for mass or when Bob was helping with activities there. Prayers to your family!
December 23, 2021
Our deepest sympathies to the whole family. You are all in our thoughts and prayers. Love Bill and Rene Stoeckl
December 23, 2021
Dear Bob and family; I am very sorry to hear of Lydia passing from our world on earth to Heaven. She was a great person so caring and kind to others. May our Lord Bless you and yours with happy memories to treasure you in sad moments. GOD bless
December 23, 2021
I wish your family sympathy during this difficult time.

December 22, 2021
Bob and family I am sorry for your loss. Lydia was one of those special people who brought joy wherever she was. I can hear her unique laugh. Sending love & prayers. Georgie
December 22, 2021
May God Bless You
December 22, 2021
I am sorry for your loss. The Zimmerman family was like a second family to me growing up. I will never forget our summers spent together as a group. I hope you all find peace in the memories of your amazing Mom. Her loss is Heaven's gain. Love to the entire Zimmerman family.
Love, Craig and Sheryl Haertter
Services

Tuesday, December 28, 2021
10:00 AM
St. Joseph Catholic Church
440 St. Joseph Street
Lancaster, PA 17603

Map and Directions