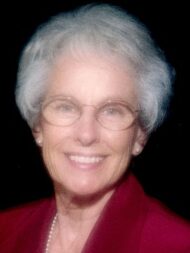 Lydia B. Yarnell, 92
December 28, 2021
Lydia B. Yarnell, 92, passed away peacefully on Tuesday, December 28, 2021, at her home. Born in Independence, LA, she was the daughter of the late Ory Bergeron and the late Louise (Gary) Bergeron. She was the beloved wife of Harold N. Yarnell Jr., with whom she shared 67 years of marriage before his passing in 2015.
She worked for the family business, Yarnell Electric, Inc., which is now known as Yarnell Security Systems, handling the administrative duties.
Lydia enjoyed making silk flower arrangements and was a skilled seamstress. She crafted many draperies and slip covers for furniture. She tagged along on boating trips with her husband, but really enjoyed travelling in their RV across North America, and she was sure to collect a spoon in every state and province they stopped. Lydia was a member and the First Lady of the Penn Coachman Club as well as a member of the Beta Sigma Phi sorority where she participated in their fundraising ventures.
She loved her family and cherished all the time she was able to spend with them.
Lydia is survived by her children; Ronald R. Yarnell husband of Tammy, Teri Lynn Yarnell and Michael D. Yarnell all of Lancaster, five grandchildren; Ronald R. Yarnell, II, Vanessa A. Herr, Heather Yarnell, Heather Hoover and Nicholas Duffy, seven great-grandchildren; Sean, Adam and Aiden Yarnell, BaiLee and Anaiah Herr, and Chloe and Brandon Fulcher. She is also survived by a brother, Jimmy Bergeron.
A Funeral Service will be held Monday, January 3, 2022 at 11:00am at Charles F. Snyder Jr. Funeral Home & Crematory, 3110 Lititz Pike, Lititz, PA 17543. Guests will be received for a time of viewing starting at 10:00am. Interment will follow at Conestoga Memorial Park, Lancaster.
Leave a condolence on this Memorial Page
Condolences to the Family
January 03, 2022
Dear Yarnell Family,
Our deepest condolences for your loss of Lydia. Our parents, Jean and Oscar Petters always had fond memories of the years they spent traveling together in their RV's, exploring America with Harold and Lydia, as well as the business ties that Oscar and Harold had. Jean is still alive at 93, and fondly remembers them both, but was unable to attend today. May you rejoice her life and remember the laughter they both used to share!
January 03, 2022
To the Yarnells, Our heartful sympathy to you. We have happy memories of your family growing up. God bless.
January 03, 2022
To the Yarnell Family,
John and I send our deepest sympathies to all of you. Lydia was always a most gracious lady and we will miss her. May she rest in peace.
January 02, 2022
To the Yarnell family:
"May your mother,Lydia,rest in peace ".
A special and beautiful woman of great faith and strength she gave of herself and others. Lydia gave much of herself to all she connected to in life. She now becomes a precious gem in your hearts never to be forgotten!
May you be blessed with memories.
Sincerely
Lynn Dinkel/Landis (Harry Jr.'s wife)
January 02, 2022
Teri,
So sorry to hear of your loss. I know you and Heather were very close to your mom.
Holly L.
January 01, 2022
Our deepest condolences to Ron and Terry on the passing of your mom. She was a ray of sunshine when we met. Everyone will miss her.Sincerely,
Ray and Donna
December 31, 2021
Mike,
Deepest sympathy to you and your family. Thoughts and prayers at this difficult time.
Cindy Duke Rathvon
December 31, 2021
So sorry to hear of Aunt Lydia's passing. She will be missed. Joining dad and other family looking over us. You'll are in my thoughts and prayers. Love, Janet
December 31, 2021
So sorry to this,. Many happy memories with Lydia for many years. My deepest sympathy to the family.
December 30, 2021
Was so sorry to hear of your mom's passing. I know it's hard, but hope you find peace knowing that she is no longer suffering and has been made whole again. Her and Jr. were so close and he always spoke so highly of her – he loved his older sister! I know that they're rejoicing in Heaven with all the angels watching over all of us until we meet again.
Love,
Aunt Jackie
December 30, 2021
Thinking of all of you during this most difficult time. I pray you find peace in knowing that she is in Heaven with the Lord our Savior. I'm also sure she's rejoicing with your dad as well as other family members that have gone before her.
Love,
Celeste
Visitation

Monday, January 03, 2022
10:00 AM - 11:00 AM
Charles F. Snyder Funeral Home & Crematory
3110 Lititz Pike
Lititz, PA 17543

Map and Directions

Services

Monday, January 03, 2022
11:00 AM
Charles F. Snyder Funeral Home & Crematory
3110 Lititz Pike
Lititz, PA 17543

Map and Directions