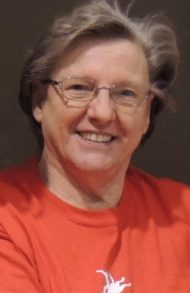 Luisa Gehrke, 72
November 6, 1946 - March 16, 2019
I came into this world on Nov. 6, 1946 in Milano, Italy. I was also two months early. The first 18 yrs. of my life were spent under the teaching of the Catholic system while feeling trapped between two kinds of standards: Those of the Church and those of my family life. Who was right? Whom should I listen to? Where was God? What was He like?! It just seemed that those who were supposed to represent Him were not very pleased with me. My little body did not seem to be able to be still…
A few times my face felt the sting of an open hand no swinging of my feet while the nun
was trying to put my winter high tops on my feet in order to get me ready to go home from preschool or trying to keep me from walking around between the desks at the wrong time. Trying to get my tonsils out was no small endeavor, so once more the message was clear and it was delivered this time by the doctor's open hand!
At the age of two I became a big sister and my reputation went from bad to worse. I did not stand a chance against someone younger, helpless and a boy! I was in no uncertain terms warned that my fate was sealed. Someday I would not always be bigger than my brother and the day of reckoning was coming! Malicious gloating filled the air I was breathing and my heart shrank with sadness and pain. My true feelings remained within me and no one was to partake of them, ever!! But the true God of the Universe knew them already and He would occasionally send me some form of comfort which at that time I was still failing to recognize.
In my early teens when owning a TV set was a luxury and a privilege, I enjoyed the opportunity to watch an American movie once a week. How eager I was! I was drawn into a culture so new to me but so soothing! Those people in that land faraway called America blessed each other through Scripture readings and by singing hymns which I did not know existed.
Right then and there I wanted what they had! But not yet…
Once my Italian schooling was accomplished, my late teens were spent abroad for the purpose of improving my fluency in the languages that I had previously studied. England, Germany and France were my home away from home for a while. I believed in being diligent in my responsibilities as to not betray my parents trust and I did enjoy what I was doing.
Something else I was enjoying and that was the opportunity of being myself without fear of ridicule. I gained the respect of those who were my caretakers (mainly in England) I did encounter hostility in Germany and envy in France but by then I was on my way. I did not feel emotionally crippled anymore. By the age of 16, I had decided that some kind of relationship with God was more important than anybody else's standards and those old black and white movies were the source of my inspiration. I had no scripture nor teacher to learn from but again God worked it out. I can say that I was becoming God fearing rather than religion following. There was an incident in the movie the 10 Commandments that made an impression on me. Pharaoh's daughter was insistent at pursuing Moses in the romantic sense but he would not have it. His attitude angered her and in a fit of rage she blurted out her own imagined predictions. Someday in the future, while involved with the woman who would become his wife he would be tormented by memories of the past with her. It was a concept that scared me, and one day while in language school in Germany my beliefs were tested when a Korean schoolmate who had become a good friend asked me if he could kiss me. After I turned him down he made a comment that is still puzzling me. Someday you will kiss your husband, won't you?! – My answer was that if and when that day ever came I would deal with it at that particular time and that was that!!
In June of 1967 my educational galavanting came to an end and a few months later my
life the way I knew it came to an end as well. Tragedy struck when my father, the only per­ son I believed was truly proud of me, died of a massive heart attack under my very eyes. He had just asked me to keep him company while he was taking a nap. Although in denial at the time I had to come to the conclusion that I was resentful possibly against God and certainly against my father whose priorities did not include spending time with me, not even at vacation times.
Through a series of God ordained circumstances I was finally able to reach what I considered my promised land. The only problem was that the ideals I saw portrayed in those movies that I admired so much did not exist anymore. I felt as if a time machine had whisked me away to a culture decades ahead and again I did not fit in. What to do?!!
A husband and two small children later there were still no scriptures, no hymns or smiles to comfort me. My children were enrolled in Catechism, my husband was often out of town for work, I had no second car nor did I drive and I fell behind in my church attendance. But God who cares and is never too far, provided new opportunities. When my children's teacher through a phone call prompted me to decide concerning their attendance, I was prepared.
No, they would not return for the simple reason that circumstances were still the same: no transportation.
My God-fearing instinct kicked in and I started to feel guilty for taking spiritual opportunities away from my children yet, the Holy Spirit gave me the answer. What about the bus that would stop every Sunday morning in front of my kitchen window? My children's school mates would board it then and they would be dropped off three hours later with smiley faces and hands full of interesting colorful papers! Yes! I wanted my children to look like that! I remember running up to their rooms and making an official announcement! Next Sunday you are going to church with them! And so they did and eventually I did too!
When you visit that kind of Church you are to be sure that your visit will be returned and it was! Few days later I had the pleasure of welcoming a couple of ladies from the Church who wanted to show me things about God from my own family Bible. It was not hard at all to convince me that I was a sinner. What followed was an invitation to ask God for forgive­ ness for my sinfulness in the form of a prayer and so I did. When that was over they just seemed particularly happy and I was informed that I was saved and a child of God.
I also attended a revival meeting where I went forward. It was all kind of confusing to me,
especially when I tried to tell the counsellor that I was not sure that I had done things right. They proceeded to reassure me that it was God's enemy, Satan who was trying to
cause doubts in my mind but that God is always true. The more I talked the less I was heard and in no time I was being talked into getting baptized.
The first time I saw a baptismal service I told myself that I would never do it and now there I was listening to the Pastor's voice that was saying: "I baptize you my sister etc., etc.. " At the sound of those words a feeling of distress came over me and I would not be able to find an explanation for a long time. A few other events took place at our house. Upon his return from one of his business trips I shared with my husband what was happening. It turned out that years. before a schoolmate had introduced him to the Gospel and although at that time he did not take her seriously, this time he was ready. On a Saturday afternoon the Pastor visited my husband and upon hearing the Gospel message again, my husband accepted Christ as his Saviour. He too was baptized.
And now it was time to move. Tom's promotion was going to take us to Maryland, in the Baltimore area. We had never been to that part of the Country and it was exciting to see how nature was ahead of the Chicago area. I was ready for the continuation of our new adventure.
Assuming that every town has the kind church that was recommended to us, I set out to look for one and I found it. Looking forward to discovering more of how the Bible could actually be applied to everyday life I got involved as much as I could. I especially liked to see how my children were enjoying their new life and we were too. Not only did God give us all new friends but it was as if we had been given a new family to spend holidays with. In spite of these new benefits I was still experiencing a sense of discontent. I could not relate to the victories in the Christian life the way I heard about them during the church messages.
At one point I got so discouraged that I wished I had never heard the Gospel! I just knew in my heart that if God's word was not working for me there would not be anything else that could help. Such thoughts filled me with even greater despair. We are all familiar with the fact that the U.S. sends in the Marines but that idea is not original with the military because it originated with God. He has His own troops and that is what God did exactly for my situation. He sent me to the book of James. I remember the cover of the book. It had a picture of a brat being spanked and breaking out of a mold. I hated it each time I saw it. Every Tuesday morning I attended the ladies Bible study. It was like tasting sweet and sour. Both were necessary. Each week it seemed as though my understanding of the applications of the Scriptures was becoming a little more clear so much so that a comment was made to the effect that I started to enjoy sharing my downfalls. One day one of the ladies called me. She was trying to find the owner of the booklet we were using for the study. There was no name in it but she did read a verse that had been copied out. It was James 2:19 and it says, "You believe that there is one God; you do well: the Devils also believe and tremble." Yes, it was my book and was I like those Devils? Did I ever even tremble?! – It was time to do some­ thing about it. Hoping that my Pastor would be available I decided to go and see him. Then
the "darts" came! Another word for them is "distractions," the kind that makes you see the many faults of others and together with your flesh helps you hide your own. Nevertheless I followed through with my original intention and went to see the Pastor. During our conversation he took a piece of paper and drew a heart and in the midst of it he wrote the word "anger."
For the first time ever I saw myself the way God saw me and I became ashamed not only be­ cause I was truly guilty but also I could not understand why I had never been ashamed be­ fore! There was only one conclusion that I should reach and that was that I had never really repented therefore I was not saved!
Sin is relational. It is against God first of all but also against others. Sitting in a Sunday school class as a teacher's helper I remembered reaching another conclusion. The lesson was from one of the letters of John and it taught that if you are God's child you can't help but love the brethren. I knew I did not love the people around me, not the way God expects. It was true…I was never saved.
What next?!! – Well, before I could determine a course of action, God's enemy had his own and I was met with three specific challenges. Only a short time before, during another bible study, I had just announced to everybody that that particular day was my spiritual birth-
day. (To the best of my knowledge the day I had repeated the sinner's prayer was my spiritual birthday.) – What would they think of me now?! – What about my reputation? – But the Holy Spirit was right there next to me leading me through step by step. Their opinion at that point was not important, I agreed with Him and started to move on when another challenge was hurled at me… O.K. Do you remember Mrs. so and so who only last week shared how some woman took about six tries before being able to be really saved?! What if I was like that too?! – The Holy Spirit was still there and His answer was still the same ignore all
that, and so I did.
But Satan saved his best for last….O.K. By your own admission, you just concluded that you have a big anger problem. Do you really think that you will ever be able to deal with
it?! – Once and for all the Holy Spirit gave me the final inspiring answer. Not what you have done and not what you are capable of doing but what Jesus Christ has done for you 2000 yrs. ago!!
As far as I was concerned I was at the foot of the cross at that very moment! The heart that I trained so well to resist any show of feelings and emotions started to melt and tears came forth out both, joy for my new birth and sadness for the thought that I waited so long! I am so thankful for the hymn that says that He was there all the time!
I am so glad that His divine blood, spilled once and for all, is the only currency God the Fa­ ther expects in payment for all of my sins, past, present and future and what better receipt from Him than the Resurrection of Jesus Christ!
Leave a condolence on this Memorial Page
Condolences to the Family
May 08, 2019
I am so so sorry. I. Live next door to Luisa and just found out of her passing today. Had I known I would've gone to see her as well as attended services. She is with our Lord now so I know she is at peace, I just feel horrible that I wasn't there for her and Tom.
my condolences to the whole family!❤️✝️🙏
April 28, 2019
I had the pleasure of meeting Mrs. Gehrke on ancestry.com through a common surname, Viglini. Unfortunately I reached out a little too late and she informed me she was in hospice care and that cancer had taken over but still she chose to correspond with me and share information in even what she was going through. She at some point was working on the Viglini lineage (Joseph Viglini) who is my 4th great grandfather from Italy. I could tell what a sweet person she was and after each message I felt like I wanted to know her and friend her more. My only regret is not corresponding with her sooner but she left me contact information to help keep the search going. I wish i could give her the updates but I know she is in a better place. Continuous prayers for her family.

Karen Stanley from VA

April 03, 2019
Greetings to Tom and your daughter. We are sad to learn of Luisa's passing. We know she is home with the Lord. Luisa took a liking to our daughter Olivia, and foster child, Riddhi. She would tell both little girls,."don't be like Satan!" We could tell her faith and testimony were strong. We are thankful for the time we shared with her in Lancaster. Please know we care about you as well . Godspeed. Your friends, John, Lori and Olivia Sokolowsky in Moosic PA.
March 19, 2019
We have fond memories of Louisa and her love for Christ and concern for others. We have thought of her often over the years.
Our prayers are with you as you rejoice because of Louisa's homegoing but grieve because you miss her physical presence. So thankful that the God of all comfort will meet your needs.

God bless you,
Pastor and Pam Jones
March 19, 2019
I am so sorry to hear of the passing of sis Gehrke Her testimony truly inspired me. My prayer is for Tom, Elizabeth, and mr. Gehrke. She is only gone from our sight to the glories of heaven.
Visitation

Monday, March 25, 2019
10:00 AM - 11:00 AM
Calvary Baptist Church
530 Milton Rd.
Lancaster, PA 17602

Map and Directions

Services

Monday, March 25, 2019
11:00 AM - 12:00 PM
Calvary Baptist Church
530 Milton Rd.
Lancaster, PA 17602

Map and Directions