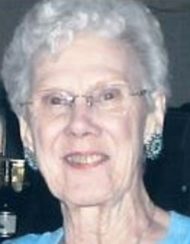 Lorraine Oberlin Patschke Wagaman, 94
July 06, 2017
Lorraine Oberlin Patschke Wagaman, 94, of Lititz, passed away at the United Zion Retirement Home on Thursday, July 6, 2017.
She was the wife of the late Allen H. Patschke who passed away in 1979 and the late Harry K. Wagaman who passed away in 2003. Born in Lititz, she was the daughter of the late Roy K. and Verna M. Zug Oberlin.
As a teenager in Lititz, Lorraine had worked as a waitress at Conlins Diner and was a candidate for "Miss Lititz" in 1938. In her prime she was a stay-at-home mom and homemaker and in her 70s, worked as a salesperson at Doneckers, which probably contributed to her being known as a prodigious collector of fine clothes and stylish shoes.
Lorraine was a lover of the big band music of the forties, flowers and gourmet cooking. She was very proud of her Lititz heritage and quite knowledgeable about her hometown. Her greatest love and treasure was her family, of whom she was very proud.
She was a member of St. Paul's Evangelical Lutheran Church in Lititz.
Lorraine is survived by her children: Timothy O. married to Sandra J. Patschke of Lititz, Marcia A. married to Terry Duncan of New Cumberland, and Susan E. married to Sam Peace of Sunrise Beach, TX; her 8 grandchildren and 16 great grandchildren and by her sister-in-law, Reba R. Oberlin of Lititz. She was preceded in death by her grandson Scott Duncan, her great grandson Aaron Stevenson, and by her two brothers, Marlyn J. and G. Richard Oberlin.
Lorraine's family would like to express their sincere appreciation for the extraordinary care offered by the nurses, aides and social workers from Hospice and Community Care, By Your Side Homecare, and the United Zion Retirement Community during her last days.
Friends will be received on Thursday, July 13, 2017 from 10-11AM at the Spacht-Snyder Family Funeral Home & Crematory, 127 S. Broad St., Lititz, PA, with the Funeral Service to follow at 11AM, the Rev. Irvin Straw officiating. Interment to follow in Mt. Lebanon Cemetery in Lebanon, PA. Flowers will be received or memorial contributions may be made in her memory to Hospice & Community Care, 685 Good Drive, Box 4125, Lancaster, PA 17604-4125.
Leave a condolence on this Memorial Page
Condolences to the Family
July 11, 2017
Many thoughts and prayers go out to Tim, Marcia and Susan for the weeks and months to come ! As a member of the College Ave. Elizabethtown group during the late 50's , I have many great memories and was very grateful for her influence and friendship during my younger years! A very upbeat and positive lady, fun to be around the best of the best! Thank you for being that special person. God speed and bless all of you! Ed Powl
July 10, 2017
Blessings to the Family of Lorraine. I will never forget the Oberlin reunions and the various get-togethers to include visits when I was stationed in San Antonio and later lived in Tucson. I always enjoyed Lorraine's company; and as she said at my wife's visitation a couple years ago…She(Lorraine) was now "the matriarch of the Oberlins"…certainly a generation to remember so fondly. God Bless!…With Sympathy and caring thoughts….David Brensinger
July 09, 2017
Dear family of Lorraine I am so very sorry of your loss. I have many great memories of her and she always looked so beautiful and was a great mother to her children and a great cousin to me. God Bless you all Love Linda Zug Malik
Visitation

Thursday, July 13, 2017
10:00 AM - 11:00 AM
Spacht-Snyder Family Funeral Home & Crematory
127 S. Broad St.
Lititz, PA

Map and Directions

Services

Thursday, July 13, 2017
11:00 AM
Spacht-Snyder Family Funeral Home & Crematory
127 S. Broad St.
Lititz, PA

Map and Directions