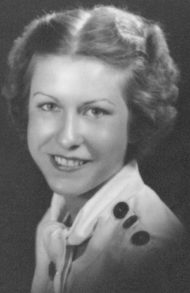 Loretta Wolf Rankin, 100
April 30, 2018
Loretta Wolf Rankin died peacefully in Lancaster, PA on April 30th at the age of 100. Loretta was the wife of George Wolf, who died in March 1985. They were married in April 1942. She is survived by her two sons: Tom (Pam) Wolf of Tampa, FL, and Ted (Mary Sue) Wolf of Lancaster, PA; four grandchildren: Megan (John) Stone of Philadelphia, Tripp Wolf, Heidi Wolf, and Lauren Wolf, all of Lancaster, PA; and two great-grandchildren: Makayla and JJ of Philadelphia.
She is also survived by Sandy (Ned) Grove and Rick (Vanessa) Rankin, children of William Rankin, Loretta's second husband who preceded her in death.
Loretta was born on April 27, 1918 in Springfield, MA. Her parents moved to Lancaster and she graduated from Lancaster Catholic High School; second graduating class. Her parents were Emma and Edward Englert; she had seven brothers and sisters, all preceding her in death.
As a breast cancer survivor at the age of 40, her goal was to live to 100. She died 3 days after her 100th birthday.
She attended St. Joseph Catholic Church and was a faithful member until the end of her life.
The Wolf family would like to extend our gratitude to all the staff at Willow Valley, specifically those in The Glen for their attentive and loving care.
A private funeral ceremony of family and invited guests will take place over Memorial Day weekend.
Leave a condolence on this Memorial Page
Condolences to the Family
May 15, 2018
We love Loretta so much here at willow valley she became family to us. She was such a sweet , funny and outgoing women that will be missed dearly here at willow valley . My prayers go out to the family at this time.
May 07, 2018
So sorry to read of the passing of Loretta (Ret) Wolf Rankin….she was a lovely person and always so happy and cheerful and active. She will be missed by her family and friends. I understand how her family must feel….she knew my mother, who passed away in September 2017, as young girls and as members of St. Joseph's Catholic Church. She was so sweet and always had a kind word. May she rest in peace always!
Ellen (Anderson) Collister, Lancaster PA
May 07, 2018
Loretta was my mother's (Ruth McDivitt) best friend from their elementary school days on "Cabbage Hill" in Lancaster City. They played together as children, did each other's hair do's, walked to and from their jobs at Hamilton Watch Company on Columbia Avenue, not to mention home for lunch and back again, and after work. They walked to and from Buchmiller Park to play tennis and have picnics, and walked to and from Maple Grove Swimming Pool on Columbia Avenue. I remember Loretta joking and said "Ruthie, the reason my knees are the way they are, later in life, is because of all the walking we did as kids growing up!" They would attend each other's home church and continued their friendship after they were married and raised their families. Their love and friendship for one another ran deep and it was undeniable that they shared a true bond, even as they both reached their 100th year together.
I had the privilege of seeing that these two life-time friends visited with each other up until my mother turned 100 and Loretta was 99. I will never forget, on one occasion as the three of us sat together in a sun room at Willow Valley, I noticed that one of the staff members sat by us and was totally amazed at how many years they knew each other and still remained friends. She intently watched their every interaction and smiled as they shared story after story. That day was bitter sweet, as it was the last day they shared time with each other. I remember them talking about their childhood, they laughed, they hugged, and then they cried, as if they knew that would be their last visit. I took the opportunity to capture this rare sisterhood and took a few pictures of them that day. I'm grateful for those memories and through those pictures, will enjoy seeing their smiles and understanding their truly unique and enduring friendship.
My mother passed away at age 100 and seven months later, Loretta passed away at age 100. I will always remember Loretta as a very strong woman – by faith and enthusiasm. She loved to laugh and kid around! I'm grateful for having known her and grateful she played such an important part in my mother's life. They will be forever missed from the greatest generation! I love you both.
I extend my sympathy to Loretta's family and smile – knowing that these two faithful friends are now reunited again.
Patti McDivitt Means
Strasburg, PA
May 04, 2018
We were friends of Loretta's when she lived at the Lakes community. She faithfully attended Catholic communion services untill her move to health care. We would like to attend her funeral if inviited. Dolores & Gene Simasek