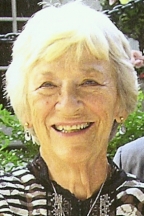 Loretta Q. Adams, 86
Loretta Q. Adams, 86, died Wednesday, October 6, 2010, at her home in Drumore Twp. She and her husband John S. Adams celebrated 66 years of marriage last January.
Born in McCall's Ferry, Martic Twp., PA, she was the daughter of the late Edward and Ernestine Cromwell Quade. Loretta graduated from J. P. McCaskey High School in 1941 and then attended Millersville State Teachers College for two years before her marriage to John.
Loretta enjoyed theatrical endeavors and was involved in the Green Room Theater at F&M College in the 1950's. She also performed in live commercials for WGAL TV. Loretta was a member of Trinity Lutheran Church. She enjoyed playing bridge and spending time with her family.
An accomplished amateur golfer, Loretta was a member of the Michigan Women's Golf Association when she resided in Birmingham, MI. She enjoyed traveling and playing golf throughout the United States and in other countries, and was the Women's Club Champion in Michigan and two time Meadia Heights Women's Champion.
Surviving in addition to her husband John are three children, Kathleen A., wife of Paul Weaver, New Canaan, CT, John S., Jr., "Kip", husband of Karen Adams, Airville, PA and Abigail M. Adams, wife of Jordan Miller, Rochester Hills, MI; eight grandchildren, Amanda, wife of Jeff Meiler, Bryn Mawr, PA, Jocelyn, wife of Tom Jandovitz, Fairfield, CT, Bradley, husband of Kaisa Weaver, Norwalk, CT, Terra Adams, wife of Jim Rothenberg, Boston, MA, Jacob, husband of Cassie Adams, Phoenix, AZ, Jeremy Adams, West Chester, PA and Elizabeth and Benjamin Miller, Michigan; eight great-grandchildren, Katharine, Victoria and Madeline Meiler, Kathleen, John, Nathaniel and Meredith Jandovitz and Zachary Weaver; and four nieces, Becky Reever, Vicky Kegel, Barbara Harrick and Beth Batista.
Her brother Robert C. Quade preceded Loretta in death.
A Visitation will take place on Monday, October 11, 2010, from 10 to 11 am, followed by the Funeral at 11 am, at Trinity Lutheran Church, 31, S. Duke Street, Lancaster, PA. Deacon Augustus Mauro will officiate. Interment in Drumore Friends Burying Ground. In lieu of flowers, contributions can be made in Loretta's memory to Hospice of Lancaster County, PO Box 4125, Lancaster, PA 17604-4125. To send the family online condolences, please visit SnyderFuneralHome.com. Charles F. Snyder Funeral Home & Crematory 717-393-9661
Leave a condolence on this Memorial Page
Dear Kathy & family,
My condolences for your loss. I hope you have lots of happy memories that will comfort you. I remember your mother as a gracious and beautiful hostess to a visiting school kid when you and I were "best friends" at James Buchanan Elementary School. I spent a lot of after school afternoons at your house, and still remember them fondly.
With deepest sympathy and best regards,
Martha Brodsky Rowley
Dear Kathy,
I am so sorry to learn of your mother's passing. I remember her fondly from our days on Perry Avenue and "the farm". My deepest sympathy to you and Paul, your father, Mandy, Jocie and Brad. I know you will have many cherished memories to comfort you in this time of sadness. She was a special woman.
Love,
Susie Muehleisen Snyder
I was so sad to read in the paper of the passing of Loretta. I was her Hairdresser for many years until I could no longer work due to illness. I feel like I know all of you so well. Loretta adored her family and spoke so fondly about all of you. You were her life and she lit up when she talked about you. She made me laugh and always had something funny to talk about.I will never forget her. You are all in my thoughts.
Elaine Tirado
Many fun and happy memories of "Mrs. Adams." What a beautiful lady, and so smart and witty. I always looked forward to the monthly bridge group or skiing at Boyne Mountain when she and Mr. Adams were there, as they were always so fun and interesting. She was a wonderful friend and mother, as is so very apparent in the legacy of her wonderful family and my very best friend Abby.
Our very sincere and deeply heartfelt condolences.
Bill and Mary Frost, Bruce and Shirley Sauer
John Adams and Family;
It was with a great sense of loss when we heard of Loretta's death.
We wanted to let you know that you have our greatest sympathy, and our hearts are truly saddened.
We know that her passing will not only leave a void in your lives , but also in the hearts of those who knew her well.
If there is anything that we can do to help you in anyway, please do not hesitate to call us anytime. You can phone even if it is only to talk.
Our sincere thoughts and prayers are with you.
Donn Ridley
Stoner-Wade Ford Inc
Dear John and Kathy,
I was so sad to read about the passing of your wife and mother. I know you dearly loved her and will miss her everyday. I hope that all those wonderful family memories you must have will help comfort and support you through this time of sorrow.
I would also like to extend my condolences on behalf of the McCaskey Alumni Association board and staff. It has been a pleasure to work with both of you on your class reunions over the years. I hope all your classmates appreciate your efforts.
John, it was good to see you in August at your 70th class reunion. I had such a good time sharing that day with you and your class.
Sincerely,
Sherma Hite Woolstenhulme '67
Alumni Director – McCaskey High School
Dear Kathy,
Our deepest condolences to you, and all your family, on the loss of this special lady, your Mom. We send you our love at this difficult time.
Carol & Bill Dolan