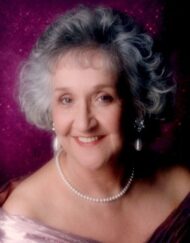 Loretta M. Sauer Keenen Warfel, 83
February 05, 2022
Loretta passed away at age 83 on Saturday, February 5, 2022 at Lancaster General Hospital. She was born on January 12, 1939 in Lancaster, Pa. She was the daughter of the late Kermit V. and Mary L. Sauer. She was the widow of John L Warfel and was previously married to Donald W. Keenen, deceased.
She graduated from JP McCaskey High School in 1957. She retired from the School District of Lancaster after 25 years. In her retirement she worked part time as the hostess at Plain & Fancy. She also enjoyed spending time with her grandchildren and great grandchildren. She enjoyed crocheting and needlework, collecting Longaberger baskets and anything cows. She enjoyed reading and visiting with her sister as they chose books at the Book Mobile. When she was younger she enjoyed traveling especially to Cape May, New Jersey.
She was currently a resident of Quarryville Presbyterian Retirement Community, prior to moving to Quarryville she lived with her daughter, Pam in Lititz.
Loretta is survived by 2 daughters, Pamela L. Kiskaddon, (Robert) Lititz and Denise C. Charles, (Shane Connor), Peach Bottom, and stepson, Dennis Warfel, Holtwood. She is also survived by 6 granddaughters, Amy Snader of Ephrata, Heather Morgan (Anwar), Amanda Crawley, (Mike), Melinda Charles (Jason Lucas) all of Lancaster, Rachel Kiskaddon (Youssef El Haddad), Philadelphia and Laura Kiskaddon, (Aaron Brubaker), Mt Joy. Loretta had 9 great grandchildren, Hope, Iziah, Terrell, Amaya, Trenten, Allana, Marcus, Koltyn and Ella. She is survived by a sister, Mary E. Greiner, and a brother, Kermit C. Sauer, both of Millersville.
She was preceded in death by her parents, Kermit V. & Mary L. Sauer, brothers, William, James, and Melvin Sauer, stepdaughter, Denise Rupp, and a grandson, Troy Snader.
The family requests that donations be made to any local library or the Alzheimer's Association.
A Celebration of Life will be on Sunday, April 24, 2022, from 1:00-4:00 PM at Buchmiller Park pavilion #32, 51 North Ledwith Drive Lancaster for family and friends.
Leave a condolence on this Memorial Page
Condolences to the Family
March 08, 2022
My Deepest Condolences to my Daughter in law Heather and my son Anwar along with the children and the Entire Family❤…
Carol Stackhouse
March 03, 2022
Pam and Family: I want to extend my sympathies on the loss of your mother. I hope your memories will help you in this time. Take care. Ken Barton
February 16, 2022
For Denise, Hope and Izaiah….and the rest of the family that I never met..My heart hurts now as does yours.. Loretta was a very dear friend and Avon customer for almost 20 years. I watched Hope and Iziaiah grow up whenever I delivered Avon to her. I was witness to their accomplishments along side of her! I will miss her tremendously! My sincere condolences to the family.
February 12, 2022
I'm in deepest pain this lovely young lady use to bring my daughter home from Fulton with Hope she use to to go to her grandma house with hope my heart is sadden broken I new this beautiful lady we talked she watched over my daughter as if it was her own child OMG I'm so broken heated just tge other day I drove threw her home we're she lived coming back from visiting my wife in the hospital I said to myself wonder what ever happened to Grandma…Live one another for tomorrow is not promised on behalf of my family to yours we love u and we will miss you 🥲🥲🥲🥲 she is with our Creator in heaven R I P Grandma we love love you thank you for taking care of my daughter when she visited you with Hope thank you for picking her up from school and bringing her home thank you for your kind heart ❤️ May Jesus hood you in his arms and live u 🥲🥲🥲
February 12, 2022
Sorry, to hear of your loss. It is tough, may you draw strength from the Lord Jesus.
February 12, 2022
Wonderful memories of Loretta . She would drive us to y.m.c.a dances after a chiropractor visit. She opened her home for kids to gather many a Christmas's in basement with silver tree & circular color disk shinning on tree 🌲. She was brownie leader & ohh the Girl Scout cookies. She was very interact with her girls Pam& Denise. She had lots of love ❤️ & fun. Her looks always reminded me of Ruth busy from laugh in show.may God have her room in his kingdom comfy cozy and glorious ✝️❤️😇
February 11, 2022
I am so sorry for your families loss. The Christmas letter you sent was the first time that I heard of her decline. She was my favorite aunt and had a infatuation for her at the ripe old age of 10.
February 11, 2022
Oh Denise i am so sorry to hear of your mom's passing please know i am thinking of u and the girls.
Reggie boyer