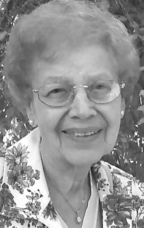 Loretta Ackerhalt
Loretta Ackerhalt, beloved mother, sister, aunt, grandmother, formerly of Clifton, New Jersey, passed away peacefully at home on December 6, 2009 in Lancaster, PA.
The daughter of Sadie and Hyman Levine, she was born in Passaic, New Jersey.
Loretta was predeceased by Dr. Martin J. Ackerhalt, husband; and son Dr. Jay Ackerhalt.
She is survived by Esta-Gail Margolies (daughter, wife of Michael) New York, NY; Shirley Kadushin (sister) Lancaster; Judy Ackerhalt (daughter-in-law) Walnut Creek, CA; Jonathan Ackerhalt (grandson, husband of Jaime) Corte Madera, CA; and one great grandson; nieces, Mona Berch (wife of Mark) Silver Spring, MD, and Marian Kadushin (partner of George Sotos), Lancaster, and nephew, Stephen Kadushin (husband of Kerry) Lancaster; and many other nieces and nephews.
She recently celebrated her 92nd birthday with her family. Private graveside service will be held in New Jersey. Visitation and Shiva will be Thursday 7 – 8:30 pm at 133 Murry Hill Drive, Lancaster. In lieu of flowers, contributions may be made to Temple Beth El or Susquehanna Association for the Blind.
Leave a condolence on this Memorial Page
Esta Gail.
Art just told me.
I remember Aunt Loretta with great fondness.
Love,
Doris Ellen Applebaum
Esta-Gail
So sorry to hear about your Mom. You have our deepest sympathies. Would love to catch up….it's been a very long time since CHS. I've thought of you often over the years, sorry we lost contact. Email me at brchoy@gmail.com
We've been here in Florida for over 10 years.
Fondly
Your old friend from CHS,
Brenda (Eng) Choy