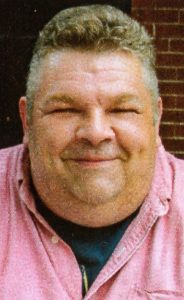 Loran "Loranie" F. Armstrong, Jr., 55
November 14, 2020
Loran "Loranie" F. Armstrong, Jr., 55, of Lancaster passed away at his home Saturday, November 14, 2020. Born May 10, 1965 in Lancaster, Loran was the son of Loran F. Sr. and Barbara A. (Earnest) Armstrong.
A longtime resident of Lancaster, Loran touched the lives of so many. After graduating from McCaskey High School in 1983, Loran worked for many local restaurants in the area including TGI Fridays and Tom Paine's Restaurant. Most recently, Loran was the manager of takeout at Belvedere Inn where he became friends with many of the locals. Known as the King of the Carry-Out and as a big teddy bear, Loran was always willing to help within his means with a friendly smile or a spare dollar or two.
In his spare time, Loran loved gambling, playing bingo, and traveling. His love for travel took him all the way down the east coast from New York to North Carolina and down to Florida. Loran will be remembered as a good-hearted soul who was always willing to lend a helping hand. His graciousness, willingness to help, and kind hearted demeanor will live on in many and will forever be missed by his family and friends.
In addition to his parents, Loran will be missed by a sister: Sandra London wife of Ty; two aunts: Sandra Earnest and Carol Cook; two uncles: Carl Earnest and Jack Armstrong; two nieces: Kya London and Amia London; as well as a nephew: Tyran London.
Loran was preceded in death by his grandmother: Mary Lois Earnest and his aunt, Kathy Tyson.
Friends and family are invited Thursday November 19, 2020 to the Charles F. Snyder, Jr. Funeral Home, 3110 Lititz Pike Lititz, PA 17543 from 2PM to 4PM for visitation. In lieu of flowers, memorial donations in Loran's honor can be made to The Humane League of Lancaster County, 2195 Lincoln Highway E, Lancaster, PA 17602.
Watch the tribute video
Leave a condolence on this Memorial Page
Condolences to the Family
December 06, 2020
I am so sad about this loss. He had the kindest heart!
Mara Sultan
November 22, 2020
LORAN you leave a sadness in me that is so hard to accept. You were way too young and way too important to many of us who love you and will always miss you. Rest In Peace Teddybear💔. My deepest condolences to Loran's family. I've never met any of you but please take some comfort in knowing what a sweet soul he was to so many people.
Sincerely, Helen Weichel
November 20, 2020
Loran, I can't believe you are gone. You were truly loved by all had the privilege of knowing you. Always king, loving and accepting. You were an angel to know, now an angel watching over all of us.
To Loran's family:
I know you are all aware of the boundless love he had for all of you. Prayers for healing.
Tina
November 19, 2020
I am shocked and saddened by the news of lorans passing ! Bless his gentle soul! He was such an amazing person! He will truly be missed!
Brenda Treadway
November 19, 2020
Loran was a loyal friend during junior high and high school. Sad to hear of his passing. Wishing peace to his family.
Amy Miller
November 19, 2020
I am proud to say Loran was a wonderful friend for 35 years. My heart-felt condolences to his family and all who will miss his humor and warmth.
Robbie Carson
November 19, 2020
LORAN YOU WERE SUCH A GOOD HEARTED AND CARING PERSON. I WILL ALWAYS REMEMBER THE GREAT TIMES LIVING TOGETHER AND TRAVELING WITH YOU. YOU WILL BE MISSED BY SO MANY. LOVE Denny
November 18, 2020
OMG I just cant believe it gone. U will be missed so much. Your in a better place. RIP my friend U left us the day my husband was born. And u r both together now . U were a good soul ❤
Debora Funk
November 18, 2020
OMG I just cant believe it gone. U will be missed so much. Your in a better place. RIP my friend
Debora Funk
November 18, 2020
Loren was the best friend to all who knew him. He was kind and was always there if you needed him. He was such a kind soul! To his mother I know he loved you much! You will be truly missed! Rest easy my friend. Till we meet again 🙏🏻💔🙏🏻💔❤️❤️Sherrie Freitag
November 17, 2020
My condolence to loran family prayers will always be there he will be missed this happen to soon he wasn't suppose to leave us yet prayers sorry for ur loss .he was a great person n had a few friends ..
Yvonne Williams
November 17, 2020
So sorry for your loss He was a good man loving and caring. My bingo buddy. Sure will miss you
Sharo n Shepard
November 17, 2020
Sorry for your loss, sending prayers to his family and friends…Such a great man I had the pleasure of getting to know from Bingo…..Sending my condolences..
Diana Ashby
November 17, 2020
I was deeply saddened to read of Loran's passing. I have known him since he was a student in my English class at Reynolds Jr. High, and was pleased to get reacquainted during a visit to the Belvedere. He has always been upbeat and pleasant. His warm personality will be missed by so many of his friends and family.
Ted Fitzgerald
November 17, 2020
So sorry for your loss you lost a good kind hearted sole RIP.
Randy Klivansky
November 17, 2020
Sorry for the loss of Loran
Too young to go

Donna Speece
Lancaster Pa
November 17, 2020
Loran was a good friend of mine although he didn't know it I knew where his open heart was. We attended Reynolds and McCaskey together and later in life reacquainted on Facebook. I felt that he always had my back when others did not. I will sorely miss his oak tree support and always in the face of dissent. When flames are flaring loran didn't back down and stayed on the side of marginalized among us. His earth mission fulfilled…touch as many people as possible in the shortest amount of time and do it with tolerance, respect, humor and most of all…compassion. Rest in power king. ❤️
Jen Brubaker
November 17, 2020
It seems like yesterday when all of us kids were riding bikes and playing in the alley behind the school. It's hard to believe that so many years have passed. Lornie was always like a brother to me. So sorry to the family for such a sudden lose. Loran will always be remembered as a kind and Loving soul. Gone way to soon, forever in our hearts.
Sandy Kurtz
November 17, 2020
Loren and Barb, so sorry for your loss. You lost a good, kind soul too young (same age as me).
Stay strong, Penny Fox
Visitation

Thursday, November 19, 2020
2:00 PM - 4:00 PM
Charles F. Snyder Funeral Home & Crematory
3110 Lititz Pike
Lititz, PA 17543

Map and Directions