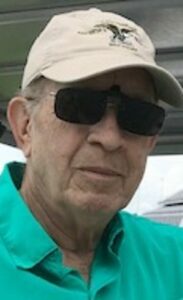 Lon R. Ibach, 77
September 20, 2021
Lon R. Ibach, 77 years old. 6/3/44 to 9/20/21 passed away at home in Largo FL on Monday, 9/20 surrounded by loved ones. He had lost his battle with cancer.
He was born in Ephrata and lived in Lititz until leaving for the Navy in 1963. His parents were Harold Ibach and Verna (Keller) Strauss. While serving in the Navy Lon learned his computer skills which served him well throughout his life. Finally returning to Lititz in 1999 he met his wife, Debbie (Ewing) Ibach, and began working for Tastykake. After leaving Tastykake in 2005, he began working at Hershey Park in Customer Relations and was there till his move to Largo, FL in 2016.
Moving to FL allowed him to pursue his love of boating, fishing, trying new restaurants and cruising with his wife and friends.
He is survived by his wife, Debbie (Ewing), a sister, Maxcine (Ibach) Rawls of Texas, and a daughter, Lynette (Ibach) Mann of California. He was preceded in death by his daughter Lisa (Ibach) Koch.
A Celebration of Life will be held at Mount Zion Church of Denver, 3 Denver Road, Denver, PA from 11AM to 1PM on October 30, 2021
Leave a condolence on this Memorial Page
Condolences to the Family
October 17, 2021
Those of you who knew my dad knew him as a charismatic, smart, fun person. He was definitely those and so much more.
My favorite memories of my dad:
** Teaching me how to code computer programs. My dad encouraged me to explore things that were generally thought of as reserved for boys. I remember going with him on site to a job. He had to set up a point of sale system. He told the workers that they would be able to handle this system easily. To prove it he told me to program the system to do something. I was about 8 or 9 (maybe – it was a long time ago). The smile on his face – not only in the pride he had for his daughter but the appreciation of the shock on the worker's face that this little girl could do it. FUN!
** All the outdoor stuff we did as a family. Camping, skiing, boating, fishing, … Especially stopping in Coloma at the soda shop and getting real root beer and sasparilla! So fun! Looking back I now know how much work it was for my dad to get all packed up to do those things and yet he was did those things for us to have adventures together.
** Him falling asleep in his chair after he got home from work for a nap before dinner! It still amazes me he could have a seat in his recliner and a minute later he was snoring. LOL
** Growing up with divorced parents you hear such horror stories of the nastiness between the parents. My experience was quite the opposite. My parents made the effort to put their disagreements aside for my sister and me. Every year or so getting together with my parents (along with my stepmom and stepdad) to go to Disneyland. My parents weren't only civil, they were friendly. I NEVER hear a bad word about my mom out of my dad's mouth and I NEVER heard a bad word out of my mom's mouth about my dad.
There are so many more memories I have. I love you, dad. Thank you for being my dad.
Nettie
September 29, 2021
Debbie, we are so sorry to hear of the loss of your beloved husband!! You always spoke very highly of him and I love following you on Facebook as you went on many adventures together. Praying for love n strength for you during these times!!
Denise Stanley
September 29, 2021
Our condolences to Debbie and Lon's family. He will be greatly missed. Have fond memories of working with Lon at the Port of Tampa helping direct the clients as to where they needed to go. He will be greatly missed by his Intercruises family at the Port of Tampa
Craig and Steve
September 29, 2021
Debby I'm so sorry for your loss. I hope you find comfort knowing he is no longer suffering and I hope you find some peace being with you family and friends.
Joan Bettinger
September 29, 2021
We will miss him so very much. We always had so much fun at the port ribbing each other and of course talking about Tastykakes! Our condolences to you and the family. Everytime I look at a Tastykake, Lon will be in our hearts.
Richard and Pam Yutz
September 29, 2021
I am so sorry to hear of Lon's passing. He fought the good fight for as long as he could. He now rests in peace in our Lord Jesus Christ's loving arms. May all the good, happy memories sustain his family. Debbie, you took such good care of him and helped him make happy memories on the water. Be it fishing on his own boat or cruising on the open ocean, he was able to do what he loved to do. He will be missed. Please know, I'm here for you Debbie.
Love, Deb
Services

Saturday, October 30, 2021
11:00 AM - 1:00 PM
Mount Zion Church of Denver
3 Denver Road
Denver, PA

Map and Directions