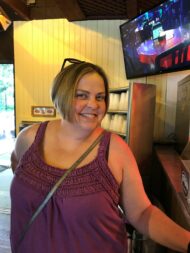 Lisa E. Stipe, 49
May 29, 2022
Lisa Ellen Stipe, of Lancaster, passed away on May 29, 2022. Lisa was born to Lloyd and Dorita Dimmig and graduated from Lancaster Catholic High School as Salutatorian in 1991. She went on to Millersville University where she graduated Magna Cum Laude with a Bachelor of Science in Education.
Lisa worked for Penn Medicine Lancaster General Health for over 25 years as an Application Analyst. She was a member of the VFW Garden Spot Auxiliary Post 1690 in Lancaster. Lisa enjoyed going to the beach and eating seafood as well as singing karaoke. She also loved dogs.
In addition to her parents, Lisa is survived by her brothers Andrew Dimmig, husband of Julie, of Palm Bay, FL and Kevin Dimmig, husband of Lori, of Jeanette, PA; her nephew Ryan Dimmig of Orlando, FL and many other nieces and nephews. She is also survived by her brothers-in-law John Stipe, Jr., Fred Stipe, Thomas Stipe, and David Stipe as well as her sisters-in-law Ann Stipe and Frances Hamacker.
Lisa was preceded in death by her husband James Michael Stipe with whom she celebrated 12 years of marriage.
A Mass of Christian Burial will be held Tuesday, June 7, 2022, at St. Joseph Catholic Church, 440 St Joseph St, Lancaster, PA 17603, at 11am with a visitation held one hour prior. Interment held at St. Joseph New Catholic Cemetery. In lieu of flowers, donations may be made to https://www.pack9rescue.org/.
Leave a condolence on this Memorial Page
Condolences to the Family
June 09, 2022
Lloyd and Family,
My sincere sympathy to you for your loss.
Blessings to all at this time
Suzanne Webb Sehl
June 08, 2022
Lloyd and Dori – So sorry for your loss. I am grateful that I was able to meet Lisa as an adult several years ago and had the opportunity to get to know her through Facebook. Keeping you and your family in my prayers.
Sara Dillich
June 07, 2022
Rest in peace Lisa
You will be missed
June 06, 2022
Never enough time and never prepared for her to leave us. So sorry for your loss. Many blessings in the days to come. Prayers are with you!! Joyce & Jerry Falta
June 06, 2022
We didnt know Lisa personally but my husband worked with her Dad at Verizon for many years. Dori and Lloyd we are so very sorry for your loss. Sending you and your family our prayers. Autumn and Steve Shenk.
June 06, 2022
So very sorry to see Lisa passed away
RIP
Love
Donna Speece
Jeff Davis
June 06, 2022
I worked with Lisa for years at LGH. I always looked forward to hearing that laugh and seeing her posts with Opals newest sweater/outfit. My deepest condolences to everyone that was blessed to have met her.
June 05, 2022
Lisa was an amazing & strong woman! She was kind, funny, and loved by many! So grateful our paths crossed in life and know we will meet again! Thinking of the family during this difficult time!
June 04, 2022
I am so incredibly shocked and saddened to hear of Lisa's passing. I remember her since our parochial grade school days (different grade schools), later becoming high school classmates. I remember Lisa as smart, kind, hilarious, and fun to be around. I always picture her with a smile and can still hear her giggle. I will always smile when thinking of Lisa, as I have in the many years since last seeing her in person and when seeing her posts on social media about those she loved most: her family, (BFF since SHS) Angie, and pup Opal. Lisa is gone far too soon but she will not be forgotten. May she Rest In Peace.
June 04, 2022
I am so sorry to learn of Lisa's passing. She always had a smile and was such a positive light in this world. Eternal rest grant unto her, oh Lord.
June 03, 2022
Your Auxiliary will miss you and your smiles
June 03, 2022
I graduated from LCHS with Lisa. She was one of the funniest people I knew and a great person. We lost touch over the years and I'm so sorry to hear of her sudden passing. My condolences to her friends and family.
Jen Terlikosky, LCHS '91
June 03, 2022
I am missing you so much. Rest In Peace my friend.
June 03, 2022
I worked with Lisa and am in disbelief of her passing. My deepest condolescences.
Dan Ort-Patrick
June 02, 2022
I am very sorry for your loss. I worked with Lisa at LGH and she was always pleasant and helpful. She will be missed.
June 02, 2022
Lisa, I will forever remember you smiling, laughing, and being so kind to everyone. You had the BEST Halloween costumes ever. You will be missed.
June 02, 2022
Lisa made working at LGH fun. We will miss your kind heart, smile and laughter.
June 02, 2022
I'm so sorry for your loss. I worked with Lisa previously @ LGH and she was funny, polite and a joy to be around.
June 01, 2022
Our family will miss you Lisa. Take every day you have and hold them close, you never know when those close to you will leave. There definitly is a big bonfire with ELO playing and funky town with all that are there now.
June 01, 2022
Lisa's passing is so sad for so many people. She had the greatest smile and laugh. We started together the same day at LGH and had so many memories together. She will be greatly missed.
Visitation

Tuesday, June 07, 2022
10:00 AM
St. Joseph Catholic Church
440 St. Joseph Street
Lancaster, PA 17603

Map and Directions

Services

Tuesday, June 07, 2022
11:00 AM
St. Joseph Catholic Church
440 St. Joseph Street
Lancaster, PA 17603

Map and Directions