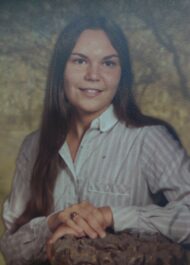 Lisa A. Rumberger, 58
November 4, 1964 - November 19, 2022
Lisa A. Rumberger, 58, of Mount Joy and formerly of Manheim, passed away at Hospice & Community Care, Mount Joy, on Saturday, November 19, 2022, following a courageous 13-year battle with ovarian cancer. Born in Lancaster, she was the daughter of the Grace M. (Amato) and Joseph M. Rumberger.
A graduate of J. P. McCaskey High School, Lisa worked at G & T Audio-Video where she met her good friend Matt Early, with whom she shared similar music interests. Lisa then worked at R.R. Donnelley from 1987 to 1999, and lastly as a material handler at Johnson & Johnson from 2000 to 2009.
Lisa, who enjoyed live music such as Kate Bush, has always had a fascination with David Bowie since she was ten going as far as having a David Bowie license plate. She enjoyed listening to music on her incredible sound system.
Lisa was a loving sister to Joseph D. Rumberger, husband of Sherree of Lancaster, and Nina Rambo, companion of Timothy Bragg of Lancaster. She is also survived by nieces and nephews, Daniel J. Rumberger, husband of Sadie Lawson Rumberger of Harrisburg, Kimberly A Friedrich of Lancaster, Lacy Rambo of Lancaster, and Leah Bragg of Lancaster; and great-nieces, Fiona Grace DeFrank, Annabel Rumberger, and Cassidy Rumberger.
Lisa's family will greet friends from 10 to 11 am, followed by a celebration of her life at 11 am, on Saturday, January 7, 2023, at the Charles F. Snyder Jr. Funeral Home & Crematory, 3110 Lititz Pike, Lititz, PA 17543. Lisa asked for guests to wear teal colored clothing, the color that represents ovarian cancer. Private interment beside her mother will be in All Saints Catholic Cemetery, Elysburg, PA.
In lieu of flowers, please consider a memorial contribution to Hospice & Community Care, P.O. Box 4152, Lancaster, PA 17604-4125. H&CC
Leave a condolence on this Memorial Page
Condolences to the Family
November 26, 2022
Loss comes in Waves like the OceanHope your Rocking out with your best bud!
Love ya Lisa. Maryann
November 23, 2022
I have known Lisa for a number of years, unfortunately through cancer support groups. I respect the long and hard fight she fought to live.
November 23, 2022
Joe and Nina,
So sorry for the loss of your sister! I just want you to know that you and your families are in my thoughts and prayers. God bless Lisa's soul.
November 22, 2022
Had such fun with her. Myself, Beth Hood, and Lisa.all the crazy things we did together like drink mudslides and sing Dayoo as we danced around the house
She was such an inspiration as I fought breast cancer this past year
November 22, 2022
Well kid, we will all miss your smile, your laugh and wry sense of humor. I hope you realize how much you meant to so many. My fondest memories are range from watching you purchase that huge stereo system so you could put vinyl on blast, but even more fun was band in all its forms at JP, we were a force of fun and trouble. Joe and Nina there's a world of people who loved Lisa here for you any time. I hope the stories of love and light she brought to the world give you both comfort. I'm glad her pain is finally gone and she'll look after your folks until the day you are all together.
November 22, 2022
My deepest condolences to Lisa's family. She was such an intelligent, witty, fun person with an incredible mind for remembering audio components and information, or most anything music-related. I cherish the fun times and adventures we had. She fought so hard and so long; she was one tough woman. Lisa will be deeply missed.
Visitation

Saturday, January 07, 2023
10:00 AM - 11:00 AM
Charles F. Snyder Funeral Home & Crematory
3110 Lititz Pike
Lititz, PA 17543

Map and Directions

Services

Saturday, January 07, 2023
11:00 AM
Charles F. Snyder Funeral Home & Crematory
3110 Lititz Pike
Lititz, PA 17543

Map and Directions