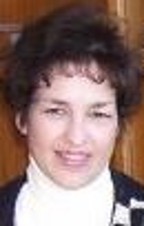 Lisa A. Ressler, 51
Lisa A. Ressler, 51, of Willow Street, PA, passed away on Monday, December 17, 2012 at Lancaster General Hospital.
She was the wife of David M. Guhl, with whom she shared 18 years of marriage this past July 1. Born in Ephrata, Lisa was the daughter of Linda L. Richter of Lancaster and the late Terry B. Ressler, who passed away in June of this year.
Lisa was a computer consultant and the owner of Strategic Microsystems for the past 17 years.
She was a graduate of Millersville University where she earned a degree in Computer Science.
Family was a huge part of her life. She was the glue that held the Ressler family together across the country. Her greatest love were her many adventures with her daughter, Kennedy, traveling to destinations such as Chicago, New York, Philadelphia, Washington DC and Mt. Rushmore. Lisa and Kennedy shared a love of theatre, enjoying many Broadway plays and Kennedy's theatrical performances at the Fulton.
In addition to her husband David and her mother, Linda, she is survived by her daughter, Kennedy M. Ressler, and her brother, Thomas P. married to Jessica Klopp Ressler of Reinholds. She was preceded in death by her brother, Steve B. Ressler.
Friends will be received on Thursday, December 20, 2012 from 12Noon to 1PM at the Charles F. Snyder Jr Funeral Home & Crematory, 3110 Lititz Pike, Lititz, PA , with the Memorial Service to follow at 1PM. In lieu of flowers, please make contributions in Lisa's memory to Hospice and Community Care, 685 Good Drive, Box 4125, Lancaster, PA 17604-4125. To send an online condolence, please visit SnyderFuneralHome.com. Charles F. Snyder Jr Funeral Home & Crematory 560-5100
Leave a condolence on this Memorial Page
I am so sorry for your loss. I have so many fond memories of Lisa. She was a great friend and I will forever cherish the memories of the many adventures we shared.
Dear Linda,
We are so sorry for your loss.
Sally & Don Steffy
Dave, I am deeply sorry for your loss and my heart truly aches for you and your family. Your wife was a wonderful woman and she touched many lives in wonderful ways. I know it's been a while, but I wanted you to know that you are always in our thoughts and prayers. Once again, I am so sorry.
Bill and Holly Heyser
156 Precision Ave
Strasburg, PA 17579
Dear Dave and family,
We were so sorry to see of Lisa's passing in the local newspaper and wanted to send our sincere sympathy to you and all of Lisa's family. We remember being at your wedding reception at the K of C. May God bring you comfort and peace as you mourn her loss.
Sincerely,
John and Nancy Straw
Dave and Kennedy,
We are so sorry for your loss. May the many fabulous memories you have of her sustain you in the days ahead.
Lisa was a dear friend and a very special person.
We will cherish the time we had with her and remember all the great times we had.
Please let us know if we can do anything at all to help you.
Love,
John and Kim Zander
To Dave,Kennedy and the entire Ressler family, i am so sorry of Lisa's passing, i had the privilege of being her step brother for over 30 years. We had not talked in recent years but with her fathers passing it was a joy to be able to talk to her again.I am truly blessed to have been a part of the Ressler family. Me and Lisa enjoyed many good times growing up and at times like best friends. She was always one to make me laugh, she will be missed, and although i will be not able to make the services tomorrow i will be their spiritually. Once again i am truly sorry and heart broken. Thank you for everything you did for me Lisa you will be missed. David Conrad
Dave Kennedy and family . Our deepest sympathy and our thoughts and prayers are with you. Cannot be there personally to pay respects but please know we care Fondly an old Guhl family neighbor
Gail and Jen Smith
Sorry to hear about Lisa's passing. My thoughts and prayers are with you and your family. Cherish your memories and find comfort knowing she is in a better place.
Lou Stoll, Jr.
Dave and Kennedy,
It is with heartfelt sorrow that I cannot be there to speak with you face-to-face. My prayers have been with you all since I first learned of Lisa's battle. May God grant you the peace that only He can bring to us when we lose a loved one. Please know that I will continue to hold you all close in my heart and prayers.
In His love,
Doris Claybourn
Dave, Kennedy, Thom and Jessica, Please accept my deepest sympathy on passing of Lisa.
Also I am thinking of all in the Ressler Clan
Kent Hassler, Mulberry FL
To the Family of Lisa"
I would like to express my sympathy over the loss of Lisa. I am fairly certain we went to school together. I saw in the obituary that you have recently lost other family members. I am so very sorry for your recent losses.
Although no words can take away the sorrow you are feeling right now it may be a comfort to you to know that God did not intend at all for us to live such a short life often filled with difficulties. Jesus promised at John 5:28,29 that there would be a resurrection. One of my favorite scriptures is found at Revelation 21:3,4 where God assures us he will do away with all pain and suffering. Even death will be done away with.
Please feel free to email me at lisao@ptd.net if you would like to share some more scriptures regarding this wonderful hope where we can be reunited with those loved ones we have lost in death.
Again, please accept my condolences.
Lisa Oberholtzer
Dave, Kennedy and Family-
We are so sorry for your loss. Our thoughts and prayers are with you all during this very difficult time.
Kari & Scott Rauhauser
Dear Linda, Arno and family,
Please accept my deepest sympathy for your great loss.
Affectionately,
Elsa Honaman