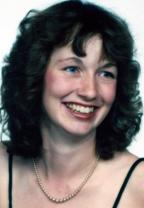 Lisa A. Garland, 47
Lisa A. Garland, 47, of Lititz, Pa died on Thursday, January 6, 2011 at Lancaster General Hospital. Born in Coatesville, PA, she was the daughter of Violet Ford Helenthal, New Holland, PA and the late Jack Helenthal. Lisa was married to James L. Garland for 23 years.
Lisa was a bartender and manager of Reflections Restaurant.
She loved to travel with her husband, especially to the mountains. She loved her Collie, Merlyn.
Surviving besides her husband and mother is her sister: Vicky wife of Tim Good, AZ and their children: Kirstin, Aubriel, Dylan, a brother-in-law, Roger Sensenig, his children: Danielle and Jonathan.
Lisa was preceded in death by a sister, Kim Sensenig, a nephew, Tevin Kreitz and her four collies: Disney, Hamlet, Laddie and Dixie.
A viewing will be held at the Charles F. Snyder Jr. Funeral Home & Crematory, 3110 Lititz Pike, Lititz, PA on Tuesday, January 11, 2011 from 10:00AM to1:00PM. There will not be a funeral service and interment will be private.
In lieu of flowers, contributions may be made in Lisa's memory to Breast Cancer Research Foundation, 60 E. 56 Street, 8th floor, New York, New York, 10022. To send online condolences, please visit: SnyderFuneralHome.com. Charles F. Snyder Jr. Funeral Home & Crematory. 717-560-5100
Leave a condolence on this Memorial Page
Dear Jim and Family,
I am shocked and saddened to hear of Lisa's death. I always loved Lisa and her quirky sense of humor. Hoping you're coping as well as you can given the sad circumstances.
Wendy Etnyre Lewis
Dear Jim & Family,
So sorry for your loss, Lisa will always be in our thoughts with the generousity and kindness she showed to people and animals.
Teddy is in Florida and wanted me to send his love & condolence as she was very special to him….she will be sadly missed that is for sure.
Now that the Angels have carried her to heaven you can rest assured that she is in a good place.
Peace, Ted & Jane Dzubinski
Jim we will always remember our friend and all other good times I had with her shopping, decorating, gambling and most of all talking. Jeff and I are here for you
Betty
Jim,
We are sadden to hear of the passing of Lisa. She will be greatly miss. After a long hot day at work it was nice to come in and have a cold beer and chat with Lisa. May your memories give you comfort at this time and always.
Ken and Pennie Gutshall
Gutshall's Lawn Service.
Jim and family, sorry to hear Lisa has passed . Lisa's smile will be missed. She was a friendly person and knew just the type of drink or food one wanted when they came to Reflections. Our prayers go to you and your family.
Margaret and Andrew Garrety
Dear Vi and family members,
My thoughts and prayers are with you at this time. This is very sad.
In sympathy,
Renate Sachse
Jim, my family is greatly saddened by the loss of your wonderful wife Lisa. She will be missed and remembered forever.
Tony, Pam and Tara Carter
Hi Jim ,
Please carry & take all the Beautiful memories each day with you within your heart ! You could never have done any better than your Lisa . She will be forever peaceful on her gentle journey because of you ! Be well , my friend .
Thoughts for you ,
Doug Walker
Dear Jim,
What a wonderful woman. You both were such a pleasure to be around. Reflections has always been one of my favorite places to go. Lisa was so sweet and greeted everyone with a smile in the restaurant and out. I was fortunate enough to call her a friend. There are so many people who have a void in their hearts today. She was as special as she looked, the real deal. My husband and I will miss her terribly. I know she is up in heaven playing with her puppies and looking out for all of us. With much love your friends Rebecca and Michael Baran. You are in our prayers and we are so sorry for your huge loss. Peace always Becky xoxo
I send my deepest sympathy to Lisa's family. I've known Lisa since she was a little girl. I have many fond, funny and happy memories of Lisa. She truly will be missed.
Blessings and Love,
Lorraine Smoker
Jack, my name is Shirley Price. You might remember my husband, Ken. I am so sorry to hear of Lisa's death. I have been coming to Reflections with and without Ken (he died 7 yrs. ago) for many years and have always chatted with Lisa. She was such a nice woman. I will miss seeing her. I know she loved her dogs as we talked of that. I must have seen her maybe a year or so ago and was shocked to hear of her death. My prayers are with you. I know you will miss her.
Shirley
Lisa was a beautiful person. Please accept our sincere sympathy.
Gene and Betty Clair
Lititz PA
Lisa made the best Martinis ever. She always had a welcoming ear and a kind word. We had lots of fun over the years. She will be greatly missed!
Kristin Adams
I am so saddened to hear of Lisa's passing. She was a sweet and friendly lady. I will miss her hugs and conversation @ Reflections. It will mot be the same when I come in there. The sympathy of family and friends and the precious memories you have will help to comfort you. You are in my thoughts and prayers.
Gloria Shober (Lee,passed away in 05)