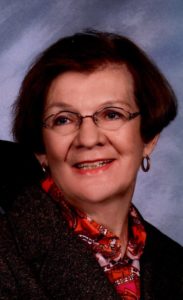 Linda S. Pohle, 81
May 04, 2019
Linda (Shupe) Pohle, 81, of Lancaster, passed away peacefully on May 4, 2019 at Mennonite Homes. Born in Greensburg to the late George B. Shupe and Mabel (Campbell) Shupe, she was also the daughter of the late Margaret (Clayton) Shupe and the beloved wife of Robert A. "Bob" Pohle.
Linda loved children and found her calling in teaching. She graduated from Indiana University of Pennsylvania with a degree in Education and pursued a career in elementary education which brought her and her newlywed husband to Lancaster in 1962. Linda was a second-grade teacher at Washington Elementary for 22 years before retiring in 1997. Following her retirement, Linda continued to nurture young children as a pre-school teacher.
In her free time, Linda enjoyed playing the piano, planting flowers in her garden, and reading. She always relished the opportunity to go on short weekend trips with her husband. Linda was a natural caregiver and focused her energy on everyone but herself. She loved her grandchildren and cared for them like they were her own. She will be remembered by the smile she always had on her face, her every day class and grace, and her selflessness.
Linda is survived by her loving husband, Robert A. "Bob" Pohle, her children; Jennifer Lee (Michael), Bobby Pohle, Matthew Pohle, and Megan Lukas, and her 10 grandchildren. She is preceded in death by her parents, George and Mabel Shupe, and step-mother Margaret Shupe.
A Memorial Service will be held Friday, May 10, 2019 at 11:00am at Holy Trinity Lutheran Church located at 31 S Duke St, Lancaster, PA 17602. Guests will be received prior to the service starting at 10:00am. Interment will follow services at the Memorial Garden at Holy Trinity Lutheran Church. In lieu of flowers, donations in Linda's memory can be made to Hospice and Community Care at 685 Good Dr. Box 4125, Lancaster, PA 17604.
Leave a condolence on this Memorial Page
Condolences to the Family
May 10, 2019
I have fond memories of Mrs. Pohle. I remember a warm, gentle person who was devoted to her husband, and deeply loved her children and grandchildren. I believe she made our world better, and will be greatly missed and honored as well. James Lee.
May 09, 2019
Uncle Bob,
Thinking of you and sending our love as you mourn the loss of your beloved Linda. She was a special lady. Praying that peace and comfort will surround you in the days ahead.
Love,
Tammy & Rick McKibben
May 09, 2019
Jen, Bobby, Matt and Megan,
Thinking of you in the loss of your Mom. Prayers of comfort being lifted for you all.
Tammy & Rick McKibben
May 08, 2019
I worked at George Washington Elementary with Linda and always remember her positive attitude and smiling face. She loved teaching and really enjoyed her students. My thoughts and prayers to her family.
Kay Althouse
May 07, 2019
Matt and family,
My thoughts and prayers go out to your family in this difficult time.
T. Lombardo
May 07, 2019
Aunt Linda will always hold a special place in my heart. Such a sweet woman, always smiling, and genuinely concerned about others. She loved her kids and her grandchildren were precious to her. She will be missed. Love and prayers to all the family, near and far, on the loss of this sweet soul. She was a guardian angel on earth, and now will watch over all of us from Heaven. Love, Suzy and Linda
May 07, 2019
To both Bobs, my condolences. I lost Bev two years ago after having spent her last fifteen months at the Mennonite Home, so I can say I've been there and done that and my thoughts are with you at this time.
W CRAIG BOYD
May 07, 2019
My sincere condolences to Linda's family. I worked with Linda at Washington Elementary. She was such a wonderful and loving teacher. She always had a positive comment to all of the students and staff. May her memories live on in your hearts.
sue nonnenmocher
Visitation

Friday, May 10, 2019
10:00 AM - 11:00 AM
Holy Trinity Lutheran Church
31 South Duke Street
Lancaster, PA 17602

Map and Directions

Services

Friday, May 10, 2019
11:00 AM
Holy Trinity Lutheran Church
31 South Duke Street
Lancaster, PA 17602

Map and Directions