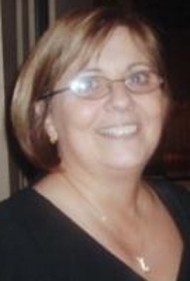 Linda M. Thompson, 67
September 19, 2014
After a brief but fierce battle with the monster known as cancer, Linda M. Thompson, 67, passed away gracefully on Friday, September 19, 2014 in her Lancaster home. Born in Philadelphia, she was the daughter of the late Edward and Vera Ragghianti Rovane.
She is survived by daughters, Jenifer Griffin, Jessica Lewis (Demetrius), and her beloved grandchildren Makenzie, Ryan, Teagan, Avery, Payton, and Delaney.
Also surviving are her sister Kathy Ragazzo, nephew Todd Mullery, and niece Stacy Mullery.
Linda worked in the medical field for many years. She loved to spend time with her children, grandchildren and good friends. Linda loved to dance and listen to good music, especially the Beatles and John Lennon. She enjoyed traveling, a good conversation and a good book, Italian food, NCIS, and anything animal.
Most importantly, she'll be remembered for evening walks, long talks about everything and nothing, an encouraging word, gardening attempts, and cheering at many sporting events. She cheered for everyone and everything to have a fair shot at love, life and laughter. She had a contagious laugh and a beautiful smile. We hope she is wearing it now.
"Time you enjoy wasting, was not wasted."-John Lennon
Private graveside services will be held at St. Mark's cemetery in Bristol, PA. In lieu of flowers, memorial contributions in her name may be made to the Wolf Sanctuary of PA, wolfsanctuarypa.org.
Leave a condolence on this Memorial Page
Condolences to the Family
December 11, 2014
Jessica my prayers are with you and your family, Your mother was always good to me when i would visit you. I was shocked to see this online. I was looking to find you and catch up, but never thought to find you this way. I lost my Father to prostate cancer in 2007 and i understand the difficulties of this disease. My prayers are with you. I'm on Face book if you wish to contact me. Charles Williams
October 11, 2014
Jen and Jess please know our prayers and thoughts are with you and your family. I worked with Linda at the office of Drs. Hirish Moncreif and Wolf many years ago. Your mon had a great sense of humor and we had so many fun times together. I had not seen your mom in many years but she was so proud of you girls. Cathy Cole
October 08, 2014
My sincere condolences to Jenifer and Jessica. Your mom and I were friends for many years; back in the day of "coffee groups"! It seems like a long time ago but it all went so fast. I will always remember how your mom and i caught the Hamilton Park tire slasher and all those fun "exercise classes" after which we treated ourselves to a bounty of good food and drink! Dancing with Julie, Valentino's and laughing about nothing….there are many fun memories and she will be missed. Emma Irvin
October 06, 2014
Dear Jenifer, Jessica and family,
I met your mother when we worked at Watt & Shand and thru the years would meet for lunches and dinners and share many grandchildren stories. I am so sorry for your loss. I will miss her laugh, humor and the beautiful person she was on the inside as well as the outside. Heaven got a lot brighter. Prayers for your family.
Fondly, Mary Zerbe
October 05, 2014
Dear Jenifer and Jessica. We couldn't have loved your Mother more. We spoke to her in July. She was a wonderful friend and neighbor. She lived a tough life after we moved from 122 Atkins Ave.
God bring comfort to both of you, your children and to Kathy.
Fondly,
Ted and Bonnie Fitzgerald
October 05, 2014
I met Linda over the phone through work. We never met in person, but always had cheering and affirming conversations whether we stayed focused on work or not. I was greatly saddened to see the notice of her passing in the paper. She had been replaced at work, so I had hope that she was out enjoying her family or a good book. Our generation (pre social media) is accustomed, I think, to people vanishing from our view, but the best ones…well we carry their memories in our hearts all the rest of our lives.
~Sam McNew, Mount Joy, PA