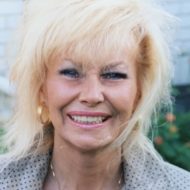 Linda Gene Waltman, 69
November 24, 2019
Linda Gene Waltman, passed away peacefully November 24, 2019 surrounded by her loving family.
She is survived by her loving partner Rodney K. Crawford of 26 years and sons Dana (Casey D.) and Brice (Casey M.). She is also survived by her twin sister Diane D. and husband Jerry K. Eidemiller of East Petersburg, PA.
Linda was born in Lancaster, PA. She was preceded in death by her parents Robert V. and Imogene Dennis Hartman and her sister, Carol Anne Strandberg.
Linda was a very loving grandmother to Wyatt and Austin Emenheiser, Joseph and Brody Crawford of Wrightsville, and Piper Crawford of Annville, and to her nieces and nephews: Kalen R. Strandberg (California), Evan Stranderg (Oregon), Brandon D. Eidemiller of East Petersburg, Nicole Leigh Eidemiller and companion Frederick Riccelli and her great niece Leah Gene Eidemiller of East Petersburg.
Linda is also survived by her loving sisters and brother-in laws: Theresa Sneath (VA), Donna and Greg Brewer (VA) Barbara Young (AZ) and Sara and James Dixon (VA) and extended family members who loved her dearly.
Linda had been a travel agent for over 30 years, working at McCormick Travel and Travel Time. She also had worked as an administrative assistant at the Eden Resort, retiring in July of 2019.
Linda enjoyed thoroughbred horse racing, was a big Washington Capitals fan, and loved her cats, taking in, caring for, and providing a loving home for many over the years. Her greatest treasure was her family whom she adored.
Friends are invited to attend A Celebration of Linda's Life on Saturday, November 30, 2019 at 10:30AM at the Charles F. Snyder Jr. Funeral Home & Crematory, 3110 Lititz Pike, Lititz, PA. Please bring along a special memory of Linda to share with her family and friends during the services. Her family will greet friends following the service. In lieu of flowers, please make contributions to an organization very close to Linda's heart, The Pet Pantry of Lancaster County, 26 Millersville Rd. Lancaster, PA 17603.
Watch the tribute video
Leave a condolence on this Memorial Page
Condolences to the Family
December 02, 2019
She was a beautiful kind soul.
Mike & Brian Vargo
December 02, 2019
Such a beautiful angel heaven has gained. Her smile and energy touched all she encountered throughout her life! She will deeply be missed. Her memory will forever live on in my heart ❤️
Monica Benton
December 01, 2019
Linda was such a beautiful person with a beautiful soul. Her smile lit up the room and people were automatically drawn to her. She had a way of making everyone feel special and loved. Her heart was huge and she was forever doing acts of kindness. She believed strongly in 'Pay it Forward' so if you'd like to honor her…this holiday season 'Pay it Forward.' She loved her fur babies, friends, family, and Rod and the boys. She was the best sister in law you could ask for. A huge void has been left in our hearts. May you Rest In Peace Linda. We will always love you! ❤️
Barbara Young
November 30, 2019
I am so sorry to hear Linda's death. I have known Lunda for over 40 years. During this time Linda always had a smile on her face and a fun personality. We had some good laughs over a few drinks discussing some of the people we had to work with. She did a great job of planning our families trips when she was with Travel time. Diane and family members I am so sorry for your loss.
Jack Whalen


November 28, 2019
The sweetest person one could ever know. We will miss you Linda! Prayers for your family and Rod and the boys.
November 27, 2019
I will miss Linda as she was my liason at the Eden Resort and Suites where I started entertaining in the 80s. She was there starting in 1992 and I always got in touch with her when I needed some answers. Starting in the 2000s, I took our rescued Greyhounds out to see her and she was so estatic about seeing them and petting them. Most recently in 2019, I took our latest Greyhound Pharoah out to see everyone in the office and when Linda sat in one of the big chairs in the office, Pharoah suprised her by backing up and sitting on her lap. I wish I had a picture of the look on her face. She could not believe it. May she rest in peace.
Bill and Joan Horn and Pharoah
November 27, 2019
I'm so saddened to hear of Linda's passing. She was my neighbor at Valleybrook. We shared many laughs and good times. Linda and I were there for our neighbors, Lester & Gloria Miller, when they died. My heartfelt condolences. Rest in peace, my friend…
Services

Saturday, November 30, 2019
10:30 AM
Charles F. Snyder Funeral Home & Crematory
3110 Lititz Pike
Lititz, PA 17543

Map and Directions