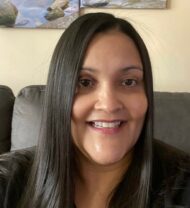 Lillian E. Fuentes, 50
June 13, 2022
Lillian E. Fuentes, 50, of Lancaster, passed away at Lancaster General Hospital on Monday, June 13, 2022. She was the loving wife of Rene B. Fuentes, with whom she shared 29 years of marriage.
Born in Arecibo, Puerto Rico, Lillian was the daughter of the late Rafael and Leticia (Alvarez) Navedo. She attended J.P. McCaskey High School Class of 89. She worked as an Environmental Service Tech at Lancaster General Hospital for 20 years. She also volunteered to translate for patients and staff while working there. She was a Christian who frequently visited San Juan Bautista Catholic Church and In the Light Ministries in Leola. In her spare time, she enjoyed going for walks with her sons, watching movies, and spending time with her family. She was known for having a contagious laugh and smile. She was a selfless woman who was always looking out for those around her, especially for her dear family and friends. She was also an advocate for autism awareness.
In addition to her husband, Rene, Lillian is survived by her two sons, Carlito and Marcus; her sisters Jackie Ruiz (husband, Ray) and Brenda Ruiz (husband, Hermes); her niece and nephew Veronica Ruiz and Frankie Ruiz; her sisters-in-law Maria Vega and Maria Falcon; and her brother-in-law Luis Vega; as well as many more family members in Puerto Rico.
Friends will be received at the Charles F. Snyder Funeral Home & Crematory, 414 E King Street, Lancaster, PA 17602 on Monday, June 27, 2022, from 6:00-8:00 PM and again from 10:00-11:00 AM on Tuesday. A Funeral Service will be held at the Funeral Home on Tuesday, June 28, 2022, at 11:00 AM. Committal will follow at Mellinger Mennonite Cemetery. In lieu of flowers, donations can be made to the Brain Aneurysm Foundation at www.bafound.org
Watch the tribute video
Leave a condolence on this Memorial Page
Condolences to the Family
June 29, 2022
I'm so sorry for you loss Rene + family, I met Lilly at my wedding 9 yrs.ago. She was so nice to me, we talked liked we knew each other for years ! Prayer and thought are with the family and friends.
June 27, 2022
Mis condolencias para toda la familia. Conoci a Lily atravez de mi hija. Ellas trabajaban en LGH. Siempre recordare muchas bonitas, dulces e inocentes anecdotas mi hija y Lily compartieron. Su partida ha afectado a todos. "Dios no prepara a los escojidos, Dios escoje a los preparados". Dios le de fortaleza. Cmedina, Dfilomeno's mom.
June 26, 2022
To Rene and family. I am so sorry for your loss. Lilly was my friend for so long I can't believe she is gone. I will miss our call's. She was always in a good mood and we had great conversations and laughs about our lives. I will truly miss her. She is now in heaven watching over us all. My condolences to you all. I will keep you in my prayers. Love, Sandra and family
June 23, 2022
Lilly was the sweet, kindest, and most loving person I had the pleasure of getting to know during my time at LGH. If there was ever an angel on Earth at LGH, it was Lilly. I would talk with her everyday and she would always laugh and smile, even on the hard days. Patients and staff loved her because she made you feel important. She poured her heart into her work and the relationships she built at work and for her friendship, I am forever grateful. No one could ever replace the light Lilly cast on this world and I am so sorry for her loss.
Ashley Waltemyer-Phillips
June 23, 2022
Peace be with you. Lilly was a blessing to all…always a member to our 4 Lime family. Stay strong boys.
Wendy Holler
June 22, 2022
Sending prayers for peace and strength to all the family in the name of Jesus Christ, Amen. Rosita Oliveras, Seminole Florida
June 22, 2022
So sorry to hear I remember delivering to her from sluggers she loved her pizza it's crazy how you remember faces and smiles she was very kind and sweet my heart goes out to the family Melinda Perez
June 22, 2022
Lilly was truly one of a kind and will be missed dearly. Tears come when I think about never seeing her contagious smile again or hearing her infectious laugh. She was one of my favorite housekeepers on 4Lime and will never forget the "fun" we had while hiding her cart or randomly taking bottles off the cart when she wasn't looking!! She was always talking about her boys! Rest In Peace sweet Lilly!!
Nikki S.❤️❤️
June 22, 2022
We are so sorry to learn of Lillian's passing. She was a lovely, gentle person, always pleasant with a smile on her face. It was a pleasure and priviiege to care of her for many years. Our sincere condolences to the entire family.
Nick and Judy Siviglia–Lancaster Contact Lens
June 22, 2022
I am so very sorry to hear of Lilly's passing. I don't think I ever saw her without a smile. She always spoke so fondly of her boys and I could feel the love she had for her family. I will keep her loved ones in my prayers.
Dana Nikles
June 22, 2022
Mis condolencias para su esposo en hijos y para sus familia
Ana Velázquez
June 22, 2022
Mis Condolencias a Toda la Familia.. Que tritesa tan grande . QUE DIOS LE DEN LA PAZ QUE NECECITAN EN ESTOS MOMENTOS TAN TRISTE … Iris
June 22, 2022
To know Lilly is to love her. I met her almost 9 yrs ago on 4 Lime. Whenever we were at work you knew we were having a good time. All the laughs, jokes and stories I will cherish forever. Lilly is like no other and I will miss her like crazy. My thoughts and prayers go out to her whole family. God bless you Michelle Leh
June 22, 2022
I'm so sorry for your loss may you know you'll are in my prayers. Until we see all are love omes again. Love yall guys I know this isn't easy my prayers are with you renee ,brenda ,Jackie , frankie, veronica and pichero. Love Lidabel
June 22, 2022
Rene, I am so sorry for your loss. I will never forget your love and devotion to her as we tried to save her. She was so blessed to be your wife. Peace be with you. Eileen Dvorchak
June 21, 2022
I was fortunate to know Lilly. She was a beautiful person inside and out with a smile that could brighten the room. She was one of the kindest people I've ever met. She spoke frequently about her husband and boys. They were her entire world. My heart aches for anyone that knew her. She will be missed by many. Rest peacefully sweet angel. Christy
June 21, 2022
Lillian was a special soul that was here in earth to help others with a smile,her attitude,her jokes,she will be truly truly miss by the ones who love her and I already missed her calls when she will call me every day and her sisters and friends, Fly high beautiful golden angel. I know you'll be our guardian angel and in time the boys will be fine because they're just like you with a golden heart especially Carlito💔😢 Maria Vega
June 21, 2022
Mis condolencias para toda la familia hermanas esposo e hijos fortaleza para todos y qué descanse en paz Lilly de parte de su amigos Marisely Lugo y Francisco Nazario ( pancho)
June 21, 2022
It was a blessing to have met someone so happy & full of life. I will never forget all conversations & laughs we shared on 4 Lime. Lilly was always happy & willing to help. I have never met anyone like her. Sending lots of love & prayers to her family ❤️ We will miss her dearly. Neisha
June 19, 2022
So sorry for the family lost, we didn't really know her but when we seen each other we said we were neighbors and she was always smiling she was a beautiful lady she will b missed ,thoughts and prayers for her family and friends. R.I.P. mama gone but never forgotten fly high mama 💔😢🙏⚘. OUR CONDOLENCES, Angel and Tina Ruiz
Visitation

Monday, June 27, 2022
6:00 PM - 8:00 PM
Charles F. Snyder Funeral Home & Crematory
414 East King Street
Lancaster, PA 17602

Map and Directions

Services

Tuesday, June 28, 2022
11:00 AM - 12:00 PM
Charles F. Snyder Funeral Home & Crematory
414 East King Street
Lancaster, PA 17602

Map and Directions