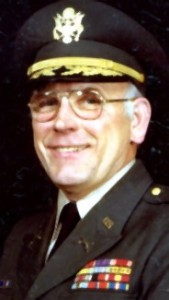 Lieutenant Colonel Robert W. Rozman
Lieutenant Colonel Robert W. Rozman, U.S. Army retired, departed this life on Saturday, April 5, 2008. Born in Springfield, Massachusetts on April 1, 1920, he was the son of William (Wladislaw) Rozman (Rozmyslowicz) and Stephania Rozman nee Mielnicki. A few years later his family moved to Wilson, Connecticut where he lived until mobilization for World War II service. He resided in Hartford, Connecticut for a brief time after World War II, and was a resident of Manchester, Connecticut on retirement from the Army in 1965 until relocating to Pennsylvania in 1987.
Colonel Rozman's career of distinguished public service began after graduation from high school with enrollment in the Civilian Conservation Corps in 1939 followed by enlistment in the Connecticut National Guard in October 1939. He entered active federal service in February 1941 as a member of Company F, 169th Infantry Regiment. Based at Camp Blanding, Florida and later Camp Shelby, Mississippi, he participated in the Louisiana and Carolina Maneuvers, and in the South Pacific Theater, the Banika Island (Solomon Islands), New Georgia, Arundel Island, New Guinea, and Luzon amphibious assault landings. He was wounded four times and rose to rifle company first sergeant before receiving a direct commission to second lieutenant north of Manila in May 1945. Colonel Rozman's subsequent military career took him to assignments with the 3rd, 9th, 26th, and 43rd, Infantry Divisions, 3rd Armored Division, U.S. Army Armor School, The Army of the Republic of South Viet Nam's Infantry School, and U.S. Army Europe Headquarters at locations in Virginia, Germany, Kentucky, Viet Nam, Georgia, Massachusetts, and Germany again. His last posting was as Commander, 112th Service Center Headquarters, Pulaski Barracks, Vogelweh, Germany. He retired from the Army in December 1965 after 26 years of military service. He was awarded the Combat Infantryman's Badge, Bronze Star Medal, four Purple Heart Medals, the Good Conduct Medal as well as the American Defense, American Campaign, Asiatic and Pacific Theater with arrowhead and four stars, World War II Victory, Occupation (Germany), American Defense, Reserve Service, Philippine Liberation, Philippine Independence Medals and the Army Presidential Unit Citation and the Philippine President Unit Citation for this service. He then pursued a career in partnership with his younger brother, Richard "Pappy" Rozman operating a successful subcontracting business in Connecticut until his final retirement in 1980. He and his wife subsequently relocated to Lititz, Pennsylvania in 1987 to live near his daughter and her family.
Colonel Rozman is survived by his wife of 62 years and the love of his life from their first meeting in 1938, Candide Giselle Boucher Rozman, his son, Lieutenant Colonel (retired) Tom Rozman and wife Joy of Williamsburg, Virginia; son, Major (retired) Robert L. "Rick" Rozman and wife Lynda of Marshall, Virginia; and his daughter, Elaine Alexander and her husband, Dr. Alan Alexander, of East Petersburg, Pennsylvania; his nine grandchildren: Doug, Bryan and wife Maria; Michael; Matthew and wife Kathy, Melissa (Hogan); and Todd and wife Yvonne Rozman; and Bradley, Matthew and Tom Alexander; and his three great grandchildren: Raquel, Emma and Karl Rozman. He is also survived by five of his six brothers: George, Carl, Walter, Richard and Earl; and two of his five sisters: Helen and Elizabeth and their families. One brother, Henry, and three sisters, Marian, Wendy and Lucille, preceded him in death. Grandchildren Bryan Rozman, Captain U.S. Army National Guard, and Melissa Hogan, ex-Captain, U.S. Air Force, have continued his tradition of military service to the nation.
Brave but modest soldier, successful businessman, loving husband, father, grandfather, great grandfather and best friend, you were the example we followed. We could not have done better. Through tough times and good times you caused our memories to be special. In every possible way you made a secure world for us to be a family in. You taught us what duty, honor, country, and family are about. You showed us how to live with dignity and courage even in the face of great pain and adversity. You were a great and good man in the most important ways. Till we meet again, God bless you, Dad.
Colonel Rozman will be interred with full military honors at Arlington National Cemetery at a later date. Memorial contributions in his name may be sent to Hospice of Lancaster County, P.O. Boxes 4125, Lancaster, PA 17604. Charles F. Snyder Jr. Funeral Home and Chapel, 3110 Lititz Pike Lititz PA in charge of arrangements – 717-560-5100.
Leave a condolence on this Memorial Page
Condolences to the Family
September 18, 2016
Tom, I have been doing a search for you and this seems to be the closest I can get. Sorry for your loss many belated years but if you recognize the name Anne Atherton please contact me a ala1965@att.com.
Aunt Candide, Cousins Tom , Rick, Elaine and there familys.
You have our deepest Simpathy in Uncle Bobs Passing. Your in our thoughts, hearts and memories.
Nelson & Sandra Cheverier and family
We offer our deepest sympathy to your entire family.
Mrs. Rozman, in the last several months I enjoyed my visits as you were housebound. I treasure the last time I saw Mr. Rozman when I was able to have a brief conversation and prayer with him for God's peace to be with him.
Please know that we are praying that God will comfort you in your loss. May your precious memories, and also God's peace, carry you through this difficult time of great loss.
Your neighbors,
Eileen and Karl Fisher
I'm so sorry to hear of the passing of Mr. Rozman. I always remember his smiling and welcoming face when I would come to visit Elaine. He was fun to be around and embraced all visitors. He will be missed. Please know that our thoughts and prayers are with you as you go through these next months. Focus on the memories and the laughter and he will be right there.
Love,
Debbie (Santy) Downes
Our thoughts and prayers are with all of the family. Although it has been many years since we've seen you, it always is hard to lose family. Bless you all and let your memories remain strong. Take srength in knowing that there is one more angel in heaven today.
With love ,
Peter (Lucien's son) and Lis Boucher