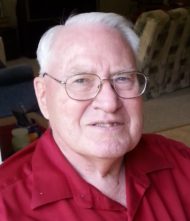 Lewis L. Anderson, 85
January 22, 1935 - December 22, 2020
Lewis L. Anderson, 85, of Willow Valley Manor, and formerly of Quarryville, passed away on Tuesday, December 22, 2020, at the Willow Valley Glen. Born in Deadwood, SD, he was the son of the late Lionel C. and Helen L. (Morris) Anderson. Lew was the beloved husband of the late Verna (Smith) Anderson, and they shared 48 years of marriage at the time of her passing in 2005.
Lew graduated from the South Dakota School of Mines & Technology with a bachelor's degree in Chemistry in 1956 and went on to attain his Ph.D. from the University of New Mexico in 1961, where he majored in Physical Chemistry and minored in mathematics. He worked for E. I. DuPont de Nemours & Co., Inc. as a Research Chemist and later as a Senior Information Specialist, retiring in 1992 after 31 years of service. Through his career, Lew was an active member of ARMA (Assoc. of Records Managers & Administrators) and Sigma Xi (Scientific Research Society). Following his retirement from DuPont, he supervised the computer lab for Solanco High School in Quarryville from 1992 through 2003 and started the Southern Lancaster Computer Club. From 1995 – 2000, he and his wife also operated Anderson Computer Portraits which created personalized photo keepsake items.
Lew enjoyed spending time with his family, camping, square dancing and round dancing, and being involved in various clubs. He was also an avid reader. He attended Zion United Church of Christ in New Providence.
A loving father and grandfather, he is survived by two daughters, Susan Allison and her husband Bill of White, PA, and Nancy King and her husband Mike of Lampeter; three grandsons; and four great-grandchildren. In addition to his parents and wife, he was predeceased by a sister, Irene Morris.
A Memorial Service may be planned and announced by the family at a later date. In lieu of flowers, contributions in Lew's memory may be offered to Hospice & Community Care, 685 Good Dr., P O Box 4125, Lancaster, PA 17604.
Leave a condolence on this Memorial Page
Condolences to the Family
January 06, 2021
Lew will be missed in the square and round dance world. He helped me learn both areas of dance. He was always a pleasure to be around and dance with.
Naomi M Fisher
January 02, 2021
My memories of Lew include square dancing, round dancing, Guideposts book series, and many times grabbing a bite to eat before or after a square dance. He was a great friend and had a fine mind. He will be missed on the dance floor.
Ruth Libby
January 02, 2021
Lew was always kind and pleasant to be in the same square to dance. He will be
missed. Member of DoPasO
Carol English
January 02, 2021
May Lew's memory be for a blessing. Always a kind, gentle person. We loved Square Dancing & socializing with him. We hope your happy memories of Lew will bring you comfort & strength.
Elaine & Ed
Club Sashay