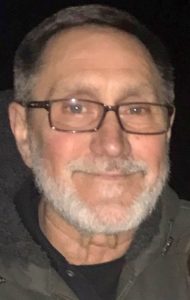 Leroy E. "Lee" Thomas III, 63
July 13, 2020
Leroy E. "Lee" Thomas III, 63, of Strasburg, passed away on July 13, 2020 at home surrounded by his family, after a long and courageous battle with cancer. Born in Lake Winola, PA, he was the son of the late Leroy E. Thomas, Jr. and Shirley (Warnero) Thomas. He was the loving and devoted husband of Jeanette Thomas, with whom he celebrated his 21st wedding anniversary in May.
Lee spent a combined 45 years as a Machinist/Tool & Die Maker at NTN-BCA and Nissin Foods. Family came first to Lee and he cherished every moment with them, especially his nieces, nephews and grandchildren. He enjoyed the outdoors and spent many hours fishing, hunting and camping. Lee had many friends and enjoyed spending time with them. He had a knack for making people laugh and usually became the life of the party. Lee loved to share his knowledge and experience with people and would have given the shirt off his back to help.
He will be sorely missed by his wife, children; Erin Saucier (Cameron), Jenna Zahm (Adam), Adam Thomas, Jennifer Shuman (Manny Mazariegos) and Zachary Shuman (Lindsay) all of Lanc., grandchildren; Bode, Ethan, Lilee, Ashlyn, Emmie, and Manny, as well as his sister Donna Thomas (Andy Adams).
He was preceded in passing by his parents and his brother, Tony Thomas.
A visitation will be held on Wednesday, July 22, 2020 from 1-3PM at the Charles F. Snyder Funeral Home & Crematory, 414 E. King St. Lancaster, PA 17602. In lieu of flowers, the family requests memorial contributions in Leroy's name be made to the American Cancer Society, P.O. Box 22478, Oklahoma City, OK 73123.
Watch the tribute video
Leave a condolence on this Memorial Page
Condolences to the Family
July 24, 2020
I was saddened to just hear of Lee's passing. My deepest condolences to you and your family, Jeanette.
Valerie Verity
July 22, 2020
Jeanette & Family, Our deepest condolences. Steve worked with Lee and you for many years at NTN-BCA/Federal Mogul. He will be missed. Steve & Lisa Hertz
July 21, 2020
Roy was truly a one-of-a-kind. I had the privilege of meeting with Roy and Jeannette over the past few years and they were two peas in a pod. My sincere condolences go to Jeannette and her family during this difficult time. May Roy Rest In Peace.
Amanda Weaver
July 19, 2020
Sincerest condolences….
Jere Groft…..
July 19, 2020
Jeanette:
My condolences to you and your family on your loss.I worked many years with Lee and you at Federal Mogul/NTN-BCA… He was a good guy. RIP LEE
Charles "Smoke" Smith
Spring Grove ,PA
July 19, 2020
It brings me great sadness to see the passing of Lee. We didn't see each other often,but when we did it was always good to catch up with each other. He had some hard times, but always found the strength to keep his spirit's high and pressed on. It is an honor to know such a Great caring humble man! I know he is in a better place now and he will never be forgotten. His friend from Marticville ,Matt
July 18, 2020
Didn't know you well but I always saw the love and support you have to your family. You took my son ( your son in-law ) Adam under your wing for 17 yrs. he shared many a great story with us. You attended every picnic, party , wedding, all the time to be a good father, grandfather, and loving husband. No judgement was ever made by you even thru hard times. You persevered thru it all and didn't want to let your loved ones down , but it was time. Your two best women will never forget you . May you always shine down on them with every day of sunshine. You are loved. Heaven is a beautiful place . Enjoy it ❤️
July 17, 2020
So sorry for your loss Lee was a great man he will be greatly missed RIPmy friend
Frank and Sandi Shuman
Visitation

Wednesday, July 22, 2020
1:00 PM - 3:00 PM
Charles F. Snyder Funeral Home & Crematory
414 East King Street
Lancaster, PA 17602

Map and Directions