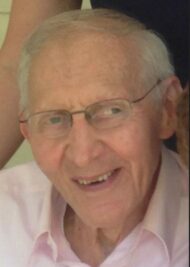 Leo Joseph Androconis, 89
September 11, 2023
A Life Well Lived – Leo Joseph Androconis, age 89, of Lancaster, PA, passed away on Monday, September 11, 2023. Born in Shenandoah, PA, Leo was the son of the late Leo F. Androconis and Sarah (Malinowski) Androconis. Married to Leo in 1959, his beloved wife of 64 years, Patricia A. Hasara, survives him.
Leo grew up in Shenandoah, PA. His scholastic excellence merged with his athletic excellence earning him an award for that combination of skills from Shenandoah High School where he was noted for his leadership and always doing "good deeds". A football scholarship paved the way for Leo to graduate from the University of Richmond, receiving a BA degree in accounting. He joined RCA as an accountant, working over several decades for them in Harrison, NJ, Lancaster, PA, and Indianapolis, IN.
In October 1957, Leo met Patricia and asked her out for a first date on New Year's Eve. That first date turned into a love that has endured a lifetime and beyond as they could be heard saying throughout the years, "I'll love you forever and ever". They were blessed with 4 children. Leo dedicated his life to his family and was dearly loved and cherished as a husband and father. He greatly enjoyed his retirement and traveled to Europe and cities within the United States with Patricia by his side. He enjoyed fishing and watching sports, including rooting for the Indianapolis Colts with season tickets.
Leo's very essence was an expression of great love and faith. Even as life's challenges would appear along his path, Leo modeled what it means to accept God's plan. His legacy of love will undoubtedly continue to expand as countless people have been touched by his kindness and joy, including those who graciously and lovingly cared for him during his residency at Moravian Manor who Leo appreciated and loved right back.
Along with his dearly beloved wife, Patricia, Leo is survived by his children: Mark Androconis (husband of Joann Schifano) Westfield, NJ, Karen Lundquist (wife of Larson) Neffsville, PA, Judith Strosser, East Petersburg, PA and Brian Androconis (husband of Lisa Appleyard) Dewittville, NY: 11 grandchildren and a treasured sister, Diane Bindie (wife of Albert) Shenandoah Heights, PA. In addition to his parents, Leo is preceded in death by his sister Rosemarie Machulsky.
A Mass of Christian Burial will be held October 5, 2023 at St. Teresa of Calcutta Catholic Church, 614 W. Mahanoy St., Mahanoy City, PA 17948 at 11 am. Burial to be held at Mary Slovak Assumption Cemetery. And Leo's kindness, love and joy live on eternally in his spirit and through all those he has touched.
Leave a condolence on this Memorial Page
Condolences to the Family
September 15, 2023
My condolences to the family on Leo's passing. Although I did not know Leo personally I'm a good friend of his sister Diane.
SALLY MALOCU

September 14, 2023
My dear friend, I am so sorry for your Loss. I know just how much he meant to you. All the days and nights you spent by his side, My friend if there's anything I can do for you. Please don't hesitate to ask. My condolences to you and the rest of your family.
Greg wallace
Services

Thursday, October 05, 2023
11:00 AM
St. Teresa of Calcutta Catholic Church
614 W. Mahanoy St.
Mahanoy, PA 17948

Map and Directions