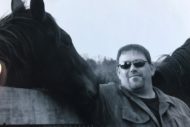 Leif Anderson, 46
November 04, 2019
Leif Kurt Anderson, 46, of Willow Street, passed away at his home on November 4, 2019 with his loving family by his side. Born in Rawlins, Wyoming, he was the son of David B. Anderson and the late Anita (Cassani) Anderson and the beloved husband of Rebecca Anderson.
Owner and operator of Anderson Farms, Leif worked as a farmer, contractor and carpenter. His land was not only his work space, but a place to help rehabilitate animals. His affinity for nature extended to spending time outside four-wheeling, fishing, and hunting.
Twenty-two years ago, he met the love of his life, Rebecca. Not only did they build a life together, but they built homes too. Their first property was an abandoned duplex in Lancaster City. While no one else could see their vision, it was crystal clear to them. They worked day, night and weekends to renovate into a beautiful, historic home. Leif was always patient, kind, and supportive with Rebecca. Nothing she did was ever in error, but an opportunity to teach and involve her in the process. After many years, renovating several houses and raising their children, they finally were ready to build their Someday Home. Building their dream house on the family farm was the culmination of a lifetime of hard work, blood, sweat and tears. It was Leif's crowning achievement and will forever be the ultimate tribute to this great man.
Family was Leif's whole world. He was incredibly proud of his children. Lindsey inherited and surpassed her dad's percussion skills as a member of the Penn Manor Marching Band, while Zach inherited Leif's innate ability to look at something mechanical and just know how it worked. Logan has followed in his father's footsteps, taking care of a farm and all things mechanical. His children will continue his legacy of work ethic, skill, and integrity that they learned from their dad.
In lieu of a service and flowers, the family would appreciate donations to the incredible first responders of Pequea Township Police and West Willow Fire Department at https://www.gofundme.com/f/remembering-leif-anderson/donate# .
Leave a condolence on this Memorial Page
Condolences to the Family
November 13, 2019
To the entire Anderson family, so very sorry for your loss, my thoughts and prayers are with you all. Leif will definitely be missed truly a great man, not only to his family but to the community. Hold onto your memories…..4ever in your hearts. Sincerely, your neighbor Laura .
November 12, 2019
Thinking of all of you my family. Please know my prayers are with all of you. So sad for Becky and children, Cousin David and Kurt. I remember fondly the last time I saw Lief in Minnesota. Nice memories.
Hugs to all.
Cousin Jan Anderson Budris
Minnesota
November 12, 2019
So very sorry for your loss. We will keep your family in our prayers.
Bill and Debbie Reid
November 10, 2019
Dear Anderson Family,I'm so sorry to hear of Leifs passing,I hope the Lord will give you the strength to move on .
Alan Funk
November 10, 2019
Leif was my brother, and I am heartbroken to learn that he has left us. I am so sorry for your loss, Becky, Mr. Anderson, Kurt. Collin Murray
November 10, 2019
So sorry to hear of your loss. I had the pleasure of knowing Leif when we were in school. Prayers to your family during this time. Sharon (Rineer) Reisinger
November 10, 2019
I'm so sorry to hear about your husband's passing, Becky. My heart breaks for you and the children. Sending tons of prayers for comfort you way.
Lisa Collins
November 09, 2019
It's been years… but I always liked Leif. He was always nice to me regardless of, Whatever. My heart hurts to hear if his passing. Becky, Have Faith in the Lord. Hug Your children. And know that Your loss has been felt by even those who knew him for a short time many years ago. God Bless you and Yours. – Julie (Hossler) Bowman