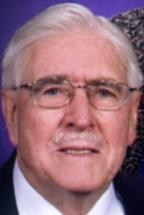 Lawrence M. Thompson, 31
Lawrence (Larry) Merle Thompson peacefully passed away at his home in Lititz on Wednesday, September 21, 2011. Formerly residing at 396 Blossom Hill Drive, Lancaster, he lived at Luther Acres Retirement Community in Lititz for the past 11 years.
Larry was born in Milo, Maine on September 14, 1923, graduated as valedictorian from Richmond High School and attended Quoddy Vocational School. He worked at Presque Isle Air Force Base until serving in the U.S. Navy as a Radioman 3rd Class on the seaplane tenders, U.S.S. Suisun and U.S.S. St. George, which was one of the first ten ships to enter Tokyo Bay following the Japanese surrender during W.W. II. Larry graduated from the University of Maine with a B.S. in chemical engineering and was a member of Delta Tau Delta Fraternity. At his 50th college reunion he was honored by the Chemical Engineering Department for his contributions to the field. Upon graduating, Larry was employed by the pharmaceutical division of Calco Chemical, a division of American Cyanimide Corporation in Bound Brook, NJ, where he helped in the development of the drug Coumadin, and then worked as sales representative for Firestone Plastics Division in Pottstown, PA. After 25 years of employment, he retired as President of Manheim Manufacturing and Belting Co., Vice President of Arbee Corporation with multiple patents to his name in belting manufacturing. Larry was the owner and operator of the small transmission belting company, Hexthane Inc. in Lancaster, and consulted for Chemprene Inc., Beacon, NY.
Larry's life was one of commitment to his family, church and community. He recently celebrated 60 years of marriage with his wife, Anna Laura (Neidert), formerly of Reading, PA. His family includes son, Lawrence Thompson, Jr., Esq., husband of Sally (Buck) Thompson, New York, NY and Fort Myers, FL; daughters Anne Louise (Thompson) Granfield, Amherst, MA, wife of the deceased James Granfield, Ph. D., and Lydia (Thompson) Klinger, wife of Marvin Klinger, Elizabethtown; five grandchildren, Jennifer (Thompson) Meller, Ed. D., wife of Daniel Meller, Evergreen, CO, Marshall Thompson, New York, NY, Lesley (Singer) Rollins, wife of Brian Rollins, Raleigh, NC, and Daniel Klinger and Elizabeth Klinger, both of Elizabethtown. He is also survived by five cousins of the Hart family residing in MA, and their families.
A devout Lutheran, Larry was a long time member, vestryman, church school teacher and Stephen Minister at Holy Trinity Lutheran Church, Lancaster, and also served on the Lancaster Council of Churches for many years. His extensive community service included the Lancaster Chamber of Commerce, Society for the Advancement of Management, President of both the Manheim Township School District and the Lancaster-Lebanon Intermediate Unit School Boards, member of the Lancaster Vo-tech and Stevens Trade School Boards, and a long time member and President of the Board of WITF Public Television. His lifelong interest in scouting led him to serve as a Cub Master and Assistant Scoutmaster of Lancaster Troop # 99. He was a member of the Order of the Arrow and honored for his service to the Boy Scouts of America by receiving the Silver Beaver and Lamb Awards.
Larry was interested in history, archaeology and genealogy. He held memberships in the Lutheran Historical Society of Lancaster, the Gerow Family Foundation, New Paltz, NY, Lancaster Chapter of the Sons of the American Revolution, a 32nd Degree Mason and member of Lodge 0062, F. & A.M. of West Reading, PA. His inquisitive intellectualism guided him in his reading of history, science and science fiction, playing bridge and traveling for business and pleasure.
Some of his fondest memories included Boy Scout trips to Philmont Scout Reservation in New Mexico, Boy Scout Jamborees throughout the United States and especially attending the International Boy Scout Jamboree in Lillehammer, Norway. He took pleasure in traveling abroad, visiting England and religious places related to Martin Luther in Germany and to the travels of Paul in Greece, Italy and Turkey. His fondest memories of traveling included the Passion Play in Germany, the Hurtigruten fjord cruise in Norway, visiting the location of the Dead Sea Scrolls in Cumran, Israel, and the Valley of the Kings in Luxor, Egypt. As a Maine man, he enjoyed trips to his home state, vacationing in Ogunquit, Southport Island at Boothbay Harbor, and visiting lifelong friends throughout the state.
Larry was conservative in his thinking and a truly "Maine Man" who was reserved, honest, and fair-minded in all of his dealings with others, taking great pride in his children and grandchildren. As Dad and Pop Pop, he will be remembered by all of them, and as a husband and partner of many years, by Anna Laura.
A memorial service will be held on Saturday, October 1, 2011, at Holy Trinity Lutheran Church, 31 South Duke St, Lancaster, PA 17602 at 11:00 AM. Friends may greet members of the family following the service at a reception and luncheon in the Fondersmith Parish House Auditorium. Interment will be at the convenience of the family.
In lieu of flowers, donations may be made to the Caring Fund at LutherCare, 600 E. Main St., Lititz, PA. 17543, Holy Trinity Lutheran Church at the above address, or Hospice of Lancaster County., 685 Good Dr., P.O. Box 4125 Lancaster, PA. 17604-4125 hospiceoflancaster.org. To send an online condolence, please visit SnyderFuneralHome.com. Charles F. Snyder Jr Funeral Home & Crematory 560-5100
Leave a condolence on this Memorial Page
My personal condolences and those of the Gerow Family Association, where "Larry" served as Vice President.
Edward S Gerow
Past President, Gerow Family Association, Huguenot Historical Society, New Paltz, NY
Remembering Troop 99 and the scouting days from long ago, Mr. Thompson was a very fair, helping, & honest leader. I really appreciate him really caring and the support he gave in those growing up years.
Bob Wagner
Remembering you as wonderful neighbors many years ago. So sorry time and life gets in the way of staying in touch. My sincere sympathy to the entire family. May God be with and bless you!
Bev Moran
Your family is in my thoughts and prayers. May you find comfort in your memories of her.
Wiley Smith