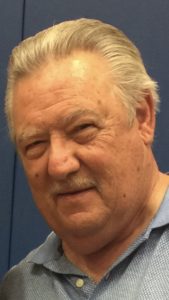 Lawrence J. Gagliardi, 76
November 23, 2020
Lawrence J. Gagliardi, 76, of Philadelphia passed away Monday, November 23, 2020. Born and raised in Philadelphia, PA he was the son of the late Peter and Anna (Baccari) Gagliardi. He was the loving husband of the late Ruth A. Gagliardi with whom he shared 43 years of marriage with before her passing in 2014.
Lawrence worked for Conrail until the mid-nineties, and has since been a much loved bus driver for the Lower Merion School District.
He was a member of St. Edmond's Church in Philadelphia and regularly visited Lifespring Fellowship Church in Lititz.
He was a skilled chess player, and enjoyed playing every Saturday. He was also an avid golfer and played often with his brothers, cousins, nephew and grandson. Larry also enjoyed watching the Three Stooges and Columbo on TV. He enjoyed spending time in Lititz with his daughter, son-in-law, and grandchildren. He regularly attended 2nd Friday where he would listen to his favorite band, Forgiven.
Above all, he was a fiercely proud Pop-Pop. He was devoted to his grandchildren and attended so many of their activities and performances over the years.
Larry will always be remembered for his strength and his great love for his family. He will be greatly missed by family and friends.
He was the beloved father of Lori Ruchalski (James), of Lititz, Peter Gagliardi (Susan) of Hatboro, Michael Branella of CA, Arthur Branella (Andrea) of NJ and Annette Cooney (late Michael) of GA; proud and devoted grandfather of James Jr, Michael & Carly Ruchalski, Benjamin Gagliardi, Nicole Lewis, great-grandfather of Seth Ruchalski, Evan, Hayden & Alexander Lewis; dedicated brother of Thomas (late Kathy), Charles (Addie) and uncle to numerous nieces and nephews.
Private interment will be held at Witness Park, Lititz where Larry will be laid to rest beside his wife, Ruth. The graveside service will be live streamed on Saturday, November 28, 2020 at 11AM. Link will be posted on Larry's obituary page at www.snyderfuneralhome..com just prior to the service. A Celebration of Life will be held in the New Year, after it becomes safe to gather, where family and friends will be welcomed to attend.
Leave a condolence on this Memorial Page
Condolences to the Family
December 19, 2020
As a Lower Merion bus driver I had the privilege of seeing Larry at work most school days for the past 2 years. He was a wonderful guy full of fun and laughter. I looked forward to the five minutes I would get to listen or share a joke with him. I loved how animated he got when he had a a good joke to share. It was always a belly laugh even if the joke was bad.
His decency and goodness always came through. I loved being in his company because of it. I am so sorry for your loss. My mornings at work are far less without a few minutes with Larry.
All of you are in my thoughts and prayers. I wish I could have been at the funeral to tell you in person.
Michael Horstmann
December 10, 2020
We were saddened to hear of Larry's passing. He always had a smile on his face when we saaw him at church or at Lori's house. Prayers for peace and comfort for Lori and her family!Love, Donna and Steve Albanezi
December 06, 2020
My family was heartbroken to hear of Larry's passing. He was my son, Peter's, bus driver to George Crothers School in Swarthmore. Every day we were lucky enough to be greeted with Larry's smile and great humor. He made our lives brighter. Larry's family has our deepest condolences. Peter has another buddy in heaven.
Connie & John Lowney
December 01, 2020
Larry was a Great guy – We worked together at Conrail for many years. Larry Loved his daughter Lori and his son Peter and his many Grand-Children. He Loved playing golf with his Bothers Sonny and Chuck ( I am sure they will miss his dearly) he loved playing Chess. He was very well liked by all his co-workers at Conrail. My Heartfelt Synpathy and Condolences to Lori and Peter and his Grand-Children and to his Brothers Sonny and Chuck. May his Soul Rest in Peace. Jerry McDermott (Conrail)
November 29, 2020
It was my privilege to have worked with Larry at LMSD. He lit up the lounge every morning with his smile. He was a true gentleman with a great sense of humor. You will be missed by so many! Rest In Peace Larry and my prayers are with your family as they grieve your loss.
Helen Manni
November 29, 2020
My deepest prayers and condolences for Larry, his children Laurie and Peter and my cousins Sonny, Chuck and their families at this solemn time. Cousin Jody
November 28, 2020
My heart is heavy,Condolences to the Family. Lower Merion bus depot will NEVER be the same.No more jokes,laughs,stories or quiet naps with my "Darling Larry"! You will be missed!
Fletia C.Brown
November 28, 2020
Larry was more like a brother than a brother-in-law. We raised our families together, went on vacations together, and shared many holidays together as well. Chuck and I are going to miss our Sunday dinners at Ponzio's and our Saturday dinners at the Pub. We will miss you, Larry, and you will always be in our hearts! You were one of a kind. RIP my dearest brother!
November 28, 2020
Dear Lar,
It's just sinking in that you have left us. Thank you for your positive encouragement and words of wisdom on and off the field.
Will miss sitting next to you at the Pub and it just won't be the same without you!
Till we meet again Dear Cousin….
Love,
Vegas
November 28, 2020
I'm so sorry over Cousin Larry's passing. During this time of great loss, may family find encouragement & hope from Gods Word & support from one another. Cousin Jay
November 28, 2020
Rest in Peace Uncle Larry you will forever be in our hearts. Love Geanie, Anthony,Anthony and Marty.xo
November 28, 2020
Lar, I have so many wonderful memories of you. Aside from a lifetime of family gatherings, in which you were most at peace, we've played sports together over the many decades. We always seemed to be on the same team. Most of us tried to be as good as you, but we couldn't. Baseball, football, basketball, whiffle ball, half ball, stick ball, and more, including golf, your later-in-life passion. You were prodigious, a natural at any sport you played. From your "Willie Mays basket catch" and six home runs in a double header in baseball, to your mastery of golf – the toughest sport to master.
I remember how you, Chuck and I, for many years, would go for water ice every Sunday after our softball games, and analyze the days' events. How, on a frozen winter day one November in 1991, you and I played golf at Pitman. It was so cold that, the 8th green was under ice. We gave ourselves a par for the hole, of course. (No one wanted to play that day … but you were game!) And, I remember your very first airplane ride flying to Boston with you. You were so excited and we still talked about it decades later.

Lar, I will always cherish our short time together.
Love always, Rob (your cousin and 3rd brother).
November 28, 2020
Will always remember Larry as he would enter the Transportation Lounge saying,"STAY SEATED…DON'T GET UP!" Then that chuckle. So many Larry stories and warm memories.Foremost was his Love for his family, he spoke so often of all of you and was as proud of the young and old. I will miss him and am proud to have grown to know him these last 3 years as his bus aide, Nancy Durnin
November 28, 2020
Dear family,
My heart weeps for all of you on this day. I wish I could take away your pain as I know this pain so well, but only the One who gives life in the first place can do that. A scripture from "this God of comfort" gives us such hope –
"Your dead will live. My corpses will rise up. Awake and shout joyfully you residents of the dust! For your dew is as the dew of the morning. And earth will let those powerless in death come to life." Isaiah 26:19
What a wonderful prospect! I pray this day comes soon and we are all there to see it. I will keep my dear cousin in my heart. He was a good man, as was so beautifully expressed today. May you have hope and peace. My love, affection, and condolences from my heart to yours, Cousin Linda

November 28, 2020
Our deep and heartfelt condolences to our beautiful family. We are so sorry for this loss. May you have comfort and peace from above. All our love…
Carmine, Kelly, Jacob, Joshua Baccari
November 28, 2020
Larry was a great guy and friend. RIP my friend
Bill carapucci
November 28, 2020
love you dad, hope you find comfort in your travels, brokenhearted,….
annette cooney
November 28, 2020
Words cannot express the deep sadness that I feel. RIP cousin. You will be missed.
Janet Giordano
November 28, 2020
My dear friend and pinochle partner, I will miss all of the laughs we shared together working at L.M.S.D. Rest in peace my friend!!
Philip Iannacone
November 28, 2020
The one thing I'll never ever forget about you, was your insistence that I should be bowing professionally and that you would be my sponsor. You believed in me when many others have not in life. For that and for our last golf outings together, which was just you and I for the first time ever, i am so grateful. I love ya man and I'll miss you.
"Chassy", April, Seaona, Bleu and Cheese
November 28, 2020
I met Larry at Lower MERION he was the bus driver and I was the nurse on the bus for several years. His love for his family was very apparent as he shared life stories . A very kind and caring man I had the pleasure to share the rides. RIP DEAR LARRY….
Christine Seiler
November 28, 2020
Lou and I send all our Love and Prayers to Larry's family. May he RIP.

Debbie and Lou Sbarra
November 27, 2020
We miss you so very much, Uncle Larry. Love you always, Renee, Michael, & Will.
November 27, 2020
It's going to be difficult for the family to carry on without you. I will be lost without you, and it will be a long time before I find myself again. Will miss and love you always. Your brother Chuck
November 27, 2020
Miss you already, your bro Sonny
November 27, 2020
Larry was a great dad, He used to love playing ice hockey on the weekends, you wouldn't know he was an older guy taking hits with us kids and hitting the ice, but he loved sports….You will be missed dearly!
Love,
Artie
November 26, 2020
I'm so sorry to hear that Larry Gagliardi has passed away. You were a terrific guy Larry and you will be missed by many people too. I knew you for many years and R.I.P. Larry .
Albert Kubiak
November 26, 2020
So sorry to hear this. Larry and i sarted at the railroad on the same day and department in June 1969. We had many good times together. RIP my dear friend.
Michael Mealey
Services

Saturday, November 28, 2020
11:00 AM
Witness Park
,

Map and Directions