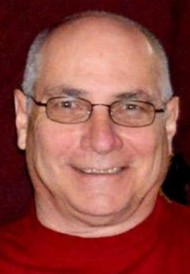 Lawrence H. Allen, 64
December 25, 2014
Lawrence H. Allen, 64, of Manheim, died Thursday, December 25, 2014 at Hospice & Community Care in Mount Joy following a brief illness.
Born in York, he was the husband of Janet (Schmeling) Allen of Manheim, and the son of Thomas W. Allen of Indian Harbour Beach, FL and the late Mary G. (Klunk) Allen.
Larry was employed by PennDot as an equipment division manager for many years
until his retirement.
An Army Reserves veteran, Larry was a Cub Scout/Boy Scout leader for Troop #74,
Hummelstown, for 20 years. He was also a member of Harrisburg Bassmasters and the Elstonville Sportsman's Association. Larry was an avid fisherman and hunter; a lover of the outdoors, he also enjoyed camping and backpacking.
In addition to his wife of 12 years and his father, he is survived by his son, Larry H. Allen II of Cortlandt Manor, NY; 2 stepdaughters: Tamara C. Miller and her husband John of Liverpool, NY and Adrienne L. DiMolfetta and her husband Dominick of Naples, FL; 2 brothers: Patrick C. Allen and his wife Peg of Hummelstown and Richard T. Allen and his wife Sandy of Manheim; and 4 grandchildren: Richelle, Spencer, Carina, and Stella. He was preceded in death by a sister, Ann L. Shartle.
Memorial services will be held at 3 PM Saturday, January 3, 2015 at Charles F. Snyder Jr Funeral Home & Crematory, 3110 Lititz Pike, Lititz with Rev. Mark Thiboldeaux officiating. Friends will be received from 1 to 3 pm prior to the service at the funeral home.
Burial will be private at the convenience of the family.
Kindly omit flowers. Memorial contributions in Larry's memory may be made to
American Cancer Society, 314 Good Dr., Lancaster, PA 17603 or to Ann B. Barshinger Cancer Institute, 555 N. Duke St., Lancaster, PA 17602 or to Hospice & Community Care, 685 Good Dr., Lancaster, PA 17601.
Leave a condolence on this Memorial Page
Condolences to the Family
January 03, 2015
Larry was a special force and guide for the kids of Troop 74 in Hummelstown when he was scout master there. It was all about the kids and what adventures they could come up with.
Big "A" and Wiski would winter camp and hike just about anywhere with those kids and they loved him for it. The impact and good influence he had on those young men lives on today and many special memories will remain for a long time.
He was just that way with anything he touched.
Love and miss you Big "A".
Hank Imhof and family.
January 03, 2015
To the Allen family….Larry was a big part of our lives for many years. Big A and Mr. W led troop #74 like no others before or after! So many memoreis. Now they are together again…and I'm pretty sure heaven will be a brighter place. You are all in our thoughts and prayers. Diann and Matt Tressler.
January 01, 2015
To the Allen Family. Our sincere condolences. Larry was a very special person and we were honored to have known him. God bless. The Eckrote's
December 30, 2014
Janet, Tami, Richelle, John, Adrienne, Carina, Dominick, and Larry's Family,
We would like to send our Thoughts and Prayers to all for you at this difficult time. Janet lost the Love of her Life and we all lost a Great Man, but remember God gained one. I think Larry went to see the Lord on Christmas Day, because he was like a Christmas Present to everybody that he met. We all have Great memories of Larry and his humor to keep forever. We send our Love to all.
Kathy, Bill, Billy and Korrine Swenson
December 29, 2014
Dear Janet,
I am so very sorry for your loss. Larry was a peach. Blessings over you my friend.
Judy Geil
December 29, 2014
Dear Janet, Dick & Sandy, Pat and Peg, and Larry…………..Larry was a wonderful man and will surely be missed by all of those that loved him. We have many memories of him that make us smile when we think of them today. He and Hassimoto were always jokesters! I guess that's one of the things that made them special together. May you all find comfort and peace in remembering all of your good moments with Larry and the time we all shared with him. R.I.P. Larry……….your journey with this life is over and all the suffering you had. May you now have eternal peace.
Love…………xoxoxoxo
Hass and Nancy
December 29, 2014
Dear Janet and family, I'm so very sorry for your great loss! Larry was a good man and I was so glad you, Janet, and he, found one another!
Love,
Judy Grady
December 28, 2014
Blessings and love to you, my dear Janet. Prayers continue during this difficult time.
Barbara & Chris Reynolds, Toms River, NJ
December 28, 2014
Condolances to family and friends , So sorry to here , rip Larry
Dave & Sharon Tuttle
December 28, 2014
Pat and Dick and Families
We are so sorry to hear about Larry. We have so many wonderful memories that we will cherish.
Our Prayers and Condolences are with you and the family.
Mary and Tony Goles8p
December 28, 2014
Dear Jan and family,
We are so hearbroken for your loss! Our sincere condolences to all of you. Larry was a diamond in the rough with a great laugh, twinkle in his eye, and easy smile. He always made us feel welcome (while busting our chops at the same time… ha ha ha). We have wonderful memories of times spent with the two of you over the years; he will be missed very much. We're blessed to have known him for as long as we did, and so happy that you found such a keeper in him, Jan. You guys seemed so good together and it was great to see how happy you made one another. You all will carry those wonderful memories in your hearts forever. See you at the services…
December 28, 2014
Dear Jan & family,
Bob and I are so very sorry for your loss and will continue praying for you and your family for strength, peace, and healing of your broken hearts. Larry will be greatly missed! We're so thankful that you two found each other so late in your lives and that we got to know him over the years and spend time with you both as a couple. I'll always remember your wedding gift to us of Larry videotaping our wedding reception. Always here for you, Sis…
Love, Bob & Cindy Neupert XOXOX. See you soon…
December 28, 2014
Ray and I are so very sorry for your pain and loss. Larry was a fine man and much loved. You all were very lucky to have had Larry in your lifes. Now he is with God and can watch over you all from Heaven. I pray for you all to heal. God bless and keep you safe. Mary
Tait and Ray Anderson
December 27, 2014
Janet, Pat and Dick and the Families
We are so very sorry to hear of your loss. Our prayers and condolences are with you.
We would like to be in attendance at the memorial; we will be on travel to visit our daughter in CA.
Regards
Bill (cousin) and Fran Hopwood
Visitation

Saturday, January 03, 2015
1:00 PM - 3:00 PM
Charles F. Snyder Funeral Home & Crematory
3110 Lititz Pike
Lititz, PA 17543

Map and Directions

Services

Saturday, January 03, 2015
3:00 PM
Charles F. Snyder Funeral Home & Crematory
3110 Lititz Pike
Lititz, PA 17543

Map and Directions