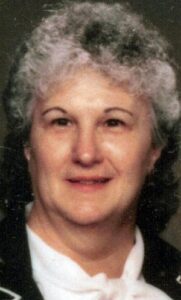 Laura Romaine Wetzel, 83
October 02, 2021
Laura Romaine Wetzel, 83, editor of cookbooks, passed away on Saturday, October 2, 2021.
Born in Ephrata, she was the daughter of the late Clarence Rhodes and Margaret Ream Rhodes Rathkey. Romaine was the wife of the late Marvin E. Wetzel for over 59 years, until his passing 2013.
She worked at the former Schick Corp. and then for Hamilton Technology, from where she retired in 1992.
Romaine loved cooking and baking and in 2002, she published a cookbook, and was published in the Lancaster Newspaper many times in Linda Collingwood's Cooking and Baking column.
She was a member of St. Paul's Lutheran Church in Millersville and had been a member of the Strasburg Senior Citizens Club and Elizabethtown Moose Lodge 701. She and Marvin loved country music and traveled to Virginia, Tennessee, Branson Missouri and enjoyed camping, being member of the National Campers and Hikers Assn.
She loved her flowers, playing cards and game of many kinds and attending Bingo. She enjoyed going to family cookouts and dinners and watching her grandchildren and great grandchildren growing up. She and Marvin rescued three dachshunds over the years: Mr. Boops, Rusty, and Mickey, all of whom lived into their late teens.
Romaine is survived by her two loving daughters: Deborah K. married to Robert E. Bachman of Strasburg, and Darla J. married to James R. Blaauw of Holtwood; her granddaughter Rebecca L. married to Earl Berry of Willow Street, and her great grandchildren: Chloe Marie, Trent, and Brooke. She is also survived by her brother Rodney "Butch" married to Marian Rhodes of Akron. She was preceded in death by her brother, Ronald and her sister-in-law, Maybell.
Memorial Services will be at St. Paul's Lutheran Church, 222 N. George St, Millersville on Tuesday, October 19, 2021 at 11AM, with a brunch to follow at the church. There will be a private inurnment in Indiantown Gap National Cemetery with her husband. Please consider making a contribution in Romaine's memory to St. Paul's Lutheran Church at the above address, or to the Human League of Lancaster County, 2195 Lincoln Hwy East, Lancaster, PA 17602.
Leave a condolence on this Memorial Page
Condolences to the Family
October 14, 2021
My most sincere condolences to you Darla and your family
Lisa Tearney
October 11, 2021
I want to extend my heartfelt sympathy and condolences to the entire family. My thoughts and prayers are with each and everyone of you. I was fond of Romaine and she will be missed.
Joyce(Rhodes) Jones
October 10, 2021
Im so sorry to hear of Romaines passing. For years I visited her and Marvin, first outside of. Millersville and later in Ronks. Later o visted Romaine and Mickey. Unfortunately I didnt get to visit die to the long drive and. I missed her. I have her oookbook to remember her by but I woll miss my cousin. Janet. Bedger
October 09, 2021
I'm so sorry to hear of Romaine's passing. She is my cousin on my father's side. It has been a couple of yrs since I have seen her. For awhile us cousins were getting together once a month but that stopped about 3 yrs ago. We talked about starting up again but hadn't gotten around to it. Now I wish we had made the time for it. Keeping your family in thoughts & prayers at this time.
Services

Tuesday, October 19, 2021
11:00 AM
St. Paul's Lutheran Church
222 N. George St
Millersville, PA

Map and Directions