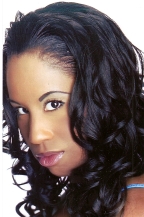 Laundrea Lynn Thomas, 32
Laundrea Lynn Thomas, 32, of Los Angeles, CA and formerly of Lancaster, PA went to be with the Lord on August 10, 2009 in Beverly Hills, CA.
She was the daughter of Mrs. Donna Thomas and paternal father, Mr. Kevin Dennison and lovingly raised from birth by Mr. Charles Gillespie, her step-father whom she knew as Dad.
Laundrea was a J.P. McCaskey High School graduate class of 1994. She enjoyed the drama club and attended Carol's Academy of Dance.
Laundrea was an aspiring young actress in Los Angeles, CA. She was employed by the Screen Actors Guild in California where she was involved with acting and modeling. She also was a massage therapist. Some of the TV shows she starred in were "Friends" and "Niptuck". She also acted in three famous movies "Surfer Dude", "Legally Blonde", and "Room 6".
She enjoyed cooking, dancing, singing karaoke, and spending time with family and friends.
She is survived by her maternal grandparents, Irene and Donald Thomas, of Lancaster, mother, Donna Thomas, of Lancaster, step-father, Charles Gillespie, of Lancaster, sister, Tuana Gillespie, brother, Jamaal Gillespie, both of Lancaster, three half sisters, Erica Dupree, of Lancaster, Heather Dennison-Dent and Angie Dennison, both of Texas, and a host of aunts, uncles, nieces, nephews, cousins, and friends.
A Memorial Service will be held on Sunday, August 30, 2009 from Bright Side Baptist Church 515 Hershey Ave. Lancaster, PA at 4pm with Rev. Louis Butcher officiating. A visitation with the family will take place at the church from 3-4pm. Memorial contributions in Laundrea's memory may be made to Domestic Violence Services PO Box 359 Lancaster, PA 17608. Arrangements made by Charles F. Snyder Funeral Home, 393-9661. To send the family online condolences please visit snyderfuneralhome.com
Leave a condolence on this Memorial Page
Condolences to the Family
November 30, 2023
I miss you all the time Dre. I miss your beautiful face, your infectious laugh and your beautiful beautiful heart. Rest in peace my amazing friend ❤️
Stef
October 24, 2022
There's still a day that goes by that I don't think about you. I miss your smile and your laugh. I love you
-Dontā Thomas
Dear Family of Laundrea Thomas,
I'm sorry that I am leaving condolences so late, but I only found out just recently that Laundrea had passed away. I send my thoughts and prayers to your family.
Laundrea and I met when we volunteered together at Community Hospital of Lancaster as students who both lived in the neighborhood, but went to different high schools. We had a great time taking care of the patients in the pediatric ward, and became good friends during my last 2 years in Lancaster. I remember Laundrea as a fun, supportive friend, who invited me to my first dance club outing, and who I talked to for hours about daily high school life. She was a confident, talented person I was proud to call my friend–I wasn't surprised that she spent her adulthood pursuing her dreams in California.
Unfortunately, Laundrea and I lost touch when I moved out of Lancaster in 1993, but I'll never forget her.
—Jessica Barber
I met Laundrea in Pasadena at her job. She was an amazing woman. I had lost touch with her about 5-6 years ago. Just found out on Fri. Nov. 6 2009 from a old co-worker what had happened. I'm shocked and hurt. I will pray for her, and her family. She will be greatly missed and always hold a place in my memories of our time together and in my heart…..till we meet again.
Laundrea was beautiful and a light has gone out in this world. Thoughts and prayers to her family.
We were very sorry to hear of Laundrea's passing. My wife and I knew "Dre" for many years while she worked at Hooters in Pasadena California. When we first met her many years ago she wrote her autograph GRANDLY across a paper towel in large bold letters – telling us to keep it because one day she would be famous. I still have the autograph. Laundrea was a very sweet, kind, considerate person. She will be missed.
Rich & Lorraine Johns
arjay1127@earthlink.net
Donna,Charlie and family,
I'm so very sorry that God has called your sweet Laundrea home. I wish it wasn't so. But we know we can't put a question mark where God has put a period.
I pray God gives you peace in the middle of your storm.
Love,
Lisa Gillespie and the Boys
Donna, i am so sorry for your loss. In times like these, you hold on to God's hands even tighter and i promise, he'll bring you through. If there's anything I can do for you or your family, please let me know.
Reggie Jones
(Usher)
i extend my deepest sympathy to you and your family my prayers are with you and Donna and Family i prayer that the comforter will come to comfort you I know your in God hands and I Believe he will hold you in the center of his arms in this difficult time
we love you always
The Caine Family.
cousin Sharon BROWN
Donna and family,
I'm sorry for your loss and I will keep you in my prayers.
Josetta Reisinger-Murphy
We represented Laundrea in Los Angeles. We submitted her photo to casting directors everyday. I am going to miss seeing her beautiful smiling face daily. She could light up a room. Our thoughts and prayers are with Laundrea's family.
Melody, L & L Talent
I knew Laundrea when we were just teens. She was always so accepting and kind. I just recently connected with her again. I was so happy to see she was living her dreams from when we were just kids. You can never truly know how much pain someone is in from the outside. It broke my heart to hear of her loss. She will truly be missed. I want to send my condolences to Laundrea's family and everyone mourning her.
God Bless, Melissa