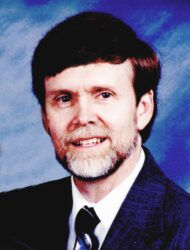 Larry R. Dale, 74
September 02, 2022
Larry R. Dale, 74, passed away on September 2, 2022 at his home in Strasburg, PA after an illness of several years.
Born October 20, 1947 in Lancaster, PA, he was the son of the late Charles E. Dale and Dorothy (Jones) Dale. Larry was a 1965 McCaskey High School graduate, and attended Lehigh University. He served in the Army for 2 years, mostly in Germany.
He worked at WDAC-FM for 37 years, mainly as an On-Air host known especially for his "4:07 Minute", "Request Time" for children, and "Reflections." He was a member of Lampeter United Methodist Church where he served in various ways over the years, such as Sunday school teacher, Missions Leader, and piano accompanist for the choirs. He provided music for the worship services for many years and also put music to Bible verses for the "Way to Grow" children's ministry.
Larry was a very gifted pianist, well-known locally for playing at weddings and as part of several Christian music groups, including "Sonrise Singers" and "Vision" with his brother, Brian. They also provided music at various retirement and nursing homes for years. Larry was an incredible, creative musician. He could take an ordinary song and make it extraordinary. In the 1980s Larry acted in several passion plays and played the part of Christ in the musical-drama "Thirty Pieces of Silver."
Larry was a generous and caring person, volunteering his time to help others. He was a driver for Meals on Wheels of Lancaster for 28 years. He also went on several mission trips in the U.S. and to Papua New Guinea through Wycliff. He, along with his wife, led an evening worship service for 11 years at Conestoga View Nursing Home. He was a listener with Joy El "Bible Release Time" for six years with the Hans Herr Group.
He is survived by his wife, Mary (Holdridge) Dale, with whom he celebrated 40 years of marriage in March; his brother Brian L. Dale, husband of Carol Dale of Willow Street; several nieces and nephews and grand nieces and nephews.
The burial at Conestoga Memorial Park will be a private family service. There will be a memorial service for Larry on Sunday September 18 at 3 pm, with visitation from 2 to 3 pm, at Lampeter United Methodist Church, corner of Village and Book Roads, Lampeter, PA. The Rev. John G. Smith will officiate. In lieu of flowers, donations can be made to Meals on Wheels at www.mealsonwheelsoflancaster.org or to Lampeter United Methodist Church at 1101 Village Road, Lancaster, PA 17602.
To leave an online condolence, please visit SnyderFuneralHome.com
Leave a condolence on this Memorial Page
Condolences to the Family
September 25, 2022
Mary:
I only learned of Larry's passing a few weeks later and am so sorry for loss. He was a tremendous person. He will be greatly missed.

September 21, 2022
Dear Mary,
I was saddened to hear of Larry's passing and Tony and I send our sincere condolences to you and your family. Unfortunately we were unable to attend the memorial service, as we had commitments at church, but do know our thoughts and prayers go with you as you grieve the loss of Larry.
September 20, 2022
Mary,
I am so sorry to hear of Larry's passing. I offer my sincerest condolences and prayers for you and your family.
Angel Bozarth
September 14, 2022
Brian,
So sad to hear of the passing of your brother. He was an extremely gifted musician and caring person. He will be greatly missed. May God bless you, Carol, Mary, and all your family in this very trying time. Larry will still be your co-pilot as you deliver your meals on wheels.
September 11, 2022
Dear Mary,
Although I never met your husband I am certain he was a wonderful man. Congrats on 40 years of marriage. You might not remember me but I graduated from L-S in 1964. The teachers used to think we were twins. Praying that God will see you through this very difficult time in your life. Remember if He brings you to it, He will see you through it. God bless you Mary.
Beverly Martin
September 11, 2022
Dear family of Larry,
I attended LUMC from a little girl until 1974 age 13 when my family, Stan & Dottie Evans moved to WA state. I can still remember Larry playing the piano in church and his smile, always smiling. No one played it better and what a master of music he was!. I hope Larry is playing a piano surrounded by angels in heaven. Gods speed 🌹✝️🎼🎶🎹
Dottie Evans & Dianne Evans Murray, Millsboro, DE



September 09, 2022
THOUGHTS OF YOU ALL AS YOU BID FAREWELL TO YOUR LOVED ONE.
Marshall & Angie Trimble
September 09, 2022
Dear Mary, Brian &Carol, I only met Larry 1 time and he was at a piano. He had so much enthusiasm, joy and happiness which was impossible not to notice. Not to mention a smile on his face. That's how I will remember him. I also heard him on WDAC radio programs.
September 07, 2022
Dear Mary, Brian & Carol & family,
Larry's was a life well lived. You all loved & cared for him until the day Larry met Jesus. I have fond memories of the Dale brothers providing the wonderful entertainment for 2 of our neighborhood get togethers. Sending love & prayers for all the days ahead.
Visitation

Sunday, September 18, 2022
2:00 PM - 3:00 PM
Lampeter United Methodist Church
1101 Village Road
Lancaster, PA 17602

Map and Directions

Services

Sunday, September 18, 2022
3:00 PM
Lampeter United Methodist Church
1101 Village Road
Lancaster, PA 17602

Map and Directions