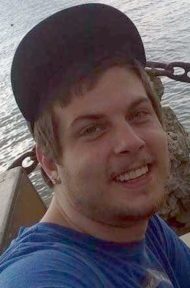 Kyle J. Charles, 26
January 03, 2018
Kyle J. Charles, 26, passed away at his Manor Township residence on Wednesday, January 3, 2018. He was born in Lancaster to Georgina A. Bradley of Lancaster and Roland L. Charles of Mount Joy.
In addition to his parents, Kyle is survived by his son Carter Klingseisen, brothers Derek Bradley and Javon Calixto, his maternal grandparents Frank and Sherry Pilsner, uncle Eric Pilsner, Georgina's boyfriend Juan Calixto and Roland's wife Regina.
Kyle attended Penn Manor High School and worked with his brother Derek at Mister Car Wash. He was always laughing and joking. Kyle enjoyed Rap Music, cooking and playing basketball. He also watched basketball, rooting for the Celtics, watched football and enjoyed drawing.
Kyle will be cremated and interment will be private.
Leave a condolence on this Memorial Page
Condolences to the Family
January 13, 2018
God just got a Beautiful angel to give wings.Trust me u will be granted wings. Regardless how u died.I will remeber u as the sweet kid i once knew.Always polite And always smiling.May The angels enjoy your company.GOD BLESS YOU
January 13, 2018
My heart goes out to Kyles family. Praying that you will find comfort and rest through this difficult time. .I have lost a son and I know your pain. Janie Bowman
January 12, 2018
So sorry for you Roland & Reginia. So hard to lose a child.
January 10, 2018
Dear Roland, Regina and family:I was so sorry to hear of your loss. Pleases know I am thinking of you and praying god watches over you and helps you through this difficult time. Cindy Case
January 10, 2018
So sorry for your families loss ! My deepest heartfelt condolences to everyone. I pray that He may rest in peace… Jon Bott
January 10, 2018
Father God I pray comfort to Joanne and her family in this time of mourning and sorrow. God comfort them as only you can in times like these. I pray that Kyle rest in your arms and have peace ever lasting. Sincerely Treasa

January 10, 2018
My Kyle. Rest in peace. I HV no words. But your smile transcends anything in this world. It was always meant for heaven. ♥️
Thankyou for touching my heart anytime we got to hang……too few times. we were together, holidays.-Joanne.
January 10, 2018
Our condolences to all of you!!
January 10, 2018
I'm so so sorry for your loss. I'm still in shock. I didn't no him for very long but he was a sweet person & will b greatly missed
January 10, 2018
I'm so sorry for your loss loss Gina May God bless you and your family my condolences go out to you. May God bless you through your grievance. Praying for you and your family.
January 10, 2018
So sorry Gina and entire family. Your all in our thoughts and prayers

January 10, 2018
I love and miss you so much baby! You will forever have a huge piece of my heart..until we meet again….I'll be thinking of you always…I love you!! Love Mom