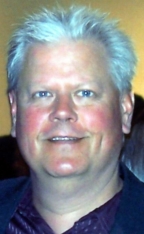 Kevin T. Ranck, 48
Kevin T. Ranck, 48, of Lititz, passed away on Thursday, February 19th at Lancaster General Hospital.
He was the husband of Cherre M. Stephenson Ranck, with whom he celebrated 25 years of marriage this past May 14th. Born in Lancaster, Kevin was the son of the late Fred and Rosemary Werner Ranck.
Kevin was the president and owner of Lancaster Design and Art, working there for many years prior to purchasing the business in 2001. Prior to this he had worked for Eby Quality Printing in Soudersburg.
He was a 1978 graduate of Lancaster Catholic High School and a graduate of the former York Academy of the Arts where he studied graphic art. He was a fantastic artist, serving as a mentor and sharing his love of art with his children and friends. He used his talents in many ways, such as designing tshirts that were sold to benefit Hurricane Katrina victims.
Kevin coached and was the founder in 1995 of Warwick Little League Baseball. He was a diehard NY Mets and Jets fan, an avid backyard wiffleball and volleyball player. He loved the beach and loved to cook- a true chef. Music was an important part of Kevin's life and he was a big Led Zeppelin fan.
In addition to his wife, he is survived by his son, Tim B. Ranck and his daughter, Erika M. Ranck, both of Lititz; his sisters Lois Murse of Millersville and Linda married to Gary Schmalhofer of Lancaster; and by his brother, Pat married to Anne Ranck of Quarryville.
Friends are invited to a gathering and celebration of Kevin's life on Tuesday from 2PM-330PM at Charles F. Snyder Jr. Funeral Home and Chapel, 3110 Lititz Pike, Lititz, PA, with a time of sharing to be held from 330PM-4PM. In lieu of flowers, please make contributions in Kevin's memory to the American Cancer Society, 314 Good Dr., Lancaster, PA 17603. To send an online condolence, please visit www.snyderfuneralhome.com
Leave a condolence on this Memorial Page
The deepest sympathy goes out to you and yours today, Although the sorrow runs deep for any words to say. But may it make the loss you feel less difficult for you to know that others understand and wish brighter days ahead for you. Your Friends at Fulton Bank.
I was deeply saddened to hear that Kevin passed away last week. I had not spoken to Kevin for probably close to a year. Prior to that, we at Lancaster Ultra-Graphics had a relationship with him going back to the 1990's. I remember going out to Drew's home and visiting with Kevin regarding projects that we were working on. Kevin was always kind, gracious, and talented as a graphic designer. I appreciated knowing him and consider it an honor to have made his acquaintance.
More recently, we worked together out at the Leisure Lanes of Lancaster to make the graphics above the bowling lanes come to fruition as Kevin had envisioned it. He had a great eye for what would work and a talent for making it happen as can plainly be seen today in that project.
Kevin's work impacted all of us here at UltraGraphics. I want to extend our heartfelt sympathy to Cherre (whom I regretfully never met) and the children who are now missing a great husband and father. May the peace of God be with you in this time of trial and loss. The image of Kevin's smile and good humor lives on.
Steve Husson
President
Lancaster Ultra-Graphics, Inc.
As a past board member of the Warwick Little League and coach for 8 years I send my heart felt condolence to the family of Kevin. I am so appreciative that Kevin brought Little League baseball to our town of Lititz. My son who is now a senior at Warwick High School was able to learn not just the game of baseball but so many values about sportsmanship and being a member of a team. Tim know demonstrates those values on the WHS Lacrosse team.
I am grateful that Kevin was also willing to help me in putting together the WLL Newsletter which I am sure he created called Pitchout. May you know that Kevin has already started another Little League in heaven. The game is not limited to six innings and we will join Kevin in this favorite past time at some point when our work is finished here on earth.
God Bless the Ranck family for sharing Kevin with us.
Sincerely, Kirk Rakos
Please accept my most sincere condolences on the loss of Kevin. Words cannot alone express how sorry I am to hear this news. I enjoyed Kevin's outgoing & friendly personality. Peace to you and the rest of the family.
Ed Schmidt
Cherre, Tim & Erika
Please accept our sincere condolences for the loss of your husband and father. He was a wonderful person and will be missed. God Bless all of you and may he guide you and be by your side in your time of need.
Erik & Georgenne Wolf